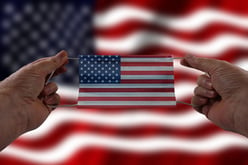 During 2020, the Trump Administration has seized on the economic disruptions from the COVID-19 pandemic as the latest of its many rationales for easing environmental regulations. In May, the President issued an executive order (EO) directing agencies to "support the economic response to the COVID–19 outbreak" (EO 13924 "Regulatory Relief To Support Economic Recovery"; I discussed it HERE). That EO included directions to the Office of Management and Budget (OMB) to receive reports from individual federal agencies about their regulatory and enforcement responses, and authorized OMB to issue guidance. On August 31, 2020, OMB issued a "Memorandum for the Deputy Secretaries of Executive Departments and Agencies – Implementation of Section 6 of Executive Order 13924" (Memorandum M-20-31; called "the Memo" below) offering this guidance.
The Memo repeats ten "principles of fairness in administrative enforcement and adjudication" identified in the EO, and offers "best practices" against which to judge agency performance. I have to point out to readers this OMB memo never mentions the word "COVID-19" or the existence of the pandemic.
What principles and best practices are OMB advocating?
Here's the EO's list of general principles and a selection of OMB's associated best practices:
(a) The Government should bear the burden of proving an alleged violation of law; the subject of enforcement should not bear the burden of proving compliance.
" … ensure that members of the regulated public are not required to prove a negative to prevent liability and enforcement consequences in the absence of statutory standards requiring otherwise. This general principle should not be applied to prevent placing the burden of proof on the potential recipients of government benefits, including in benefit termination actions." [this item negates strict liability and other burden-shifting, except for recipients of "benefits"]

"… consider applying the rule of lenity … by reading genuine statutory or regulatory ambiguities related to administrative violations and penalties in favor of the targeted party in enforcement." [this item demands precision from regulators and would-be enforcers]
(b) Administrative enforcement should be prompt and fair.
"Agencies should seek approval … before entering into a tolling agreement that would have the effect of extending the statute of limitations for an infraction." [this item attacks practices that extend agency and plaintiff time periods to expose infractions and to prepare for enforcement]

"regulations should require investigating staff to either recommend or bring an enforcement action, or instead cease the investigation within a defined time period after its commencement absent a showing of unusual circumstances" [this item also puts time pressure on investigations]

"If a party has been informed by an agency that it is under investigation, the agency should inform the party when the investigation is closed and, when the agency has made no finding of violation, so state."

"Agencies should consider and appropriately adopt estoppel and res judicata principles to eliminate multiple enforcement actions for a single body of operative facts. Simply put, an agency should have only one bite at the apple … " [this item counters the basic reality that a single set of actions can violate multiple laws]

"Agency employees' performance metrics and compensation structures should incentivize excellence, accuracy, integrity, efficiency, and fairness in the application and execution of the law…."

"agencies must publish a rule of agency procedure governing civil administrative inspections."
(c) Administrative adjudicators should operate independently of enforcement staff on matters within their areas of adjudication.
"Agency adjudicators should not engage in ex parte communications with, and should operate independently from, investigators and enforcement staff" [this item seeks to establish arms-length relations between agencies and their own enforcement staff]

"Agency adjudicators' performance metrics and compensation structures should incentivize fact-based, unbiased adjudication decisions."
(d) Consistent with any executive branch confidentiality interests, the Government should provide favorable relevant evidence in possession of the agency to the subject of an administrative enforcement action.
(e) All rules of evidence and procedure should be public, clear, and effective.
"agencies should adopt or amend regulations regarding evidence and adjudicatory procedure to eliminate any unfair prejudice, reduce undue delay, avoid the needless presentation of cumulative evidence, and promote efficiency. Agencies should seek to reduce the use of hearsay evidence with limited exceptions … [and follow the Daubert v. Merrell Dow Pharmaceuticals standard to] determine the veracity of scientific evidence."

" agencies should explicitly authorize the representation of regulated parties by legal counsel and in appropriate cases, by qualified representatives"
(f) Penalties should be proportionate, transparent, and imposed in adherence to consistent standards and only as authorized by law.
"Agencies should establish policies of enforcement discretion that decline enforcement or the imposition of a penalty" … "when the agency determines that the regulated party attempted in good faith to comply with the law." [this item ignores the many legal and regulatory standards that set numerical limits]

"Agencies should make the public aware of the conditions in which investigations and enforcement actions will be brought and provide the public with information on the penalties sought for common infractions."

"Agencies should adopt expiration dates and/or termination criteria for consent orders, consent decrees, and settlements that are proportionate to the violation of the law that is being remedied."

"Consent orders, consent decrees, and settlements should not bar private parties from disseminating information about their cases."

"agencies should establish procedures to encourage voluntary self-reporting of regulatory violations by regulated parties in exchange for reductions or waivers of civil penalties, including grace periods to cure minor violations …
(g) Administrative enforcement should be free of improper Government coercion.
(h) Liability should be imposed only for violations of statutes or duly issued regulations, after notice and an opportunity to respond.
(i) Administrative enforcement should be free of unfair surprise.
(j) Agencies must be accountable for their administrative enforcement decisions.
"initiation of investigations and enforcement actions should [require] approval of an agency official who is an Officer of the United States … or his or her designee" [this item puts political appointees in charge of enforcement]

"agencies should identify, collect, and periodically make available decisional quality and efficiency metrics"
What's Next?
OMB's memo provides additional details to President Trump efforts to use the COVID-19 pandemic as a justification for reducing enforcement. As noted above, the memo never mentions the pandemic. Depending on the outcome of the November 2020 election, these efforts will either extend for another four years or likely face major changes in 2021.
Self-Assessment Checklist
Has the organization reviewed its activities to identify changes it considers reasonable in response to the COVID-19 pandemic (e.g., worker safety, staffing, supply chain management, etc.)?
Would any of the identified changes cause potential violations of applicable federal requirements or prohibitions?
Has the organization considered, or made, requests to appropriate federal agencies for a pre-enforcement ruling to validate the change?
Where Can I Go For More Information?
EO 13924 (Regulatory Relief To Support Economic Recovery) (5/19/20; published in 5/22/20 Federal Register)
About the Author

Jon Elliott is President of Touchstone Environmental and has been a major contributor to STP's product range for over 30 years.

Mr. Elliott has a diverse educational background. In addition to his Juris Doctor (University of California, Boalt Hall School of Law, 1981), he holds a Master of Public Policy (Goldman School of Public Policy [GSPP], UC Berkeley, 1980), and a Bachelor of Science in Mechanical Engineering (Princeton University, 1977).

Mr. Elliott is active in professional and community organizations. In addition, he is a past chairman of the Board of Directors of the GSPP Alumni Association, and past member of the Executive Committee of the State Bar of California's Environmental Law Section (including past chair of its Legislative Committee).
You may contact Mr. Elliott directly at: tei@ix.netcom.com
Image by Gerd Altmann from Pixabay