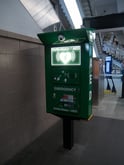 Automated External Defibrillators (AEDs) are appearing in more and more public spaces and workplaces. These electronic devices are designed to deliver an electric shock to a victim of sudden cardiac arrest, and could save thousands of lives every year:
The American Heart Association reported in 2012 that nearly 1,000 people suffer a cardiac event every day, with survival rates outside hospitals roughly 10% generally, but 40% with properly used AEDs.

The U.S. Occupational Safety and Health Administration (OSHA) reports victims' chances of survival from sudden cardiac arrest diminish by 7 – 10% for each minute without immediate CPR or defibrillation, and that AEDs can restore normal ventricular rhythm up to 60% of the time.
Rules For Provision and Use
I've included state and local examples from California in the following discussion. Elected officials and regulators at both federal and state levels are considering requirements for AEDs, from a number of perspectives.
Worker Safety
OSHA does not require employers to provide AEDs, nor does Cal/OSHA or any other state OSH agency I know of. However, OSHA and others do recommend that employers incorporate AEDs as part of their required Medical Services and First Aid programs (29 CFR 1910.151, 8 CCR 3400 for general industry workplaces). OSHA's recommendation dates at least from 2003, when
AEDs were still rare.
Emergency Services
In California, the state Emergency Medical Services Authority sets standards for the training and scope of practice of various levels of emergency medical services (EMS) personnel. These standards include AED training and use regulations for EMS personnel, firefighters, peace officers, and lifeguards.
AED Acquisition and Placement
California requires certain types of buildings ("occupancies" in building code parlance) to have AEDs. "Health studios" have been required to have AEDs since January 1, 2007. The following buildings constructed on or after January 1, 2017 (except those owned or operated by local governments, such as school districts) must acquire AEDs (Health & Safety Code § 19300):
Group A assembly buildings with an occupancy of greater than 300

Group B business buildings with an occupancy of 200 or more

Group E educational buildings with an occupancy of 200 or more

Group F factory buildings with an occupancy of 200 or more

Group I institutional buildings with an occupancy of 200 or more

Group M mercantile buildings with an occupancy of 200 or more

Group R residential buildings with an occupancy of 200 or more, excluding single family and multifamily dwelling units
Other types of buildings in California are not required to have AEDs, but effective January 1, 2016, non-health facilities that do acquire AEDs must meet certain standards (Health & Safety Code § 1797.196):
Placement and Operation:

Comply with regulations for AED placement.

Notify the local EMS agency of the existence, location, and type of each AED.

Maintain and test each AED following manufacturer's operation and maintenance guidelines.

Test each AED at least biannually and after each use.

Inspect all AEDs at least every 90 days for potential operability issues, including a blinking light or other obvious defect that may suggest tampering or other problem with functionality.

Maintain maintenance and testing records.
Notifications by the Building Owner:

At least once a year, notify tenants of AED location(s) and provide information to tenants about who they can contact for (voluntary) AED or cardiopulmonary resuscitation (CPR) training.

At least once a year, "offer a demonstration to at least one person associated with the building so that the person can be walked through how to use an AED properly in an emergency." The demonstration may be offered by a third party.

Post instructions next to each AED, in no less than 14-point type, on how to use the AED.
This law does not require the building owner to involve a medical director or other physician in the acquisition or placement of an AED. If an AED is placed in a public or private K-12 school, the principal must ensure that personnel receive annual notification of AED location(s), and training in AED use. Manufacturers must provide necessary information.
Safe Harbors for Placement and Use
Since governments encourage the placement and use of AEDs, a variety of laws immunize building owners and operators, and the Good Samaritans who use the AEDs, from liability when things end badly. In California for example, all of the following are exempt from liability (Civil Code § 1714,21):
A person who, in good faith and not for compensation, renders emergency care or treatment by the use of an AED at the scene of an emergency (a Good Samaritan)

A person or entity that provides CPR and AED training to a person who renders emergency care

A person or entity that acquires an AED for emergency use, if in compliance with the requirements listed above

A physician, surgeon, or other health care professional involved in the selection, placement, or installation of an AED, if in compliance with the requirements listed above.
These protections cover mistakes and simple negligence. They do not apply if personal injury or wrongful death results from the gross negligence or willful or wanton misconduct of the person who renders emergency care or treatment by the use of an AED.
So, Should Your Workplace Have An AED?
This article summarizes California's version of laws regarding AED placement and use—if your workplace is not in California, you can start researching laws applicable to your activities on the National Conference of State Legislatures (NCSL) website cited below.
Although, in most cases, the decision is up to each owner and operator of a building or discrete workplace, the statistics indicate that you should have an AED available, and it is likely that you and your organization will be protected against liability when an AED is used.
Self-Assessment Checklist
Has the organization reviewed AED-related legal requirements and safe harbors applicable in each jurisdiction where it has activities?

Does the organization provide AEDs in its workplaces?
If so, does the organization meet all applicable requirements?
Where Can I Go For More Information?
Information available online includes:
Specialty Technical Publishers (STP) provides a variety of single-law and multi-law services, intended to facilitate clients' understanding of and compliance with requirements. These include:
About the Author

Jon Elliott is President of Touchstone Environmental and has been a major contributor to STP's product range for over 25 years. He was involved in developing 13 existing products, including Environmental Compliance: A Simplified National Guide and The Complete Guide to Environmental Law.

Mr. Elliott has a diverse educational background. In addition to his Juris Doctor (University of California, Boalt Hall School of Law, 1981), he holds a Master of Public Policy (Goldman School of Public Policy [GSPP], UC Berkeley, 1980), and a Bachelor of Science in Mechanical Engineering (Princeton University, 1977).

Mr. Elliott is active in professional and community organizations. In addition, he is a past chairman of the Board of Directors of the GSPP Alumni Association, and past member of the Executive Committee of the State Bar of California's Environmental Law Section (including past chair of its Legislative Committee).
You may contact Mr. Elliott directly at: tei@ix.netcom.com