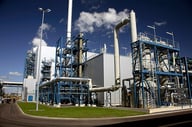 One of the longest running sub-national greenhouse gas (GHG) control efforts in the U.S. has been the Regional Greenhouse Gas Initiative (RGGI) program. RGGI provides a cap-and-trade program covering GHG emissions from targeted fossil fuel power plants in participating northeastern states. The program t has just been revised and extended through 2030.
What is RGGI?
In 2003, nine northeastern states (Connecticut, Delaware, Maine, Massachusetts, New Hampshire, New Jersey, New York, Rhode Island, and Vermont) adopted a RGGI Action Plan calling for the development of a multi-state cap-and-trade program covering GHG emissions. The Action Plan also established program design guiding principles, including: emphasizing uniformity across the participating states; building on existing successful cap-and-trade programs; ensuring that the program would be expandable and flexible, allowing other states or jurisdictions to join; starting with a narrow focus on power plants; and anticipating subsequent offsets (i.e., credits for reductions outside the power sector).
In April 2007, Maryland confirmed its agreement to join, and the governors of all 10 states signed a memorandum of understanding (MOU) establishing annual carbon dioxide (CO2) emission caps in each state, providing for the promulgation of a model cap-and-trade rule to be adopted by all states to govern CO2 emissions from fossil fuel-fired electricity generating units of 25 megawatts (MWe) or larger, employing 2.5% annual reductions in permissible emissions, governed by emission allowances auctioned quarterly (limited offsets are available) with proceeds spent on projects designed to reduce CO2 emissions elsewhere in member states. Member states issued a model RGGI rule in August 2006, as the basis for uniform state regulations. RGGI held its first quarterly auction of emission allowances on behalf of member states in September 2008. Members have revised the MOU and model rule several times, most recently in 2017 (discussed below). New Jersey withdrew from RGGI at the end of 2011, but may rejoin in 2018 (as may Virginia).
What Has RGGI Accomplished So Far?
The RGGI program is designed to reduce GHG emissions in two ways:

Directly, when regulated units are required to reduce their own emissions

Indirectly, when emission allowance auction proceeds are invested in emission-reducing projects within member states.
RGGI estimates that CO2 emissions from the target units were 150 million short tons. In contrast, the cumulative emission cap for 2017 is 84.3 million short tons (before adjustments for emissions allowances purchased and banked for future use). It's too simple to say that RGGI has cut emissions nearly in half, because of economic and technical changes over the intervening decade, let alone comparison with nominal "business-as-usual" scenario(s), but it seems fair to say that emissions are substantially lower than they would have been.
RGGI also estimates the reductions achieved by investment of auction proceeds, in a wide variety of energy efficiency, clean and renewable energy, direct bill assistance, and greenhouse gas abatement projects and programs. Invested proceeds total near $1.8 billion through 2015, and $2.7 billion through 2017. RGGI estimates that investment of proceeds received through 2015 (the latest reported figures) will yield the following:
29.6 million MWh of electricity use avoided

104.1 million MMbtu of fossil fuel use avoided

20.7 million short tons of CO2 emissions avoided.
What Will the 2017 Revisions and Extension Mean?
In December 2017, the RGGI members revised the model rule to reflect further emissions reductions of 30% during 2021-2030, extending the cap-and-trade model an additional decade. The revisions also adjust cost containment and reserve allocation provisions.
These revisions apply to the present 9 member states. If New Jersey and/or Virginia join RGGI, the same approach will apply.
Self-Assessment Checklist
Does the organization have operations in any of the nine RGGI states?
- Do these include fossil fueled electric generation larger than 25 MW?
- Do these include operations eligible for state programs investing RGGI auction proceeds?
Where Can I Go For More Information?
- Announcement of revised model rule
Specialty Technical Publishers (STP) provides a variety of single-law and multi-law services, intended to facilitate clients' understanding of and compliance with requirements. These include:
About the Author

Jon Elliott is President of Touchstone Environmental and has been a major contributor to STP's product range for over 25 years. He was involved in developing 13 existing products, including Environmental Compliance: A Simplified National Guide and The Complete Guide to Environmental Law.

Mr. Elliott has a diverse educational background. In addition to his Juris Doctor (University of California, Boalt Hall School of Law, 1981), he holds a Master of Public Policy (Goldman School of Public Policy [GSPP], UC Berkeley, 1980), and a Bachelor of Science in Mechanical Engineering (Princeton University, 1977).

Mr. Elliott is active in professional and community organizations. In addition, he is a past chairman of the Board of Directors of the GSPP Alumni Association, and past member of the Executive Committee of the State Bar of California's Environmental Law Section (including past chair of its Legislative Committee).
You may contact Mr. Elliott directly at: tei@ix.netcom.com