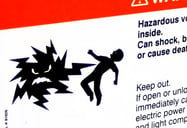 Among its many workplace health and safety standards, the Occupational Safety and Health Administration (OSHA) requires employers to protect employees during equipment servicing and maintenance, to prevent "unexpected" equipment energization, start up, or release of stored energy. OSHA's Control of Hazardous Energy Standard—more often called the Lockout/Tagout or "LOTO" Standard after its primary compliance requirements—requires employers to establish and implement safety procedures to control such hazardous energy. The LOTO Standard has changed very little since OSHA adopted it in 1989, but the agency has just published a formal request for information – public comments – about two changes in workplace equipment over the past 30 years that might affect energy hazards and justify revisions to the LOTO Standard. The rest of this note summarizes existing requirements and discussed OSHA's review of control circuits and workplace robotics.
Which Types of Hazardous Energy Might Equipment Store When Off?
OSHA requires energy control procedures during servicing and/or maintenance of machines and equipment that may expose employees to injury from unexpected startup or the release of stored energy. Stored energy may include any of the following:
Electrical

Mechanical

Hydraulic

Pneumatic

Chemical

Thermal

Other
This "energy" might shock, crush or entrap a worker who believes the equipment is safely inert. The LOTO Standard requires employers to "lock out" these hazards using an approved "energy isolating device (EID)" – see below – or in some circumstances a "tag out" system.
What Does OSHA Require For An Energy Control Program?
OSHA requires employers to develop and implement a LOTO program to ensure that machines and equipment are isolated from their energy sources and made inoperative before any employee performs any servicing or maintenance where the unexpected energizing, startup, or release of stored energy could cause injury. This program must include energy control procedures (to be applied by "authorized employees"), employee training (tailored to employees' exposures and responsibilities), and periodic inspections. I provided a longer discussion of these provisions here.
Should OSHA Recognize Control Circuits As Ways To Protect Against Energization Hazards?
OSHA's first question addresses the possibility of approving a new way to comply with the LOTO Standard. The Standard's present primary focus is on the installation and proper use of EIDs on equipment that may be hazardous even when apparently turned off. OSHA has now requested comments on alternatives to lockout.
The current definition of EID is:
Energy isolating device. A mechanical device that physically prevents the transmission or release of energy, including but not limited to the following: A manually operated electrical circuit breaker; a disconnect switch; a manually operated switch by which the conductors of a circuit can be disconnected from all ungrounded supply conductors, and, in addition, no pole can be operated independently; a line valve; a block; and any similar device used to block or isolate energy. Push buttons, selector switches and other control circuit type devices are not energy isolating devices.
Under this definition, "control circuit type devices" do not qualify as EIDs -- these devices do not physically prevent energization but instead use circuit-based electronic restrictions. However, in 2016 OSHA granted a variance to one company (Nucor Steel Connecticut, Inc. (NSCI)) to allow that company's control circuit configuration. NSCI uses a "trapped key", in which a key is inserted in the circuit that controls power to equipment subject to the LOTO Standard in order to activate the equipment. Under this variance, employer procedures call for the employee in charge of a maintenance task to remove the key during the project, thereby disabling the equipment.
OSHA is now asking whether the LOTO Standard should be revised to define control circuit devices that qualify for LOTO Standard compliance. The call for comments includes 23 specific questions about the presence and uses of such devices and how LOTO Standard requirements could be revised to incorporate them, and 3 additional questions about economic impacts.
Does Expanding Use of Robots Justify Regulatory Revisions?
OSHA's other question concerns the LOTO risks of workplace robots. When the LOTO Standard was adopted, workplace robots consisted of fixed-based industrial robots programmed to perform discrete and typically limited tasks. In 2019, workplace robots are mobile and increasingly versatile.
OSHA now asks whether this evolution poses greater, lower, and/or different hazards to workers, which might be addressed by revised LOTO Standard requirements addressed to different situations. The call for comments includes 7 specific questions about the presence and uses of such devices and how LOTO Standard requirements could be revised to incorporate them, and 3 additional questions about economic impacts.
What's Next?
OSHA will accept comments on its questions until August 19, 2019. After that, the agency will decide whether to initiate a formal rulemaking proposing revisions.
Self-Assessment Checklist
Are any of the organization's workplace subject to LOTO Standard requirements?
Do any of the organization's workplaces include equipment that incorporates or could incorporate control circuit devices as a way to manage hazards addressed by the LOTO Standard?
Do any of the organization's workplaces include robotic equipment:
Presently subject to the LOTO Standard?

Which might be subject to a revised LOTO Standard that directly addressed the energization hazards and/or hazard mitigations provided by this robotic equipment?
Is the organization tracking OSHA's review of the LOTO Standard?
Will the organization provide comments in response to OSHA's call for comments?
Where Can I Go For More Information?
Specialty Technical Publishers (STP) provides a variety of single-law and multi-law services, intended to facilitate clients' understanding of and compliance with requirements.
About the Author

Jon Elliott is President of Touchstone Environmental and has been a major contributor to STP's product range for over 25 years.

Mr. Elliott has a diverse educational background. In addition to his Juris Doctor (University of California, Boalt Hall School of Law, 1981), he holds a Master of Public Policy (Goldman School of Public Policy [GSPP], UC Berkeley, 1980), and a Bachelor of Science in Mechanical Engineering (Princeton University, 1977).

Mr. Elliott is active in professional and community organizations. In addition, he is a past chairman of the Board of Directors of the GSPP Alumni Association, and past member of the Executive Committee of the State Bar of California's Environmental Law Section (including past chair of its Legislative Committee).
You may contact Mr. Elliott directly at: tei@ix.netcom.com