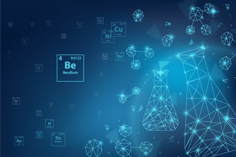 The US Occupational Safety and Health Administration (OSHA) regulates thousands of chemicals, through regulatory standards directing employers to reduce worker exposures. For a small number of especially hazardous chemicals, OSHA provides a detailed standard applicable to a single chemical—examples include asbestos, benzene, and lead. Another single-chemical standard covers beryllium (29 CFR 1910.1024), which OSHA has revised effective September 14, 2020. OSHA describes the revisions as meant "to clarify certain provisions and simplify or improve compliance … to maintain or enhance worker protections overall by ensuring that the rule is well understood and compliance is more straightforward." The agency notes that none of the changes impose new costs on employers, and some will reduce compliance costs.
The following discussion summarizes the Beryllium Standard, identifying provisions OSHA has revised, which tend to narrow and limit the applicability of the required worker information and safety provisions.
Which operations and exposures are covered?
The latest revisions do not affect the basic coverage and exposure levels in OSHA's beryllium standard. It continues to apply to occupational exposure to beryllium "in all forms, compounds, and mixtures in general industry," although exceptions apply for materials containing less than 0.1% beryllium and to articles containing beryllium that an employer does not process as part of its activities. Airborne and dermal contact are the primary routes of concern, so the Standard applies to:
airborne concentration of beryllium in excess of 0.2 μg/m3 calculated as an 8-hour time weighted average (TWA) (Permissible exposure limit (PEL))

airborne concentration of beryllium in excess of 0.1 μg/m3 determined over an 8-hour TWA (action level)

airborne concentration of beryllium in excess of 2.0 μg/m3 determined over a sampling period of 15 minutes (short-term exposure limit (STEL))

Dermal contact (skin exposure) to any of the following with beryllium in concentrations of at least 0.1% by weight:
Soluble beryllium compounds

Solutions

Dust, fumes, or mists
The Standard has included an Appendix A that presented 8 types of operations that form beryllium work areas and describing associated control strategies, for beryllium oxide forming, chemical processing operations, finishing, furnace operations, machining, mechanical processing, metal forming, and welding. The new revisions delete this appendix and replace it with a new Appendix A.1, identifying operations that will be defined as "beryllium work areas" depending on the concentration of beryllium in the materials being handled, consisting of a table with columns that identify:
Beryllium metal alloy operations (generally <10% beryllium by weight)

Beryllium composite operations (generally >10% beryllium by weight) and beryllium metal operations

Beryllium oxide operations
The latest revisions narrow the range of workplace areas considered to be a "beryllium work area." These are any work area where materials that contain at least 0.1% beryllium by weight are processed either:
During any of the operations listed in Appendix A [an apparent type-o since it's been replaced with A.1] – the standard formerly covered all operations processing materials with at least this concentration; or

Where employees are, or can reasonably be expected to be, exposed to airborne beryllium at or above the action level – the standard formerly applied to operations with airborne exposures at any level
What exposure assessments are required?
The revisions do not affect detailed requirements that employers conduct airborne concentration assessments for each employee reasonably expected to be exposed to beryllium. Note, however, the change noted above from any level of exposure to the action level, so that testing for the lower expected exposures are not required.
How are beryllium work areas defined and demarcated?
The revisions do not affect requirements to establish and demarcate beryllium work areas – but recall that the definition of such areas has been narrowed.
What methods of compliance are prescribed?
The revisions make minor editorial changes to requirements that employers establish written exposure control plans covering beryllium work areas, monitoring and employee testing, engineering and work practice controls, respiratory protection, personal protective clothing and equipment for employees, changing areas, and workplace labeling. The changes to covered exposures and work areas may affect the physical extent of areas subject to these requirements, however.
OSHA is adjusting requirements applicable to "disposal and recycling", however, to apply to "disposal, recycling and reuse." In doing so, OSHA is also excluding "intra-plant transfers" from this category of requirements; these remain subject to the general requirements covering beryllium work areas and exposures.
What medical surveillance is required?
The revisions do not affect the broad requirements to make specified tests available, at no cost to employees. OSHA is revising provisions for testing after "exposures during an emergency." The Standard has required testing within 30 days, but is now being changed to require that scheduling of a test occur within 30 days and actually occur within a "reasonable time." The revisions also add a scenario allowing deferral of post-emergency testing if an employee was previously tested within the preceding 2 years, until the employee's employment ends. It removes requirements that records include employees' social security numbers.
What happens now?
Employers have until September 14 to review their operations and compliance activities, to determine their status under the revised Standard. Those tempted to reduce coverage and/or compliance activities should keep in mind that delegated states ("state plan states") can maintain stricter standards, so they may retain their older and more protective versions of these requirements. Employers should also consider whether making any of these changes could affect possible liability.
Self-Assessment Checklist
Does my organization include workplaces where employees may be exposed to beryllium containing materials, and/or airborne beryllium?
Has the organization defined any beryllium work areas?
Has the organization established required plans and procedures to comply with the Beryllium Standard?
Has the organization reviewed its operations and compliance activities in response to OSHA's revisions in the Beryllium Standard?
If any of the organization's beryllium handling operations occur in delegated state plan states, is the organization tracking requirements there to identify if and when state requirements are amended?
Where Can I Go For More Information?
About the Author

Jon Elliott is President of Touchstone Environmental and has been a major contributor to STP's product range for over 30 years.

Mr. Elliott has a diverse educational background. In addition to his Juris Doctor (University of California, Boalt Hall School of Law, 1981), he holds a Master of Public Policy (Goldman School of Public Policy [GSPP], UC Berkeley, 1980), and a Bachelor of Science in Mechanical Engineering (Princeton University, 1977).

Mr. Elliott is active in professional and community organizations. In addition, he is a past chairman of the Board of Directors of the GSPP Alumni Association, and past member of the Executive Committee of the State Bar of California's Environmental Law Section (including past chair of its Legislative Committee).
You may contact Mr. Elliott directly at: tei@ix.netcom.com