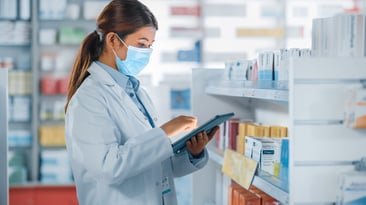 As the COVID-19 pandemic has progressed, public health and worker safety agencies have issued and re-issued directions to employers. On August 13, 2021, the Occupational Safety and Health Administration (OSHA) revised its benchmark guidance for workplace COVID-19 risk management. The remainder of this note summarizes OSHA's newly-revised "Protecting Workers: Guidance on Mitigating and Preventing the Spread of COVID-19 in the Workplace." (I wrote about the initial January 2021 version HERE and the June 2021 revisions HERE). This revision responds to "breakthrough" infections among vaccinated people by incorporating the latest the Centers for Disease Prevention and Control (CDC) recommendations for masking of employees who are fully vaccinated but work in "areas of substantial or high community transmission" – which as of this writing covers nearly 95% of US counties.
The remainder of this note summarizes the guidance (including unchanged elements) and then highlights the new masking guidance.
How effective is vaccination?
The guidance continues to emphasize that approved vaccinations are highly effective, once two weeks pass after the (only or second) shot. The new guidance also references similar conclusions in the CDC's July 2021 revisions to its "Interim Public Health Recommendations for Fully Vaccinated People." However, both agencies are now tempering their confidence in vaccinations based on the spread of the "delta variant" and breakthrough infections of fully-vaccinated people. Accordingly, the May/June suggestions that fully-vaccinated people could take fewer precautions than unvaccinated people have been replaced with recommendations that everyone should mask in most areas. OSHA and CDC also continue to caution that immunocompromised employees remain at higher risk.
What do workers need to know about COVID-19?
As summarized in the guidance, workers need to know about COVID exposures and management:
COVID-19 spreads mainly among unvaccinated people, especially if indoors, in close contact and/or in poorly-ventilated spaces

the best self-protection is vaccination, as the capstone of what's now recommended to be a "multi-layered approach to protect workers."

workers should inquire about their employer's COVID-19 prevention plans and programs

whether or not included within an employer's prevention efforts, workers should:

identify and use opportunities to get vaccinated

properly wear a face covering over mouth and nose

maintain personal distance – 6 feet is the generally-recommended minimum

identify telework and flexible scheduling opportunities

learn about engineering controls, such as ventilation

practice good personal hygiene (hand washing, covering up during sneeze or cough)

self-monitor health

fully vaccinated people should continue to mask, particularly in public indoor settings in areas of "substantial or high transmission" (new recommendation)
What are employers' and workers' COVID response roles?
The guidance notes that employers are responsible for providing safe and healthy workplaces free of recognized hazards – this is the "General Duty clause" (I've written about it several times, most recently HERE). As noted above, the latest guidance hedges on previous statements that eased mask requirements (except in workplaces subject to OSHA's "Emergency Temporary Standard for Healthcare" or CDC's "Requirement for Face Masks on Public Transportation Conveyances and at Transportation Hubs"), and recommends masks for most workers in many situations.
OSHA identifies ways for employers to engage with workers to implement "multi-layered interventions to protect unvaccinated or otherwise at-risk workers and mitigate the spread of COVID-19," including:
facilitate worker vaccinations (such as paid worker time off or employer cooperation with heath official vaccination efforts)

instruct infected workers, or unvaccinated workers who've had contact with someone who has tested positive, to stay home from work

implement physical distancing for unvaccinated and at-risk workers

provide most/all workers with face coverings (or otherwise-required personal protective equipment (PPE) such as respirators)

educate and train workers on the employer's COVID-19 policies and procedures

suggest – or as of this revision, require – that unvaccinated customers, visitors and guests wear face coverings, especially in public-facing locations such as retail establishments

maintain ventilation systems

perform routine cleaning and disinfection

record and report workplace illnesses and deaths (as required by generally-applicable OSHA standards)

operate anonymous employee reporting and recommendation methods, and protect against retaliation

comply with other OSHA standards, such as hygiene and PPE
What does OSHA recommend for higher-risk and mixed-vaccination-status workplaces?
OSHA provides additional information in an appendix to the revised guidelines, presenting "Measures Appropriate for Higher-Risk Workplaces with Mixed-Vaccination Status Workers." These suggestions apply to workplaces with any of the following:
close contact, as on production or assembly lines

longer duration contact, particularly for entire 6-12 hour shifts

types of contact where the risk of transmission is particularly high, such as close work areas or gathering areas (workstations, or rooms for changing or breaks) where unmasked workers may sneeze or cough

other contacts, including carpools and employer-provided housing
OSHA suggests actions in these situations:
stagger break times and break areas, and ensure unvaccinated and at-risk workers maintain distancing

stagger arrival and departure schedules to reduce congregations in clock-in, changing, or other areas

provide signs, floor markings and other visual clues as reminders to maintain distancing

review ventilation enhancements

implement engineering and administrative controls to maintain distancing and/or barriers, which can include reconfiguration or work sequences, timing of inventory activities such as restocking, and separation of payment functions in from other activities in retail workplaces

provide additional tailored measures appropriate to the workplace (retail, meat-packing, etc.)
What are areas of "substantial or high community transmission"?
OSHA's revised guidance does not explain this critical matter, and instead references and incorporates recent CDC guidance. CDC provides a "COVID Data Tracker" web portal, which sets out a "COVID19 Pandemic Vulnerability Index" which CDC compiles for each of the 3100+ counties in the US. This index considers
Total new COVID-19 cases per 100,000 persons in the past 7 days

Percentage of COVID tests (Nucleic Acid Amplification Tests (NAATs)) that were positive in the past 7 days
As of this writing, CDC rates
2699 counties high risk (83.82%, up 10.5% in past 7 days)

328 counties substantial risk (10.19%, down 6.24% in past 7 days)

83 counties moderate risk (2.58%, down 3.11% in past 7 days)

109 counties low risk (3.39%, down 1.15% in past 7 days)
Based on these rankings, 95% of counties are high or substantial risk areas where CDC recommends generalized masking.
What now?
Worker protection recommendations and requirements continue to change as perceptions of pandemic risks change, and as total vaccination rates rise. Employers should continue to re-evaluate information about COVID-19 risks in their workplaces, including both the general course of the pandemic and their specific workforces.
Self-Assessment Checklist
Does the organization have operations that are open and staffed by employees or other workers?
Has the organization implemented (or at least prepared) adequate information and precautionary measures (e.g., equipment and procedures recommended by OSHA and CDC)?
Is the organization ready to assess employee illnesses for possible COVID-19 infections, and if any arise to be able to evaluate whether the illnesses are work-related?
Has the organization reviewed its COVID-19 related plans and programs in response to changing public health assessments and information about its workers and those who enter its facilities?
Where do I go for more information?
Information available via the Internet includes:
- Emergency Temporary Standard for Healthcare (see 6/21/21 Federal Register)
- Coronavirus Disease (COVID-19) webpage
- COVID-19 Integrated County View
- Interim Public Health Recommendations for Fully Vaccinated People (rev. 7/27/21)
- Requirement for Face Masks on Public Transportation Conveyances and at Transportation Hubs (rev. 6/10/21)
About the Author

Jon Elliott is President of Touchstone Environmental and has been a major contributor to STP's product range for over 30 years.

Mr. Elliott has a diverse educational background. In addition to his Juris Doctor (University of California, Boalt Hall School of Law, 1981), he holds a Master of Public Policy (Goldman School of Public Policy [GSPP], UC Berkeley, 1980), and a Bachelor of Science in Mechanical Engineering (Princeton University, 1977).

Mr. Elliott is active in professional and community organizations. In addition, he is a past chairman of the Board of Directors of the GSPP Alumni Association, and past member of the Executive Committee of the State Bar of California's Environmental Law Section (including past chair of its Legislative Committee).
You may contact Mr. Elliott directly at: tei@ix.netcom.com