The federal Occupational Safety and Health Administration (OSHA) is best known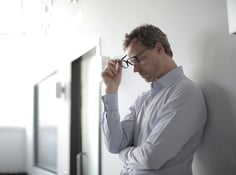 for its regulatory standards, but also provides additional non-regulatory guidance for the evaluation and reduction of workplace hazards that aren't directly regulated. As an example, OSHA provides a resource webpage on Workplace Stress, which it has recently emphasized in its outreach efforts.The rest of this note summarizes OSHA's information.
How pervasive is workplace stress?
OSHA's webpage links to a nonprofit called the American Institute of Stress, which summarizes research and surveys reporting that:
83% of US workers suffer from work-related stress.

US businesses lose up to $300 billion yearly as a result of workplace stress.

Stress causes around one million workers to miss work every day.

Only 43% of US employees think their employers care about their work-life balance.

Depression leads to $51 billion in costs due to absenteeism and $26 billion in treatment costs.

Work-related stress causes 120,000 deaths and results in $190 billion in healthcare costs yearly.
What causes workplace stress?
OSHA points out that many things in someone's life can cause stress, including situations at work. Its webpage lists a variety of workplace stressors:
Concerns about job security (e.g., potential lay-offs, reductions in assigned hours).

Lack of access to the tools and equipment needed to perform work safely.

Fear of employer retaliation

Facing confrontation from customers, patients, co-workers, supervisors, or employers.

Adapting to new or different workspace and schedule or work rules.

Having to learn new or different tasks or take on more responsibilities.

Having to work more frequent or extended shifts or being unable to take adequate breaks.

Physically demanding work.

Learning new communication tools and dealing with technical difficulties.

Blurring of work-life boundaries, making it hard for workers to disconnect from the office.

Finding ways to work while simultaneously caring for children including overseeing online schooling or juggling other caregiving responsibilities while trying to work, such as caring for sick, elderly, or disabled household members.

Concerns about work performance and productivity.

Concerns about the safety of using public transit as a commuting option.
What harms can stress produce?
The agency points out that different people experience and react to stressors differently, but that it can lead to the following:
Physical harm:

Heart disease

High blood pressure

Muscle tension and pain (e.g., back pain)

Headaches

Poor sleep

Stomach discomfort

Excessive weight gain or loss

Mental health challenges or behavioral changes:

Depression

Anxiety

Burnout

Emotional outbursts

Social withdrawal

Drug or alcohol use

Restlessness

Fatigue

Anger and irritability

Lack of motivation or focus
In addition to the harm for stressed employees, workplace stress can harm the broader workplace and the employer. For example, workplace stress can:
Increase potential for workplace incidents

Reduce productivity

Undermine morale and lead to high turnover
What can employers do?
Rather than wait to respond to problems – chronic or episodic – caused by workplace stress, OSHA recommends the follow employer actions:
Be aware and acknowledge that people can carry an emotional load that is unique to their own circumstances

Identify factors are making it harder for workers to get their jobs done and determine if adjustments can be made.

Show empathy.

Provide access to coping and resiliency resources, workplace and leave flexibilities without penalty, or other supportive networks and services
OSHA workplace Stress webpage provides links to additional resources that provide more details. These include OSHA-produced "Getting Started Guides for Employers" and "Mental Health Checklists for Employers." They also include links to a variety of resources from other organizations.
What happens next?
Workplace stress, and/or of workplace factors and situations that reflect stress, are frequent topics in discussions of workplace wellbeing and hazards. OSHA's webpage provides basic information, practical guides to identifying stress-related issues, and several starting points toward stress reduction and stress management. Organizations should take these as reminders to assess and address the issues.
Self-evaluation checklist
Has the organization evaluated possible sources and manifestations of workplace stress, in
Work practices, including staffing models, schedules, and procedures

Employee management and supervision, including routine work, disciplinary matters, and management of tensions among workers, and between management (personified by managers and supervisors) and workers
Has the organization provide counseling or other services to employees regarding stress (perhaps as part of more extensive Employee Assistance Programs)?
Has the organization has any incidents of occupational injuries or illnesses, or of workplace violence incidents, traced to employee stress?
If so, what were responses to the specific incident, and more generally in employer policies and procedures?
Where can I go for more information?
- Workplace Stress webpage – https://www.osha.gov/stateplans
About the Author

Jon Elliott is President of Touchstone Environmental and has been a major contributor to STP's product range for over 30 years. Mr. Elliott has a diverse educational background. In addition to his Juris Doctor (University of California, Boalt Hall School of Law, 1981), he holds a Master of Public Policy (Goldman School of Public Policy [GSPP], UC Berkeley, 1980), and a Bachelor of Science in Mechanical Engineering (Princeton University, 1977).

Mr. Elliott is active in professional and community organizations. In addition, he is a past chairman of the Board of Directors of the GSPP Alumni Association, and past member of the Executive Committee of the State Bar of California's Environmental Law Section (including past chair of its Legislative Committee).
You may contact Mr. Elliott directly at: tei@ix.netcom.com