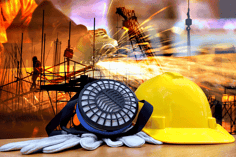 On April 8, 2022, the US federal Occupational Safety and Health Administration (OSHA) established a National Emphasis Program (NEP) to focus enforcement resources on "Outdoor and Indoor Heat-Related Hazards." The NEP is OSHA's latest step to manage and reduce heat illness in workplaces. Earlier actions include "Inspection Guidance for Heat-Related Hazards" on September 1, 2021 (I wrote about it HERE), and an "advanced notice of proposed rulemaking (ANPRM)" on these topics issued on October 27, 2021 (which I wrote about HERE). The remainder of this note summarizes the NEP.
How Can Heat Cause Illness?
I've summarized the health and safety implications of working in a hot working environment several times, most recently in the notes cited above. In short, a worker's body sheds heat to maintain a stable internal temperature, mainly by circulating blood to the skin, and by sweating and thermal radiation. These become less effective as air temperature and/or humidity rise. Even when these work, the worker's body tends to heat up, and fluids and salts lost in sweat will have to be replaced.
Occupational safety and health professionals capture these issues with indices that factor temperature and humidity into standards for heat risks, such as the National Weather Service (NWS) "heat index." OSH agencies start with these environmental indices, and add explicit consideration of how strenuous worker activities are, and how confining and heat-retaining their clothing and gear.
What does the NEP direct?
NEPs are temporary programs that focus OSHA's resources on particular hazards and high-hazard industries, usually for predetermined periods of several years. OSHA's management evaluates the agency's inspection and injury and illness (I&I) data, National Institute for Occupational Safety and Health (NIOSH) reports, peer-reviewed literature, and other available information sources to identify hazards to target with augmented enforcement efforts (For example, I wrote about OSHA's March 2021 COVID-19 NEP HERE). The agency also responds to external events, such as executive orders (EOs) from the President.
What does the new heat illness NEP direct?
The goal of this NEP is to reduce or eliminate worker exposures to heat-related hazards that result in illnesses, injuries, and deaths. To do so, OSHA will target industries and worksites, including worksites with radiant heat sources, where employees are exposed to heat-related hazards and have not been provided adequate protection that includes cool water, rest, cool areas, training, and acclimatization. OSHA's quantified goal is to double heat-related inspections, which accounted for 0.5% of all OSHA inspections during 2017-2021. The NEP establishes procedural measures intended to accomplish this, by targeting inspections to times and locations where heat-related hazards are known or suspected, and incorporating heat issues into all other inspections:
During all inspections, inspectors are to open or refer heat-related inspections wherever they observe hazardous heat conditions or where employees bring heat-related hazards to their attention

OSHA will conduct programmed inspections in targeted industries (such as construction; the NEP identifies over 70) on days that NWS has announced a local heat warning or advisory

Additionally, inspectors should inquire during inspections regarding the existence of any heat-related hazard prevention programs on heat priority days (i.e., where the heat index for a day is expected to be 80°F or more)

Any inspection that meets the conditions for a heat inspection, and any heat-related severe injury report or referral, will lead to an inspection, unless a physical inspection is not feasible
During heat-related inspections, inspectors are to do the following:
Review I&I records (OSHA 300 Logs and 301 Incident Reports) for any entries indicating heat-related illness(es)

Review any records of heat-related emergency room visits and/or ambulance transport, even if hospitalizations did not occur

Interview workers for symptoms of headache, dizziness, fainting, dehydration, or other conditions that may indicate heat-related illnesses, including both new employees and any employees who have recently returned to work,

Determine if the employer has a heat illness and injury program addressing heat exposure, and consider the following:

Is there a written program?

How did the employer monitor ambient temperature(s) and levels of work exertion at the worksite?

Was there unlimited cool water that was easily accessible to the employees?

Did the employer require additional breaks for hydration?

Were there scheduled rest breaks?

Was there access to a shaded area?

Did the employer provide time for acclimatization of new and returning workers?

Was a "buddy" system in place on hot days?

Were administrative controls used (earlier start times, and employee/job rotation) to limit heat exposures?

Did the employer provide training on heat illness signs, how to report signs and symptoms, first aid, how to contact emergency personnel, prevention, and the importance of hydration?

Document any conditions related to heat hazards

Identify activities relevant to heat hazards
Now what?
The NEP became effective when issued on April 8, and remains effective for 3 years unless OSHA changes its termination. It targets industries where heat-related hazards are most likely to occur, but also empowers OSHA inspectors to investigate heat hazard issues anywhere (delegated "state plan state" programs are encouraged but not required to enact comparable programs). As such, it will be in force when temperatures rise into summer 2022.
Self-Assessment Checklist
Do any of my organization's workers work in situations where ambient heat may create a hazard of heat illness:
Outdoors (e.g., agricultural or construction work)?

Indoors (e.g., work in manufacturing or other processes involving hot materials or equipment)?
If so, does the organization provide appropriate:
Training (tailored to the workplace source(s) of heat hazards, preventive measures, and responses to heat illness?

Water?

Shade or other appropriate ways for workers to cool down?

Planning and procedures?
Is the organization following this OSHA rulemaking, and if so is it preparing comments?
Where Can I Go For More Information?
- National Emphasis Program – Outdoor and Indoor Heat-Related Hazards (CPL 03-00-024) (April 8, 2022)
- Cal/OSHA "Heat Illness Prevention webpage
- California Occupational Safety and Health Standards Board "Heat Illness Prevention in Indoor Places of Employment" working group webpage
- Canadian Centre for Occupational Health and Safety "Hot Environments - Health Effects and First Aid" webpage
About the Author

Jon Elliott is President of Touchstone Environmental and has been a major contributor to STP's product range for over 30 years.

Mr. Elliott has a diverse educational background. In addition to his Juris Doctor (University of California, Boalt Hall School of Law, 1981), he holds a Master of Public Policy (Goldman School of Public Policy [GSPP], UC Berkeley, 1980), and a Bachelor of Science in Mechanical Engineering (Princeton University, 1977).

Mr. Elliott is active in professional and community organizations. In addition, he is a past chairman of the Board of Directors of the GSPP Alumni Association, and past member of the Executive Committee of the State Bar of California's Environmental Law Section (including past chair of its Legislative Committee).
You may contact Mr. Elliott directly at: tei@ix.netcom.com