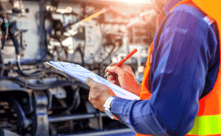 The US federal Occupational Safety and Health Administration (OSHA) has published its annual list of the "Top 10 Most Frequently Cited Standards" for fiscal year (FY) 2021. The tabulation covers October 1, 2020 through September 30, 2021; OSHA delays its annual publication to allow time for inspections during a fiscal year to produce citations if appropriate. (I wrote about OSHA inspection procedures and priorities HERE). The remainder of this note summarizes the new list.
What violations are on this year's list of most-cited?
OSHA has published the following list of the top 10 standards most frequently cited in violations following the agency's inspections of worksites in all industries:
Fall Protection, construction (29 CFR 1926.501)

Respiratory Protection, general industry (29 CFR 1910.134)

Ladders, construction (29 CFR 1926.1053)

Hazard Communication, general industry (29 CFR 1910.1200)

Scaffolding, construction (29 CFR 1926.451)

Fall Protection Training, construction (29 CFR 1926.503)

Control of Hazardous Energy (lockout/tagout), general industry (29 CFR 1910.147)

Eye and Face Protection, construction (29 CFR 1926.102)

Powered Industrial Trucks, general industry (29 CFR 1910.178)

Machinery and Machine Guarding, general industry (29 CFR 1910.212)
The published list on OSHA's website includes links to safety resources related to each listed standard. The website also provides sector-by-sector breakdowns of the numbers of violations charged in specific industry groups (by North American Industry Classification System (NAICS) groupings).
What now?
OSHA publishes the list to "alert employers about these commonly cited standards so they can take steps to find and fix recognized hazards addressed in these and other standards before OSHA shows up." Readers should note that these standards make the top 10 list in large part because they apply to very large numbers of worksites – total numbers of citations are higher because they standards apply to larger numbers of worksites. Each employer should consider the range of standards associated with its own operations, whether or not on the top 10 list.
Self-evaluation checklist
Has the organization identified OSHA standards (or comparable standards issued by delegated "state plan states") applicable to its worksites?
Has the organization reviewed its compliance with all applicable OSHA/state standards, including those on the latest Top 10 list?
Has the organization been cited for any violations of OSHA/state standards?
Where Can I Go For More Information?
About the Author

Jon Elliott is President of Touchstone Environmental and has been a major contributor to STP's product range for over 30 years.

Mr. Elliott has a diverse educational background. In addition to his Juris Doctor (University of California, Boalt Hall School of Law, 1981), he holds a Master of Public Policy (Goldman School of Public Policy [GSPP], UC Berkeley, 1980), and a Bachelor of Science in Mechanical Engineering (Princeton University, 1977).

Mr. Elliott is active in professional and community organizations. In addition, he is a past chairman of the Board of Directors of the GSPP Alumni Association, and past member of the Executive Committee of the State Bar of California's Environmental Law Section (including past chair of its Legislative Committee).
You may contact Mr. Elliott directly at: tei@ix.netcom.com