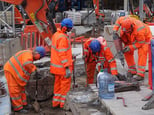 If someone receives occupational direction and/or compensation from more than one entity, then who's the boss? Sometimes it's obviously one or the other, sometimes it's not clear which one is, and sometimes the answer may be "both." The answer has important implications, not just for who writes a paycheck but for who is subject to legal requirements and prohibitions under federal, state and local laws. The National Labor Relations Board (NLRB) upended established definitions in 2015, in a decision that Browning-Ferris Industries of California (BFI) was a joint employer with the company (Leadpoint Business Services) that provided employees who worked at one of BFI's sanitary landfills, since BFI reserved the right to intervene in a variety of labor decisions. By a party-line 3:2 vote (with Democrats in the majority) NLRB "restated" agency and judicial precedent and found that the two companies were indeed joint employers, which realigned the employees' access to collective bargaining (NLRB's area of jurisdiction). The other two members dissented vociferously, for a variety of reasons.
After the BFI decision, employer groups and many Republican legislators argued that the correct standard was actual control not potential control, and that the majority was abandoning the common law approaches it claimed to follow. Early in December 2017, the U.S. House of Representatives passed legislation to write a definition of "joint employer" into the National Labor Relations Act (NLRA), in order to reverse this expansive interpretation (HR 3441, the "Save Local Business Act"). However, on December 14 the NLRB – now with a 3:2 Republican majority after President Trump filled two intervening vacancies – voted on a party line vote to rescind the BFI case analysis and return to an actual control test. The new decision is in Hy-Brand Industrial Contractors, Ltd. and Brandt Construction Co., as a single employer and/or joint employers. The remainder of this note discusses the issue and this decision, which probably resolves the issue … until the next election that changes the balance of power again.
Who Can Be a "Joint Employer" Under the NLRA?
The NLRA does not presently include a statutory definition of "joint employer" (or even "employer", for that matter, other than to clarify that "any person acting as an agent of an employer" is also considered an employer (29 USC § 152(2))). In the absence of a statutory definition, NLRB and courts look to other labor laws and the "common law" when considering whether an employer-employee relationship exists. This case-specific review allows flexibility to adapt policies to changing workplace realities, but also means that guidance can be unclear and tends to vary with the opinions of a majority of the five NLRB Board members.
This same approach has applied to "joint employers," so this term is also open to interpretations and reinterpretations. The term might apply to:
Franchisers and their franchisees.

Temporary employment agencies and their client companies.

Prime contractors and their subcontractors.
The longstanding working definition that NLRB's changing majority overturned in BFI and restored in Hy-Brand originated with a 1984 court decision:
"The basis of the [joint-employer] finding is simply that one employer while contracting in good faith with an otherwise independent company, has retained for itself sufficient control of the terms and conditions of employment of the employees who are employed by the other employer. Thus, the 'joint employer' concept recognizes that the business entities involved are in fact separate but that they share or co-determine those matters governing the essential terms and conditions of employment."
What Did the BFI Decision Provide?
In 2015, three of the five NLRB Board members issued the BFI decision to "restate" the agency's standard for joint employment, as:

"… the Board may find that two or more statutory employers are joint employers of the same statutory employees if they 'share or codetermine those matters governing the essential terms and conditions of employment.' … We will no longer require that a joint employer not only possess the authority to control employees' terms and conditions of employment, but also exercise that authority. Reserved authority to control terms and conditions of employment, even if not exercised, is clearly relevant to the joint-employment inquiry." [emphasis added]

The majority found that an employer could qualify as a joint employer if it exerted control indirectly through a second employer, and even if it retained the ability to exert control (e.g., through contractual agreement with the second employer). Two members dissented vociferously, arguing that the correct standard was actual control not potential control, and that the majority was abandoning the common law approaches it claimed to follow.

BFI appealed, to the federal Court of Appeals for the District of Columbia Circuit. After briefings, the Circuit Court held oral arguments in March 2017 but has not yet issued its ruling as of mid-December.
What Does the Hy-Brand Decision Provide?
While the BFI decision appeal awaited decision, the partisan balance of NLRB's members shifted, with a Republican majority effective in September 2017 with approval of President Trump's second nominee. In mid-December, the reconstituted NLRB issued the Hy-brand decision, to reverse BFI and establish a narrow definition of joint employers.
This decision starts from an "understand[ing that] the common law standard as codified by the Act [requires] direct control over one or more essential terms and conditions of employment to constitute an entity the joint employer of another entity's employees." The majority decision provides extensive review of pre-BFI cases to argue that the BFI decision was an aberration. The majority asserts that this formulation is clear enough to allow labor and management to negotiate – and finds that in this case Hy-Brand and Brandt Construction qualify as joint employers even under the test it (re)establishes.
Self-Assessment Checklist
Does the organization conduct activities in concert with other entities, under which any personnel are subject to actual or potential direction from more than one entity?
Does the organization provide personnel to other entities, where those personnel are subject to direction from the host entity?
Does any other entity provide personnel to the organization, who become subject to direction from the organization?
Where Do I Go For More Information?
Specialty Technical Publishers (STP) provides a variety of single-law and multi-law services, intended to facilitate clients' understanding of and compliance with requirements. These include:
About the Author

Jon Elliott is President of Touchstone Environmental and has been a major contributor to STP's product range for over 25 years. He was involved in developing 13 existing products, including Environmental Compliance: A Simplified National Guide and The Complete Guide to Environmental Law.

Mr. Elliott has a diverse educational background. In addition to his Juris Doctor (University of California, Boalt Hall School of Law, 1981), he holds a Master of Public Policy (Goldman School of Public Policy [GSPP], UC Berkeley, 1980), and a Bachelor of Science in Mechanical Engineering (Princeton University, 1977).

Mr. Elliott is active in professional and community organizations. In addition, he is a past chairman of the Board of Directors of the GSPP Alumni Association, and past member of the Executive Committee of the State Bar of California's Environmental Law Section (including past chair of its Legislative Committee).
You may contact Mr. Elliott directly at: tei@ix.netcom.com