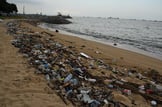 On October 29, a large multi-sector group of organizations announced a major initiative to eliminate plastic waste and pollution - the New Plastics Economy Global Commitment. The group is sponsored by the Ellen MacArthur Foundation, and intends to respond to dire projections of the environmental implications of plastic waste with. Informational materials highlight a projection from the United Nations Environment Program (UNEP) that more than 8 million tons of plastics end up in the world's oceans annually, and that if present trends continue there will be more plastic than fish in the oceans by 2050.
What is the New Plastics Economy Global Commitment?
At the time of its public announcement, the Commitment cites 290 organizations including many of the world's largest packaging producers, brands, retailers and recyclers, as well as governments and NGOs. These include:
Companies representing 20% of all plastic packaging produced globally, including consumer businesses (e.g., PepsiCo, Coca-Cola Company; and Unilever), packaging producers (e.g., Amcor), and plastics producers (e.g., Novamont).

Governments – national (e.g., United Kingdom, France), sub-national (e.g., Scotland), and cities (e.g., Austin).

NGOs: universities, trade associations, etc.
Signatories commit to a Vision with 3 elements that reflect actions to support the vision:
Eliminate all problematic and unnecessary plastic items.

Innovate to ensure that the plastics we do need are reusable, recyclable, or compostable.

Circulate all the plastic items we use to keep them in the economy and out of the environment.
The primary focus is on plastic packaging, with the Commitment including work towards 100% reusable, recyclable, or compostable plastic packaging by 2025. This packaging goal is explained as the pursuit of a circular economy, which the Commitment defines based on six characteristics:
Elimination of problematic or unnecessary plastic packaging through redesign, innovation, and new delivery models is a priority.

Reuse models are applied where relevant, reducing the need for single-use packaging.

All plastic packaging is 100% reusable, recyclable, or compostable.

All plastic packaging is reused, recycled, or composted in practice.

The use of plastic is fully decoupled from the consumption of finite resources.

All plastic packaging is free of hazardous chemicals, and the health, safety, and rights of all people involved are respected
The Commitment organization is initiating informational and educational efforts. Signatories must make tangible commitments to action, and provide transparency and reporting.
Self-Assessment Checklist
Does the organization conduct activities that make or use plastics?
Has the organization evaluated these activities, to consider whether changes can reduce the creation, use and disposal of plastics, including enhancements to recycling?
Is the organization a signatory to the New Plastics Economy Global Commitment?
Are any of the organization's suppliers or customers signatories to the New Plastics Economy Global Commitment?
Where can I go for more information?
Specialty Technical Publishers (STP) provides a variety of single-law and multi-law services, intended to facilitate clients' understanding of and compliance with requirements.


About the Author

Jon Elliott is President of Touchstone Environmental and has been a major contributor to STP's product range for over 25 years.

Mr. Elliott has a diverse educational background. In addition to his Juris Doctor (University of California, Boalt Hall School of Law, 1981), he holds a Master of Public Policy (Goldman School of Public Policy [GSPP], UC Berkeley, 1980), and a Bachelor of Science in Mechanical Engineering (Princeton University, 1977).

Mr. Elliott is active in professional and community organizations. In addition, he is a past chairman of the Board of Directors of the GSPP Alumni Association, and past member of the Executive Committee of the State Bar of California's Environmental Law Section (including past chair of its Legislative Committee).
You may contact Mr. Elliott directly at: tei@ix.netcom.com