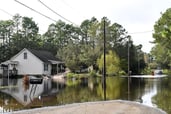 Millions of people live and work in flood-prone areas, and rely on federal insurance to facilitate their activities. The Federal Emergency Management Agency (FEMA) administers the National Flood Insurance Program (NFIP), under which FEMA defines which flood-prone areas qualify for insurance. In March, FEMA announced plans to change its definitions and underwriting; meanwhile legislation has been introduced in Congress to change NFIP. Depending how these changes turn out, thousands of locations will gain or lose eligibility, and the costs of NFIP insurance could change considerably. As climate change exacerbates the likelihood and severity of floods, the importance of these changing provisions grows – for participants and for the general tax-paying public who often end up subsidizing them.
How Does FEMA's NFIP Operate Today?
FEMA oversees a national program that establishes standards for flood hazard assessments and flood insurance. Structures in flood-prone areas can attempt to qualify for flood insurance offered under the NFIP - and some projects may require flood insurance to qualify for financing. Although the NFIP was established to discourage building in known flood hazard areas, the availability of insurance has had the opposite effect. Because of federal backing and policy, where insurers are paid to process claims, floods have actually result in increased profits for insurance companies.
How does FEMA define areas subject to flooding and eligible for NFIP?
FEMA conducts flood mapping, in order to identify areas with flood hazards. As a baseline, FEMA's regulations define an "area of special flood hazard" as one where the agency calculates a 1% or greater chance of flooding in any year – referred to as the "hundred year flood risk" even though that's not how statistics and probabilities work. FEMA produces flood maps of these areas, and also of areas with a 0.2% annual chance of flooding ("five hundred year flood risk" zone).
FEMA's flood designations have important business and economic consequences. Other federal laws generally require lenders to require flood insurance in these "hundred year flood zones." Programs are administered by private and governmental insurers, which incorporate FEMA's technical standards and may include additional requirements imposed by the individual insurer. In many parts of the country, local land use and building regulators also require compliance with NFIP standards as conditions for building and occupancy permits. These include a requirement for Elevation and Floodproofing Certificates ("FEMA Elevation Certificate"), based on technical information about the project including a demonstration that the lowest occupied level of the project (e.g., the ground floor of a building) is at least 1 foot above the flood elevation shown on FEMA's flood map.
FEMA and the NFIP have also come under scrutiny for out of date flood maps. In Houston 75% of the structures flooded by Hurricane Harvey were not in designated flood zones.
What are NFIP's scale and finances?
As of the end of federal Fiscal Year 2018 on September 30, 2018, FEMA reported that NFIP had over 5.1 million policies in force, with over $1.3 trillion in insured value and annual premiums of nearly $3.6 billion. As an insurance program, NFIP is not actuarially sound: NFIP owed the federal treasury over $20 billion as of September 2018 (even after Congress cancelled $16 billion in debt in October 2017). Major storms can be very expensive; Superstorm Sandy and Hurricane Harvey each led to about $8.7 billion in payouts.
What Changes May Be Coming?
On March 24, 2019, FEMA announced its intention to change rating procedures and rates, but without any useful information. The complete text of its notice is as follows:
"FEMA is transforming the National Flood Insurance Program (NFIP) to improve the policyholder experience and better reflect industry best practices. A central component to this transformation is a new Risk Rating 2.0 effort, which will improve how the NFIP determines flood risk and flood insurance premiums.
Risk Rating 2.0 will help customers better understand their flood risk and provide them with more accurate rates based on their unique risk. This will include determining a customer's flood risk by incorporating multiple, logical rating variables–like different types of flood, the distance a building is from the coast or another water source, or the cost to rebuild a home. The new rating plan will also aim to ensure customers will no longer face dramatic rate increases during map changes or at the edge of flood zones. By reflecting the cost to rebuild, the new rating plan will also aim to deliver more equitable rates for owners of lower-value homes. By leveraging industry best practices and technology, FEMA plans to reduce the complexity of buying flood insurance, so that it is as straight-forward as homeowner's and auto insurance for both agents and applicants.
The new rates for all single-family homes will go into effect nationwide on October 1, 2020. We look forward to sharing more information in the coming months as information becomes available."
Readers will note that only residential structures are identified in the phase-in deadline, even though NFIP covers non-residential buildings as well.
What is Congress Considering?
Congress passed the first National Flood Insurance Act in 1968, and has revised and extended this authority many times since (42 U.S.C. §§ 4001- 4131; 44 C.F.R. parts 59-80)). FEMA's present authority derives from the Biggert-Waters Flood Insurance Reform Act of 2012, although the expiration of this authority has been extended until May 31, 2019. Because of this short time fuse, Congress is considering several revisions – although it may default to a further un-amended extension of FEMA's authority. The House (of Representatives) Committee on Financial Services held a hearing on March 13 at which it considered four draft bills addressing a broad range of mapping, administration, and fee topics. As another example, the introduced bill H.R.830 (Garamendi; Flood Insurance for Farmers Act of 2019) which would strengthen requirements for local land use controls, and focuses on special provisions for levees and agricultural activities.
What's Next?
The next real deadline is the next expiration of NFIP authority on May 31, although it's certainly possible that extension will be by a "clean" bill that avoids policy changes. That seems particularly likely as Congress re-learns how to operate with one house under the control of each party. Beyond that, we will await FEMA's actions on Risk Rating 2.0 … and the next major disastrous flood.
Self-Assessment Checklist
Does the organization conduct activities in locations that are subject to flooding?
If so, do fixed locations in these areas qualify for NFIP insurance?

If so, are these locations insured?

Are any locations not presently eligible for or subject to NFIP insurance, but might be if the program's conditions were revised?
Does the organization track flood insurance issues?
Where Do I Go For More Information?
Specialty Technical Publishers (STP) provides a variety of single-law and multi-law services, intended to facilitate clients' understanding of and compliance with requirements.
About the Author

Jon Elliott is President of Touchstone Environmental and has been a major contributor to STP's product range for over 25 years.

Mr. Elliott has a diverse educational background. In addition to his Juris Doctor (University of California, Boalt Hall School of Law, 1981), he holds a Master of Public Policy (Goldman School of Public Policy [GSPP], UC Berkeley, 1980), and a Bachelor of Science in Mechanical Engineering (Princeton University, 1977).

Mr. Elliott is active in professional and community organizations. In addition, he is a past chairman of the Board of Directors of the GSPP Alumni Association, and past member of the Executive Committee of the State Bar of California's Environmental Law Section (including past chair of its Legislative Committee).
You may contact Mr. Elliott directly at: tei@ix.netcom.com