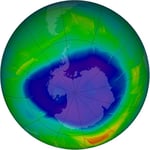 Late in the 1970s, measurements in the stratosphere revealed that levels of ozone were falling – the headline summary of this trend was the annual appearance of a thinned-out "ozone hole" over the Arctic and Antarctic regions. Health and environmental and human health scientists worried because stratospheric ozone is an important absorber of potentially damaging ultraviolet radiation (bad for penguins under the ozone hole, and eventually bad for humans on the rest of the planet). Further studies concluded that the culprits were halocarbon chemicals used as refrigerants, solvents, propellants, and foam-blowing agents. Dubbed "ozone depleting substances (ODSs)", these chemicals (including chlorofluorocarbons (CFCs), halogenated chlorofluorocarbons (HCFCs), freons and halons) are relatively non-reactive when released on the surface, so they persist in the atmosphere long enough to drift up to the stratosphere where incoming solar radiation eventually powers their reaction with ozone.
By 1987, international reaction to this potential disaster produced the Montreal Protocol on Substances that Deplete the Ozone Layer (Montreal Protocol), which established an international framework for protecting the earth's stratospheric ozone layer, by identifying ODSs and steadily phasing out their production and use (starting with those with highest ozone depleting potential and moving on to successively less potent chemicals). I posted a summary of the Montreal Protocol and U.S activities under Title VI of the Clean Air Act here.
As we approach the thirtieth anniversary of Montreal, this approach appears to be working. In September 2014 the United Nations Environmental Programme reported that concentrations of most ODSs were declining, and that total concentrations of chlorine- and bromine-containing substances had declined by 10-15% since promulgation of the protocol (UNEP, Assessment for Decision-Makers – Scientific Assessment of Ozone Depletion: 2014). In this report, the UN projects that ozone levels will recover by about 2050. In June 2016 the journal Science published a report that data from the Antarctic finally show that the seasonal "ozone hole" is shrinking.
Now What?
Although Montreal Protocol goals are on track, interest in ODSs is actually increasing again. That's because many ODSs also qualify as greenhouse gases (GHGs), so that accelerated reduction in their manufacture and use should help mitigate climate change. During 2016, the parties to the Montreal Protocol are pursuing efforts to further accelerate reductions in HFC use. In June 2016 U.S. President Obama and Indian Prime Minister Modi announced a bilateral agreement to support those efforts. If these efforts bear fruit, it will represent global efforts to extend a successful international program to support another program that is still struggling to accomplish its goals.
Self-Assessment Checklist
Does the organization manufacture or import any ODS subject to the Montreal Protocol and/or CAA Title VI?
If the phase-out date for any ODS has passed, does the activity qualify with applicable exceptions or essential uses?

Is each container labeled in compliance with Title VI requirements?
Does the organization use any ODSs?

If the phase-out date for any ODS has passed, does the activity qualify with applicable exceptions or essential uses?

Is each container labeled in compliance with Title VI requirements?

Does use comply with recycling and emission reduction requirements?

Does equipment servicing comply with applicable requirements, including performance by certified personnel?
Does the organization manufacture, import or use any substitute for a listed ODS?


Where Do I Go For More Information?
United Nations Environmental Program (UNEP) Ozone Secretariat here

EPA Ozone Layer Protection pages here
Specialty Technical Publishers (STP) provides a variety of single-law and multi-law services, intended to facilitate clients' understanding of and compliance with requirements. These include:
About the Author

Jon Elliott is President of Touchstone Environmental and has been a major contributor to STP's product range for over 25 years. He was involved in developing 12 existing products, including Environmental Compliance: A Simplified National Guide and The Complete Guide to Environmental Law.
Mr. Elliott has a diverse educational background. In addition to his Juris Doctor (University of California, Boalt Hall School of Law, 1981), he holds a Master of Public Policy (Goldman School of Public Policy [GSPP], UC Berkeley, 1980), and a Bachelor of Science in Mechanical Engineering (Princeton University, 1977).
Mr. Elliott is active in professional and community organizations. In addition, he is a past chairman of the Board of Directors of the GSPP Alumni Association, and past member of the Executive Committee of the State Bar of California's Environmental Law Section (including past chair of its Legislative Committee).
You may contact Mr. Elliott directly at: tei@ix.netcom.com.