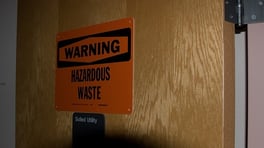 The U.S. Environmental Protection Agency (EPA) administers rules governing the import and export of hazardous waste regulated by the Resource Conservation and Recovery Act (RCRA). These rules ensure that the U.S. meets its international responsibilities as a member of the Organization for Economic Cooperation and Development (OECD) by creating national rules that meet agreed-upon OECD standards.
On October 28, EPA announced revisions to its requirements, effective December 31, 2016. These rules finalize EPA's proposal from a year ago (I wrote about the proposal here). The rules recognize changing RCRA and OECD requirements, and also support EPA's implementation of federal policies supporting more electronic reporting and storage of trade-related information, including President Obama's Executive Order Number 13659 (2/19/14). These rules should appear in the Federal Register soon (before the January 2017 transition to President Trump).
What Requirements Presently Apply to Exports and Imports?
EPA's RCRA regulations align national requirements with international provisions governing "Transboundary Movements of Hazardous Waste for Recovery Within the OECD." EPA estimates that approximately 3,000 hazardous waste import shipments and 49,000 hazardous waste export shipments are made annually, mostly within North America. I wrote in more detail about existing requirements here.

The following requirements apply to exports to Canada or Mexico (and to non-OECD countries covered by separate treaties with the U.S.):
The "primary exporter" (typically the generator) provides EPA a written notification of intent to export, at least 60 days prior to the first shipment. This notification must be in writing, signed by the primary exporter, and include the following information:

Name, mailing address, telephone number and EPA ID number of the primary exporter;

The following information, by consignee, for each hazardous waste type:

Description of the hazardous waste and the EPA hazardous waste number, U.S. Department of Transportation (DOT) proper shipping name, hazard class and ID number for each hazardous waste.

Estimated frequency or rate for exports of this waste, and the period during which these exports will continue.

Estimated total quantity of the hazardous waste.

All points of entry to and departure from each foreign country through which the hazardous waste will pass.

Description of mode of transportation and type(s) of containers.

Description of how the hazardous waste will be treated, stored or disposed in the receiving country.

Name and site address of the consignee and any alternate consignee.

Name of any transit countries through which the waste will pass, approximate time it will remain in each country, and nature of handling while there.

The receiving country consents to accept the waste.

A copy of an "EPA Acknowledgement of Consent" accompanies the shipment and, unless export takes place by rail, is attached to the manifest.

The shipment conforms to the terms of the receiving country's written consent.

The shipment complies with RCRA manifest requirements (including the field for international shipments), modified to provide the address of the receiving consignee and alternate instead of facility, and to add the following to the certification of the shipment "and conforms to the terms of the attached EPA Acknowledgment of Consent."

Follow-up reporting for any shipment for which the alternate consignee is used, and filing of an exception report with EPA if other problems arise.
If the export is to another OECD country, then the shipment instead must meet RCRA regulations designed to ensure consistency with OECD requirements. These include:
Incorporation of OECD's distinction between "Green Wastes" (wastes that present low risk for human health and the environment and, therefore, are not subject to controls beyond those normally applied in commercial transactions) and "Amber Wastes" (wastes presenting sufficient risk to justify additional control). These RCRA regulations regulate as hazardous each waste that is a RCRA hazardous waste and/or an Amber waste, and regulate Green Wastes as non-hazardous.

Notification to EPA

Consent by the receiving country similar to those described above.

Use of a "movement document" analogous to RCRA's Uniform Hazardous Waste Manifest.

A contract for transportation and management of the wastes.

Compliance with the receiving country's waste management requirements.
Exporters must file an annual report with EPA summarizing the types, quantities, and destinations of all hazardous waste exported. Records must be retained for at least three years.Importers of hazardous wastes must complete hazardous waste manifests, substituting their name and facility identifications for the non-domestic generator's. The importer must provide the transporter with an additional copy to submit to EPA in compliance with the transporter's manifest requirements. If the import is from an OECD country, the importer must also ensure that the shipment meets OECD requirements.
What Changes is EPA Adopting?

These rules do the following:
Mandate electronic reporting to EPA, to facilitate increased data (after EPA implement necessary data management capacity).

Apply OECD requirements to all imports and exports of hazardous waste, including universal wastes and batteries, and removing separate provisions for non-OECD exports and imports.

Track each shipment to its destination using an international movement document (e.g., OECD document), and require completion of shipment and notification of exporter within one year.

Link the existing RCRA "consent to export" with the exporter declaration submitted to U.S. Customs and Border Protection (CBP) through the U.S. federal International Trade Data System (ITDS), to provide for more efficient compliance monitoring.

Clarify matching of waste stream level consent numbers with waste streams listed on RCRA manifests for import and export shipments.

Require EPA identification (ID) numbers for all small quantity and large quantity hazardous waste exporters and importers, including "recognized traders" arranging for export or import of hazardous waste.

Phase in these new requirements.

Consents issued under the prior rules can remain in force for their duration, then be replaced with new consent meeting these latest requirements.

Use of EPA's Waste Import Export Tracking System (WIETS):

Required immediately for electronic submittal of new export notices for hazardous waste or cathode ray tubes (CRTs) for recycling.

Deferred one year for annual export reports.

Deferred until subsequent Federal Register notice sets schedule, for other import-export documents.
Self-Evaluation Checklist
If your organization is involved in imports and/or exports involving U.S. territory, consider the following checklist:
Does the organization import hazardous waste from:

Another OECD country?

Canada or Mexico?

A non-OECD country?
Does the organization export hazardous waste to:

Canada or Mexico?

Another OECD country?

A non-OECD country?
Does each shipment comply with domestic U.S. manifest requirements?
Is each export shipment covered by an existing Consent?
Does the organization retain all required records?
Are records retained in electronic format?

Where Can I Go For More Information?
Specialty Technical Publishers (STP) provides a variety of single-law and multi-law services, intended to facilitate clients' understanding of and compliance with requirements. These include:
About the Author

Jon Elliott is President of Touchstone Environmental and has been a major contributor to STP's product range for over 25 years. He was involved in developing 13 existing products, including Environmental Compliance: A Simplified National Guide and The Complete Guide to Environmental Law.
Mr. Elliott has a diverse educational background. In addition to his Juris Doctor (University of California, Boalt Hall School of Law, 1981), he holds a Master of Public Policy (Goldman School of Public Policy [GSPP], UC Berkeley, 1980), and a Bachelor of Science in Mechanical Engineering (Princeton University, 1977).
Mr. Elliott is active in professional and community organizations. In addition, he is a past chairman of the Board of Directors of the GSPP Alumni Association, and past member of the Executive Committee of the State Bar of California's Environmental Law Section (including past chair of its Legislative Committee).
You may contact Mr. Elliott directly at: tei@ix.netcom.com.