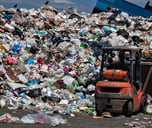 On May 30, the Environmental Protection Agency (EPA) repealed a number of regulations governing recycling of secondary materials, which EPA adopted as parts of a major rulemaking effective July 2015, but which were rejected by a federal court in decisions issued in July 2017 and March 2018. These rules apply the Resource Conservation and Recovery Act (RCRA) by creating exemptions from the "Definition of Solid Waste" to define a number of potentially hazardous wastes as "hazardous secondary materials", and to establish special rules to allow generators and qualified third parties to recycle and recover qualifying materials. (I summarized the larger 2015 rules here). The remainder of this note identifies EPA's latest changes.
What Are "Hazardous Secondary Materials"?
EPA has revised rules for management of (potentially) hazardous wastes defined as hazardous secondary materials. The general definition remains the same:
Hazardous secondary material means a secondary material (e.g., spent material, by-product, or sludge) that, when discarded, would be identified as hazardous waste under part 261 of this chapter.
EPA's use of the subjunctive "would be discarded" tells us how EPA considers spent materials, by-products and sludges that are managed in some way other than being discarded. The most recent changes make adjustments to much broader 2015 revisions in EPA's lists of materials being addressed, and the non-discard activities that qualify for special regulatory consideration. Most importantly, reclamation of a hazardous secondary material may qualify for one of two dozen exclusions—a specified material managed in a specified way is not a solid waste (i.e., is excluded from the definition, and therefore from all associated regulatory requirements).
What Revisions is EPA Now Making?
To implement the District of Columbia Circuit's decision (American Petroleum Institute v. EPA), EPA adopts the following revisions to its hazardous secondary material management rules, effective May 30, 2018:
Requirements for use of offsite recyclers are modified
EPA's recycling rules have always included requirements that offsite (as well as onsite) recycling and reclamation activities meet regulatory standards in order to prevent "sham recycling" that would violate the letter and spirit of RCRA. In 2015, EPA expanded requirements for offsite recyclers, which the agency re-identified as "verified recyclers" in order to emphasize that generators should verify that materials will be managed properly. The revisions were:
Specifying that materials must be "contained" before recycling.

Adding emergency preparedness and response requirements.

Removing a prohibition against such recycling for specified spent petroleum catalysts (waste codes K171 and K172).

Replacing a former requirement that the generator make a "reasonable effort" to audit the recycler before sending materials for management, to one requiring the facility to obtain a formal variance before accepting the materials for management.
The D.C. Circuit decision vacated the fourth of these requirements, and directed EPA to reinstate the "reasonable effort" requirement. The court also found the first three requirements reasonable, and severable from the vacated verification requirement. EPA has now replaced "verified recycler" provisions with a reinstated "reasonable effort" requirement, while retaining the other three provisions within the latest revisions. This change is intended to reduce complexity and delays that would have been required before beneficial recycling became possible.
Revised criteria for "legitimate recycling"
In 2015, EPA recast criteria for determining whether recycling was "legitimate" or "sham." EPA redesignated 2 "considerations" as mandatory decision "factors" to create a list of 4 such factors to be applied to all hazardous secondary management decisions to decide whether and activity constitutes legitimate recycling:
Activity must provide a "useful contribution to the recycling process or to a product or intermediate of the recycling process".

Activity must produce a valuable product or intermediate.

Material must actually be managed as a "valuable commodity" (formerly a consideration).

Product of activity must be comparable to a legitimate product or intermediate (formerly a consideration)
In response to the court's decision, EPA has now re-redesignated Factor 4 from mandatory to a consideration (while retaining Factor 3 as mandatory). This change is intended to restore flexibility to generators and recyclers, and to remove the risk of regulators' micro-management.
What's Next?
Industrial parties in the litigation claimed that removal of these targeted requirements would allow further expansion of beneficial offsite management of hazardous secondary materials, by removing substantial wastestreams from the costly and administratively rigorous RCRA process. Environmental parties had claimed the restrictions were reasonable and necessary to prevent improper management, so we can all wait and see what happens.
Where Can I Go For More Information?
Specialty Technical Publishers (STP) provides a variety of single-law and multi-law services, intended to facilitate clients' understanding of and compliance with requirements. These include:
About the Author

Jon Elliott is President of Touchstone Environmental and has been a major contributor to STP's product range for over 25 years. He was involved in developing 13 existing products, including Environmental Compliance: A Simplified National Guide and The Complete Guide to Environmental Law.

Mr. Elliott has a diverse educational background. In addition to his Juris Doctor (University of California, Boalt Hall School of Law, 1981), he holds a Master of Public Policy (Goldman School of Public Policy [GSPP], UC Berkeley, 1980), and a Bachelor of Science in Mechanical Engineering (Princeton University, 1977).

Mr. Elliott is active in professional and community organizations. In addition, he is a past chairman of the Board of Directors of the GSPP Alumni Association, and past member of the Executive Committee of the State Bar of California's Environmental Law Section (including past chair of its Legislative Committee).
You may contact Mr. Elliott directly at: tei@ix.netcom.com