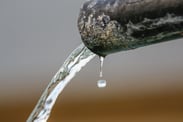 Since 1991, Safe Drinking Water Act's (SDWA) Lead and Copper Rule (LCR) has required public water systems (PWSs) to take steps to protect their customers from hazardous levels of lead in drinking water. Even before the highly-publicized crisis in Flint, Michigan, the Environmental Protection Agency (EPA) was working to update and expand LCR's protective measures. These efforts include a 2016 White Paper announcing the "urgent need" for revisions, describing key issues and possible revisions, and projecting a proposal to issue extensive LCR revisions during 2017. However, after President Trump assumed office, EPA's priorities shifted and the agency delayed action (I summarized the existing LCR and wrote about EPA's regulatory delay here). In November 2019, EPA proposed LCR changes, which I summarize below.
What Does LCR Require?
The LCR divides PWSs into three groups based on the numbers of customers served, and assigns tailored responsibilities based primarily on these groupings. for testing, corrosion control, source water treatment, and pipe replacement (Small—up to 3,300 customers; Medium—3,301 to 50,000 customers; Large—more than 50,000 customers).
The LCR establishes an action level of 15 parts per billion (ppb) for lead, and uses this action level as a basis for further requirements, which include:
Testing

Identification and control of corrosivity in water (since that etches piping, as in Flint)

Source Water Treatment (surface or groundwater)

Lead Service Line Replacement (lead- and copper-containing pipes installed before bans in 1986 remain in service to millions of homes nationwide)

Public notifications and education.
What is EPA Proposing?
The proposal would make significant enhancements to lead regulation, while leaving copper regulation unaffected. The LCR proposal focuses on six key areas:
Identifying the areas most impacted by continuing use of lead- and copper-containing pipes, by expanded testing.

Strengthening drinking water treatment requirements - with additional requirements for corrosion control treatment (CCT) based on the sampling results, and by establishing a new trigger level of 10 ppb.

Replacing lead service lines - by requiring PWSs to replace PWS-side lines when the customer replaces customer-side lines; and to make additional replacements based on lead concentrations in tap water, including at least 3% of lines that exceed the action level.

Increasing sampling reliability - by tightening sampling requirements.

Improving risk communication – by expanding routine outreach and requiring PWSs to notify customers of an action level exceedance. within 24 hours

Protecting children in schools and child care facilities – by requiring sampling and notifications.
Simultaneously, EPA and the Department of Housing and Urban Development (HUD) activated a website providing information about federal financial programs to assist with line replacements.
What's Next?
Comments on the proposed rule are due by January 13, 2020, 60 days after its publication in the Federal Register. Most reports have been favorable, although some health advocates criticize that the 3% replacement requirement will allow such lines to remain in service for decades.
Self-Assessment Checklist
Is the organization a PWS subject to LCR requirements?
If so, what is its present status under existing requirements?
Does the organization use water provided by a PWS?
If so, is the presence or absence of lead material to the organization's activities?
Do the organization's employees drink water provided by PWSs:
At the workplace?

At home?
Where Can I Go For More Information?
Specialty Technical Publishers (STP) provides a variety of single-law and multi-law services, intended to facilitate clients' understanding of and compliance with requirements.
About the Author

Jon Elliott is President of Touchstone Environmental and has been a major contributor to STP's product range for over 30 years.

Mr. Elliott has a diverse educational background. In addition to his Juris Doctor (University of California, Boalt Hall School of Law, 1981), he holds a Master of Public Policy (Goldman School of Public Policy [GSPP], UC Berkeley, 1980), and a Bachelor of Science in Mechanical Engineering (Princeton University, 1977).

Mr. Elliott is active in professional and community organizations. In addition, he is a past chairman of the Board of Directors of the GSPP Alumni Association, and past member of the Executive Committee of the State Bar of California's Environmental Law Section (including past chair of its Legislative Committee).
You may contact Mr. Elliott directly at: tei@ix.netcom.com