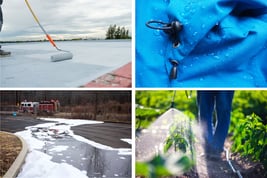 The Environmental Protection Agency (EPA) is issuing a proposal to list two perfluoro chemicals -- Perfluorooctanoic Acid (PFOA) and Perfluorooctanesulfonic Acid (PFOS) as hazardous substances under the federal Superfund law (Comprehensive Environmental Response, Compensation, and Liability Act (CERCLA)). This proposal is the latest in a string of regulatory actions by EPA to tighten controls on per- and poly-fluoroalkyl substances (PFAs); the initiatives are covered under the agency's "PFAS Strategic Roadmap: EPA's Commitments to Action 2021—2024," promulgated in October 2021. The remaninder of this note describes the latest action, and summarizes the Strategic Roadmap.
What are PFAs?
PFAs -- per- and polyfluoroalkyl substances – consist of thousands of synthetic organofluorine chemical compounds with multiple fluorine atoms attached to an alkyl chain. They are used in a very wide variety of applications; EPA's rulemaking identifies "making a wide range of consumer products including carpets, clothing, fabrics for furniture, and packaging for food and cookware that are resistant to water, grease or stains. They are also used for firefighting at airfields and in a number of industrial processes." Importantly for environmental and human health, "PFOA and PFOS are persistent and mobile in the environment, and exposure can lead to adverse human health effects, including high cholesterol, changes in liver enzymes, decreased immune response to vaccination, thyroid disorders, pregnancy-induced hypertension and preeclampsia, and cancer (testicular and kidney for PFOA, liver and thyroid cancer for PFOS)." Because of their environmental persistence, EPA and other concerned parties frequently refer to them as "forever chemicals." Also, because of these wide applications and wide environmental fates, PFA materials and wastes are potentially subject to many environmental, public health and worker safety laws.
What's in EPA's Strategic Roadmap?
Last year, EPA formed a Council on PFAs and published its Strategic Roadmap, to identify its many sources of legal authority and design research and regulatory approaches to PFAs. The Roadmap identifies a comprehensive multi-step approach, including:
Consider the Lifecycle of PFAS – including sources and environmental fates

Get Upstream of the Problem – to prevent environmental releases

Hold Polluters Accountable – identify polluters and other responsible parties accountable to ensure cleanups

Ensure Science-Based Decision-Making – invest in scientific research to fill gaps in understanding, identify which additional PFAS may pose human health and ecological risks at which exposure levels, and develop methods to test, measure, remove, and destroy them

Prioritize Protection of Disadvantaged Communities
The Roadmap lays out actions to be taken by a variety of responsible EPA technical and regulatory Offices, including voluntary stewardship programs as well as regulatory actions under the following:
Toxic Substances Control Act (TSCA)

Toxics Release Inventory (TRI; under Emergency Planning and Community Right-to-Know Act (EPCRA))

Safe Drinking Water Act (SDWA)

Clean Water Act (CWA)

CERCLA

Clean Air Act (CAA)

Resource Conservation and Recovery Act (RCRA) hazardous waste regulation
As noted by EPA in the press release publicizing the latest CERCLA proposal, in the intervening months EPA has taken a number of actions, including:
Releasing drinking water health advisories for four PFAS – using the best available science to tackle PFAS pollution, protect public health, and provide critical information quickly and transparently;

Making available $1 billion in grant funding through President Biden's Bipartisan Infrastructure Law;

Issuing the first Toxic Substances Control Act PFAS test order under the National PFAS Testing Strategy;

Adding five PFAS Regional Screening and Removal Management Levels that EPA uses to help determine if cleanup is needed;

Publishing draft aquatic life water quality criteria for PFOA and PFOS;

Issuing a memo to proactively address PFAS in Clean Water Act permitting;

Publishing a new draft total adsorbable fluorine wastewater method; and

Issuing the fifth Unregulated Contaminant Monitoring Rule to improve EPA's understanding of the frequency that 29 PFAS are found in the nation's drinking water systems and at what levels and preparing to propose a PFAS National Drinking Water Regulation by the end of 2022.
What is EPA's latest proposal?
EPA is proposing to designate PFOA and PFOS, including their salts and structural isomers, as hazardous substances under CERCLA (42 USC 9602(a)). When enacted in 1980, CERCLA identified as hazardous substances a variety of materials already identified as hazardous under CWA, RCRA, CAA and TSCA, and authorized EPA to add additional materials that the agency found that "when released into the environment may present substantial danger to the public health or welfare of the environment." CERCLA-designated hazardous substances are subject to a variety of controls, including:
reporting of each release larger than EPA's designated "reportable quantity (RQ)" within 24 hours; EPA is proposing RQs of 1 pound for PFOA and PFOS

identification of past storage for more than one year, or "known to have been released or disposed of" at a site being sold or transferred by the federal government.
What's Next?
EPA published the proposal in the September 6 Federal Register, with comments due by November 7. As proposed, the requirement to report RQ-level releases would take effect as soon as the rule is finalized. Although not discussed in the proposal itself, materials listed as hazardous substances are also explicitly subject to CERCLA's cleanup requirements – a much larger potential liability than a reporting requirement.
Self-Assessment Checklist
Does the organization own or operate any facility with PFOA or PFOS onsite at any time?
If so, is the organization preparing to notify federal, state and local environmental and emergency response organizations within 24 hours after unauthorized release of one pound or more of either substance?
Has the organization evaluated its handling of these substances to assess release prevention measures?
Is the organization preparing comments on this proposal?
Where Can I Go For More Information?
l- latest proposal (9/6/22 Federal Register)
- PFAS Strategic Roadmap (10/18/21)
About the Author

Jon Elliott is President of Touchstone Environmental and has been a major contributor to STP's product range for over 30 years.

Mr. Elliott has a diverse educational background. In addition to his Juris Doctor (University of California, Boalt Hall School of Law, 1981), he holds a Master of Public Policy (Goldman School of Public Policy [GSPP], UC Berkeley, 1980), and a Bachelor of Science in Mechanical Engineering (Princeton University, 1977).

Mr. Elliott is active in professional and community organizations. In addition, he is a past chairman of the Board of Directors of the GSPP Alumni Association, and past member of the Executive Committee of the State Bar of California's Environmental Law Section (including past chair of its Legislative Committee).
You may contact Mr. Elliott directly at: tei@ix.netcom.com