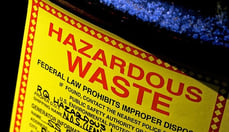 The U.S. Environmental Protection Agency (EPA) regulates hazardous wastes under the Resource Conservation and Recovery Act (RCRA). These regulations include a detailed national system governing hazardous waste shipments from generators to offsite management facilities. In October 2012, RCRA was amended by the Hazardous Waste Electronic Manifest Establishment Act, authorizing EPA to implement a national electronic manifest system. In 2014, EPA adopted regulations to govern the new electronic system (I blogged about the rules here), but deferred compliance provisions (including specific electronic formats) while the agency continues to work on its data collection and management system.
Comments were due on this latest fee proposal on September 26, 2016.
How will e-Manifests work?
The e-Manifest system will provide waste handlers with the option to complete, sign, transmit, and store manifest information electronically in EPA's electronic system – but it also allows users to continue to process paper Manifests (at least initially; EPA's stated goal is a fully electronic system). States that currently receive and collect paper manifest copies will receive manifest data electronically from the system. All provisions will trigger at the same time, including the following:
Availability of an operational national e-Manifest system, including provisions for delegation to states that qualify to assume state-level management.

Application of e-Manifest requirements to each shipment unless paper is requested and used by a waste handler that opts out of the electronic system (if any handler of a particular manifest opts out, then paper copies will be required for all participating parties).

Eligibility to track shipments not subject to manifest requirements (e.g., universal wastes and state-only wastes exempt from RCRA).

Continuation of other requirements that may require paper copies, including requirements of other RCRA provisions (such as Land Disposal Restriction (LDR) certifications, shipment Exception Reports and Discrepancy Reports, and import/export documentation) and Department of Transportation hazardous materials regulations (including requirement that a paper copy of a shipping paper accompany each shipment).

Fees for Manifests submitted to the system, in paper and electronic form.

Capability to transmit waste receipt data for generators' hazardous waste Biennial Reports.

Provisions for public access to information (providing for confidential business information (CBI) claims).
EPA anticipates substantial savings in users' compliance time burdens, and benefits from flexible real-time data covering routine hazardous waste shipments and transportation incidents as well. The agency anticipates that these benefits will lead to general adoption of e-Manifesting over time.
What Fee System is EPA Now Proposing?
On July 26, 2016, EPA published a proposed methodology that EPA intends to use in setting and revising user fees in order to recover the full costs of the e-manifest information technology (IT) system. The proposal provides the following:
Entities subject to user fees – EPA proposes to assess fees on facilities designated on manifests to receive hazardous waste shipments for off-site management (i.e., treatment, storage, and disposal facilities (TSDFs)). EPA believes that targeting a few hundred TSDFs rather than 80,000 or so generators and transporters will create a smaller and more efficient regulatory program (EPA leaves it to the TSDFs to sort out if and how to recover these new costs of doing business).

Transactions subject to fees – EPA proposes fees on TSDF for submission of a manifest, submission of data corrections to previously submitted manifest data, or for EPA's time to sort and return any stray or misdirected paper documents submitted to the system with paper manifests. EPA has not determined how and when fees will be paid.

Fee formula – EPA proposes a complex fee formula (after comparison of several methodologies) that would distinguish four types of manifest submissions based on the costs of incorporating the information into the IT system:

Electronic manifests submitted in accordance with system requirements.

Paper manifests mailed to the EPA system operator.

Scanned images of paper manifests uploaded to the system.

Upload of both an image file produced from a paper manifest and a corresponding data file produced by the TSDF's data system.

Fee payments – EPA proposes that TSDFs will pay its manifest fees, rather than generators or transporters.

Fee revisions – since the fees are intended to recover EPA's costs, they will be subject to review and revisions every two years.

Sanctions for non-payment – TSDFs that fail to pay fees will be subject to enforcement.
What Additional Provisions Does the Proposal Cover?
EPA's proposed rule notice includes several manifest- and transport-related matters that are not user fee related:
Allow certain changes to the routing of manifested waste shipments while the shipment is in transportation.

A process for hazardous waste receiving facilities to submit electronic corrections to previously submitted manifest data.

Situations under which a manifest user can execute and use a hazardous waste manifest that combines paper and electronic information.
Implementation Checklist
If your organization is involved in hazardous waste transportation, consider the following checklist:
Does the organization participate in hazardous waste transportation?
Hazardous waste generator initiating shipments?

Hazardous waste transporter?
Does the organization comply with applicable hazardous waste manifest requirements, including preparation and distribution of paper copies as required?
Does the organization also provide electronic record keeping and tracking?
Do electronic system specifications conform to emerging e-Manifest requirements from EPA?
Where Can I Go For More Information?
Specialty Technical Publishers (STP) provides a variety of single-law and multi-law services, intended to facilitate clients' understanding of and compliance with requirements. These include:
About the Author

Jon Elliott is President of Touchstone Environmental and has been a major contributor to STP's product range for over 25 years. He was involved in developing 13 existing products, including Environmental Compliance: A Simplified National Guide and The Complete Guide to Environmental Law.
Mr. Elliott has a diverse educational background. In addition to his Juris Doctor (University of California, Boalt Hall School of Law, 1981), he holds a Master of Public Policy (Goldman School of Public Policy [GSPP], UC Berkeley, 1980), and a Bachelor of Science in Mechanical Engineering (Princeton University, 1977).
Mr. Elliott is active in professional and community organizations. In addition, he is a past chairman of the Board of Directors of the GSPP Alumni Association, and past member of the Executive Committee of the State Bar of California's Environmental Law Section (including past chair of its Legislative Committee).
You may contact Mr. Elliott directly at: tei@ix.netcom.com.