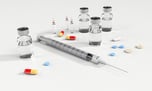 After a long rulemaking, the US Environmental Protection Agency (EPA) has just promulgated rules defining certain waste pharmaceuticals as "hazardous wastes" under the Resource Conservation and Recovery Act (RCRA), and establishing standards for their management by selected healthcare and "reverse distribution" waste management facilities. These regulations replace general RCRA generator and treatment requirements otherwise applicable to hazardous wastes.
EPA justifies the need for these special regulations based on two general observations:
Large total quantities of many types of waste pharmaceuticals are flushed to sewers or dumped in trash where they contribute to water contamination

Healthcare facilities tend to generate unpredictable quantities of many wastes as drugs are administered or managed in distributed locations throughout the facilities (think of individual prescriptions for each patient in a hospital, changing with the patient population), in contrast with the routine and predictable generation of most hazardous wastes at most regulated generator facilities.
EPA describes the new tailored requirements as "cost- saving, streamlined standards for handling hazardous waste pharmaceuticals to better fit the operations of the healthcare sector." EPA expects that these requirements – including prohibitions against sewer discharge estimated by EPA at approximately 2,000 tons per year – will reduce compliance burdens and also reduce environmental consequences.
The newly-adopted rules incorporate changes from EPA's 2015 proposal (which I discussed here). The adopted final rules become effective on August 21, 2019, although compliance with most provisions will not be required until a RCRA-authorized state adopts and enforces the requirements. If any of your organization's facilities is subject to these requirements, you will have until then to prepare your compliance. If you generate any of these wastes and transport them for management by others, you should anticipate that these vendors may impose new conditions for taking and managing your wastes.
Which Activities and Facility Types are Subject to These Requirements?
These rules apply to:
Healthcare Facilities, defined broadly to include any facility that:

Provide preventative, diagnostic, therapeutic, rehabilitative, maintenance or palliative care, and counseling, service, assessment or procedure with respect to the physical or mental condition, or functional status, of a human or animal or that affects the structure or function of the human or animal body.

Distribute, sell, or dispense pharmaceuticals, including over-the-counter pharmaceuticals, dietary supplements, homeopathic drugs, or prescription pharmaceuticals.
This definition covers wholesale distributors, third-party logistics providers that serve as forward distributors, military medical logistics facilities, hospitals, psychiatric hospitals, ambulatory surgical centers, health clinics, physicians' offices, optical and dental providers, chiropractors, long-term care facilities, ambulance services, pharmacies, long-term care pharmacies, mail-order pharmacies, retailers of pharmaceuticals, veterinary clinics, and veterinary hospitals. Healthcare facilities that generate more than 100 kg per month of hazardous waste (i.e., are not Very Small Quantity Generators) must comply with these requirements.
Pharmaceutical Reverse Distributors, which receive and accumulate potentially creditable hazardous waste pharmaceuticals from client facilities in order to facilitate or verify manufacturer's credit for unused "creditable pharmaceuticals." The reverse distributor reviews the unused pharmaceuticals received, works with the pharmaceutical manufacturer to provide credit back to the healthcare facility, and then sends the waste pharmaceuticals for disposal.

Treatment, Storage, and Disposal (TSD) facilities that manage hazardous waste pharmaceuticals.
The new rules exclude certain activities. First, EPA is codifying its existing interpretation that nonprescription pharmaceuticals that are sent through reverse logistics are not solid wastes at the retail store. Second, the rules do not apply to pharmaceutical manufacturers (unless they act as reverse distributors), production facilities or other generators of hazardous waste pharmaceuticals. Third, the new rules also maintain the household hazardous waste exemption for pharmaceuticals collected during pharmaceutical takeback programs and events.
Which Waste Pharmaceuticals are Covered?
This rule defines pharmaceutical as "any drug or dietary supplement for use by humans or other animals; any electronic nicotine delivery system (e.g., electronic cigarette or vaping pen); or any liquid nicotine (e-liquid) packaged for retail sale for use in electronic nicotine delivery systems (e.g., pre-filled cartridges or vials)." This definition includes dietary supplements (as defined by the Federal Food, Drug and Cosmetic Act); prescription drugs, as defined by the Food and Drug Administration (FDA); over-the-counter drugs; homeopathic drugs; compounded drugs; investigational new drugs; pharmaceuticals remaining in non-empty containers; personal protective equipment contaminated with pharmaceuticals; and clean-up material from spills of pharmaceuticals. This definition does not include dental amalgam or sharps."
Within this broad definition, a hazardous waste pharmaceutical is one that qualifies as a "solid waste" under RCRA, and either is:
Listed by EPA (which notes that 30 commercial chemical products listed on the P and U hazardous waste lists have pharmaceutical uses. These lists are based on chemical designations, not brand names, so EPA is uncertain how many wastes are covered).

Exhibits one of the four hazardous waste characteristics (ignitability, corrosivity, reactivity and toxicity) according to one of EPA's established testing methods.
The rules define sub-categories of hazardous waste pharmaceuticals appropriate to different stages of generation and management. A waste pharmaceutical that does not meet either prong of this definition is a non-hazardous waste pharmaceutical.
To reduce duplication, EPA offers a conditional exemption for hazardous waste pharmaceuticals that are also Drug Enforcement Administration (DEA) controlled substances, deferring to DEA requirements. The rules also exempt FDA-approved over-the-counter nicotine replacement therapies (i.e., patches, gums and lozenges) from regulation as a RCRA hazardous waste (specifically, these wastes are exempt from the RCRA Hazardous Waste Code P075 for nicotine). EPA's regulations allow generators (e.g., retail stores) to discard them as non-hazardous waste, although EPA points out that states may be stricter.
Special Compliance Requirements
EPA's hazardous waste pharmaceutical requirements apply separately from generators' onsite management requirements for most RCRA-regulated hazardous wastes, and will not trigger those general requirements. Instead, EPA presents tailored alternatives to typical hazardous waste generator requirements. In particular:
Healthcare facilities do not become large quantity generators (LQGs) when they generate more than 1 kg of acute hazardous waste pharmaceuticals in a month.

Healthcare facilities are not subject to satellite accumulation area regulations (even though EPA assumes that most hazardous waste pharmaceuticals are generated at distributed operational areas).

Healthcare facilities are not required to specify hazardous waste codes on manifests.

Healthcare facilities can accumulate hazardous waste pharmaceuticals onsite without a RCRA permit for 365 days (instead of 90/180/270 applicable for most hazardous wastes based on total generation of all hazardous wastes).

Healthcare facilities are subject to performance-based training requirements.
Similarly, requirements for pharmaceutical reverse distributors are tailored to their operations, distinct from the industrial operation model that drives most of RCRA's generator requirements. These include management and evaluation of "potentially creditable hazardous waste pharmaceuticals" sent from health care facilities to reverse distributors for evaluation, and then of materials after the determination whether they are or are not creditable.
The rules prohibit all sewer discharges of hazardous waste pharmaceuticals. EPA also makes conforming amendments to other RCRA regulations.
What Next?
If any of your organization's facilities generate and/or manage any of these newly-defined hazardous waste pharmaceuticals, you should be preparing to comply with these requirements.
In addition, you should be aware that regulators of non-hazardous solid wastes are increasing their attention to waste pharmaceuticals. For example, beginning January 1, 2019, a new California law establishes extensive requirements for proper management of waste pharmaceuticals and "sharps." (I wrote about that law here).
Self-Assessment Checklist
Do any of the organization's activities generate or manage hazardous waste pharmaceuticals at any of the following types of facilities:
Healthcare facility?

Reverse distributor?

TSD facility?

Other facility?
Do any of the organization's facilities manage pharmaceutical wastes in compliance with existing RCRA requirements?
Is each such facility prepared to convert its waste management practices to meet the revised requirements, once they take effect?
Where Can I Go For More Information?
Specialty Technical Publishers (STP) provides a variety of single-law and multi-law services, intended to facilitate clients' understanding of and compliance with requirements.
About the Author

Jon Elliott is President of Touchstone Environmental and has been a major contributor to STP's product range for over 25 years.

Mr. Elliott has a diverse educational background. In addition to his Juris Doctor (University of California, Boalt Hall School of Law, 1981), he holds a Master of Public Policy (Goldman School of Public Policy [GSPP], UC Berkeley, 1980), and a Bachelor of Science in Mechanical Engineering (Princeton University, 1977).

Mr. Elliott is active in professional and community organizations. In addition, he is a past chairman of the Board of Directors of the GSPP Alumni Association, and past member of the Executive Committee of the State Bar of California's Environmental Law Section (including past chair of its Legislative Committee).
You may contact Mr. Elliott directly at: tei@ix.netcom.com