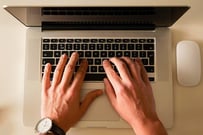 The U.S. Environmental Protection Agency (EPA) has been working for nearly six years to meet a legislative mandate to develop and implement an electronic manifest ("e-manifest") system to replace the decades-old paper-based system. The Hazardous Waste Electronic Establishment Act of 2012 amended the Resource Conservation and Recovery Act (RCRA) and gave EPA three years, but it's taken longer. EPA adopted e-manifest rules in 2014, but put them on hold until it could establish a suitable information management system (I wrote about these rules here). In January 2018 EPA published final e-manifest rules, including fees, and set June 30, 2018 as the initial compliance deadline.
How Will E-Manifests Work?
The e-Manifest system will provide waste handlers with the option to complete, sign, transmit, and store manifest information electronically in EPA's electronic system – but it also allows generators, transporters, and treatment, storage and disposal (TSD) facilities to continue to process paper manifests (at least initially; EPA's stated goal is a fully electronic system). Generators can access the data base to prepare e-manifests using their own electronic systems, or obtain access via transporters that come to a facility to pick up hazardous waste. States that currently receive and collect paper manifest copies will receive manifest data electronically from the system. Effective June 30, 2018, the following provisions take effect:
Manifest forms (Form 8700-22) are revised from longstanding four-copy model (generator initial copy, transporter copy, destination copy, and generator post-shipment verification copy) to add a "top copy".

E-manifest requirements apply to each shipment unless the generator uses paper; paper is required if the generator and/or transporter know at the time a shipment starts that any party in the shipping chain of generator - transporter(s) – interim handling facility(ies) (if any) – destination facility does not participate in the e-manifest program.

E-manifest applies to shipments of RCRA-regulated hazardous waste, and of state-only hazardous waste if the originating state requires a manifest.

Receiving facility (typically TSD or recycler) submits the "top copy" electronically to EPA's RCRAInfo system, along with a fee.

EPA's national e-manifest system is operational, including provisions for delegation to states that qualify to assume state-level management.

Eligibility to track shipments not subject to manifest requirements (e.g., universal wastes and state-only wastes exempt from RCRA).

Continuation of other requirements that may require paper copies, including requirements of other RCRA provisions (such as Land Disposal Restriction (LDR) certifications, shipment Exception Reports and Discrepancy Reports, and import/export documentation) and Department of Transportation hazardous materials regulations (including requirement that a paper copy of a shipping paper accompany each shipment).
EPA anticipates substantial savings in users' compliance time burdens, and benefits from flexible real-time data covering routine hazardous waste shipments and transportation incidents as well. The agency anticipates that these benefits will lead to general adoption of e-Manifesting over time.
How Will E-Manifest Fees be Calculated and Billed?
EPA's 2014 rules included provisions to make generators, transporters and destination facilities all subject to e-manifest fees designed to pay for the development and operation of the national data management system. However, in the final rules EPA notes that roughly 80,000 entities (mostly generators) participate in manifest procedures, but only several hundred are destination facilities to which hazardous wastes are shipped. In the interest of administrative efficiency, therefore, EPA will assess fees only on destination facilities.
EPA's rules provide a complex fee formula that the agency will use to calculate fees, and provide for fee revisions every two years. The 2018 rules do not adopt initial fees, but EPA will do so by June 30, 2018; the preamble to these rules provides a tentative fee schedule for the first two years charging:
- $20 for mailed paper manifests
- $13 for image uploads from paper manifests
- $7 for data uploads
- $4 for electronic manifests.
EPA will provide electronic invoices, which are to be paid electronically to EPA within 30 days. I assume that the destination facilities will find ways to pass these charges back to transporters and ultimately to generators.
Self-Evaluation Checklist
Is the organization involved in hazardous waste transportation?
- Does the organization generate hazardous waste?
- Does the organization transport hazardous waste?
- Does the organization own or operate any destination facilities (such as TSD facilities or recyclers) where hazardous waste is shipped for management?
Does the organization comply with applicable hazardous waste manifest requirements, including preparation and distribution of paper copies as required?
Does the organization also provide electronic record keeping and tracking?
Do electronic system specifications conform to emerging e-Manifest requirements from EPA?
Where Can I Go For More Information?
Specialty Technical Publishers (STP) provides a variety of single-law and multi-law services, intended to facilitate clients' understanding of and compliance with requirements. These include:
About the Author

Jon Elliott is President of Touchstone Environmental and has been a major contributor to STP's product range for over 25 years. He was involved in developing 13 existing products, including Environmental Compliance: A Simplified National Guide and The Complete Guide to Environmental Law.

Mr. Elliott has a diverse educational background. In addition to his Juris Doctor (University of California, Boalt Hall School of Law, 1981), he holds a Master of Public Policy (Goldman School of Public Policy [GSPP], UC Berkeley, 1980), and a Bachelor of Science in Mechanical Engineering (Princeton University, 1977).

Mr. Elliott is active in professional and community organizations. In addition, he is a past chairman of the Board of Directors of the GSPP Alumni Association, and past member of the Executive Committee of the State Bar of California's Environmental Law Section (including past chair of its Legislative Committee).
You may contact Mr. Elliott directly at: tei@ix.netcom.com