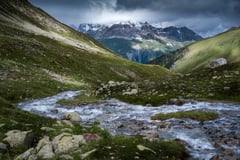 As the 2020 Presidential election approaches its close, both major parties' major environmental proposals have been formalized. As the incumbent party, the Republican National Committee decided not to adopt a formal election platform, and instead adopted a resolution promising continuity, the most substantive provision of which is "That the Republican Party has and will continue to enthusiastically support the President's America-first agenda." (I summarized candidate Trump's 2016 proposals HERE, and have written dozens of blogs summarizing specific actions since that election).
As the challengers, the Democrats provide far more detail; unsurprisingly they focus on reversing the incumbent's policies and reinvigorating traditional priorities. Their party platform presents 91 pages of advocacy and promises. The following discussion summarizes the section of the Democrats' 2020 platform entitled "Combating the Climate Crisis and Pursuing Environmental Justice."
What does the platform say about environmental priorities?
The platform provides 6 pages of text in a section entitled "Combating the Climate Crisis and Pursuing Environmental Justice." Parsing that text, I extract the following statements and promises, which I have reordered to support this bulleted approach.
"Climate change is a global emergency" characterized by recent catastrophes, and impacts that are spread unevenly through society with people of color and with lower income suffering disproportionate harm.

"rejoin the Paris Climate Agreement and, on day one, seek higher ambition from nations around the world, putting the United States back in the position of global leadership where we belong"

"follow science and the law by reducing harmful methane and carbon pollution from the energy sector"

"We agree with scientists and public health experts that the United States—and the world—must achieve net-zero greenhouse gas emissions as soon as possible, and no later than 2050."

- "Democrats commit to eliminating carbon pollution from power plants by 2035 through technology-neutral standards for clean energy and energy efficiency."

-"Within five years, we will install 500 million solar panels, including eight million solar roofs and community solar energy systems, and 60,000 wind turbines"

"We will require public companies to disclose climate risks and greenhouse gas emissions in their operations and supply chains"

Democrats will build a clean energy economy

supported by "federal resources and authorities across all agencies to deploy proven clean energy solutions; create millions of family-supporting and union jobs; upgrade and make resilient our energy, water, wastewater, and transportation infrastructure; and develop and manufacture next-generation technologies to address the climate crisis right here in the United States."

encourage millions of clean energy jobs, including training and opportunities for unionization

"target relevant investments with the goal of delivering 40 percent of the overall benefits to disadvantaged and frontline communities"

Make appropriate adjustments to the tax code

"build a modern electric grid by investing in interstate transmission projects and advanced, 21st century grid technologies"

"reduce methane pollution through strong federal standards and targeted support for repairing and replacing aging distribution systems"

"lower families' energy bills by making energy-saving upgrades to up to two million low-income households and affordable and public housing units within five years"

"We will set a bold, national goal of achieving net-zero greenhouse gas emissions for all new buildings by 2030, on the pathway to creating a 100 percent clean building sector"

"incentivize tens of billions of dollars in private-sector investment to retrofit four million buildings"

emphasize clean transportation, including "transitioning the entire fleet of 500,000 school buses to American-made, zero-emission alternatives within five years" [and leading] by example in the public sector by transitioning the three million vehicles in the federal, state, and local fleets to zero-emission vehicles."

"support measures to build a clean, equitable, and globally competitive manufacturing sector"

"partner with farmers to make the American agriculture sector the first in the world to achieve net-zero emissions"

"substantially increase investments in voluntary conservation programs"

Democrats will restore pre-Trump environmental protections:

"reverse the Trump Administration's dangerous and destructive rollbacks of critical climate and environmental protections."

"restore protections for irreplaceable public lands and waters, from Bears Ears National Monument to the Arctic National Wildlife Refuge"

"Democrats affirm California's statutory authority under the Clean Air Act to set its own emissions standards for cars and trucks. …Democrats will move quickly to reestablish strong standards for clean cars and trucks"

"Democrats oppose the Trump Administration's reckless and scientifically unsound decision to reverse a proposed ban on chlorpyrifos"

"We will invest to help farmers reduce pesticide and chemical fertilizer use"

"we will set science-based drinking water standards for emerging contaminants like PFOA and PFAS"

"Democrats are committed to ensuring tough safeguards in place, including Safe Drinking Water Act provisions, to protect local water supplies"

"We will hold fossil fuel companies accountable for cleaning up abandoned mine lands, oil and gas wells, and industrial sites"

"Democrats will create an environmental justice fund to make historic investments aimed at eliminating legacy pollution" … "Democrats will work with affected frontline communities to develop a screening and mapping tool to ensure racial and socioeconomic equity …and identify areas of high cumulative pollution"
What's Next?
As I write this, the US presidential election is only weeks away. The relevance of the Democrats' promises will be decided on November 3, 2020. Even if they do win, parties can not always be counted on to pursue their platforms' policies, let alone to succeed when trying to do so.
Self-Assessment Checklist
Does the organization conduct activities subject to federal environmental regulations?
Do the organization's activities include development and/or sale of technologies or services related to environmental protection laws?
Do the organization's activities include development and/or sale of technologies or services related to energy production or supply?
Where Can I Go For More Information?
• 2020 Democratic Party Platform
• Republican National Committee resolution
About the Author

Jon Elliott is President of Touchstone Environmental and has been a major contributor to STP's product range for over 30 years.

Mr. Elliott has a diverse educational background. In addition to his Juris Doctor (University of California, Boalt Hall School of Law, 1981), he holds a Master of Public Policy (Goldman School of Public Policy [GSPP], UC Berkeley, 1980), and a Bachelor of Science in Mechanical Engineering (Princeton University, 1977).

Mr. Elliott is active in professional and community organizations. In addition, he is a past chairman of the Board of Directors of the GSPP Alumni Association, and past member of the Executive Committee of the State Bar of California's Environmental Law Section (including past chair of its Legislative Committee).
You may contact Mr. Elliott directly at: tei@ix.netcom.com
Image by anncapictures from Pixabay