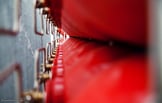 Federal hazardous materials transportation laws assign the Department of Transportation's (DOT's) Pipeline and Hazardous Materials Safety Administration (PHMSA) general authority to designate hazardous materials and prescribe regulations for the "safe transportation of hazardous materials in intrastate, interstate, and foreign commerce." PHMSA also prescribes criteria for handling hazardous materials, including training of personnel, inspections, and standards for operating and monitoring equipment.

These laws also authorize PHMSA and other DOT units to issue "special permits" that allow variances from federal requirements for up to two years. These special permits may be renewed for up to two years each time (and up to four years for variances from transport routing requirements). In 2012 "MAP-21" (Moving Ahead for Progress in the 21st Century Act) directed PHMSA to review special permits that had been in place for at least 10 years, and to adopt regulatory revisions by October 1, 2015. PHMSA was to apply the following factors to determine the suitability for adopting a special permit into its hazardous materials regulations (HMR):
Safety record of hazardous materials transported under the special permit under consideration.

Application of a special permit.

Suitability of the provisions in the special permit for incorporation into the HMR.

Other rulemaking activity in related areas.

These requirements formalized practices PHMSA had applied previously in narrower reviews and codifications of special permits (called variances until 2005) that ultimately produced 94 codifications between 2008 and 2015. PHMSA failed to meet its MAP-21 deadline, but effective February 22, 2016, PHMSA completed review of 1,168 special permits (held by 3,691 parties) that were active on January 1, 2013, and moved 96 of these special permits (held by 832 parties) into its general HMR.


Which Special Permits Are Being Codified?
PHMSA divides the transitioning special permits into a number of categories:

Cylinders (general) – 11 special permits, to transport specific hazardous materials in cylinders other than those generally permissible (e.g., transport of hydrogen and mixtures of hydrogen with helium, argon or nitrogen, in certain cylinders filled to 110% of their marked service pressures)

Cylinders (non-destructive testing aerosols) – 24 special permits, to transport specific materials in containers other than those generally permissible (e.g., Division 2.1 and 2.2 hazardous materials in certain non-DOT and DOT specification non-refillable aerosol containers which were tested by an alternative method to the generally required hot water bath test)

Cargo Tanks/Rail Cars/Portable Tanks – 2 special permits, to transport specific hazardous materials in containers other than those generally permissible. (e.g., specified tank cars containing ethylene, refrigerated liquid, at an internal pressure of 20 psig instead of the maximum 10 psig)

Operational Air/Vessel – 4 special permits, to transport specified hazardous materials in specific mode of transportation (e.g., liquefied petroleum gas in DOT specification cylinders, secured to transport vehicles on passenger ferry vessels)

Operational Highway/Rail/Shipper/Other – 39 special permits, addressing elements of transport of specified hazardous materials (e.g., authorization to use video cameras and monitors to observe the loading incidental to movement or unloading incidental to movement of certain corrosive materials in place of personnel remaining within 25 feet of a cargo tank motor vehicle)

Non-Bulk Packaging Specifications/Intermediate Bulk Containers – 17 special permits, to transport (e.g., authorizes transport by motor vehicle, rail freight and cargo vessel of certain waste paints and paint related materials, Class 3, in metal or plastic pails, packed in cubic yard boxes, dump trailers, and roll-off containers)
Note that the rulemaking repeatedly refers to 96 special permits, but PHMSA actually lists 97.

The rules became effective on February 22, 2016. Entities can comply as of that date, and must do so by January 23, 2017.


Self-Assessment Checklist
Is the organization involved in the transportation in commerce of any hazardous material, in any container, by any mode of transportation, covered by one of the special permits that PHMSA is replacing with generally applicable rules?
Has the organization conducted these activities under an existing special permit?

Has the organization conducted these activities under previously-established generally applicable rules?

Has the organization reviewed whether should transition activities from compliance with previously-established generally applicable rules, to newly-established generally applicable rules?

Where Can I Go For More Information?


Specialty Technical Publishers (STP) provides a variety of single-law and multi-law services, intended to facilitate clients' understanding of and compliance with requirements. These include:

About the Author

Jon Elliott is President of Touchstone Environmental and has been a major contributor to STP's product range for over 25 years. He was involved in developing 12 existing products, including Environmental Compliance: A Simplified National Guide and The Complete Guide to Environmental Law.
Mr. Elliott has a diverse educational background. In addition to his Juris Doctor (University of California, Boalt Hall School of Law, 1981), he holds a Master of Public Policy (Goldman School of Public Policy [GSPP], UC Berkeley, 1980), and a Bachelor of Science in Mechanical Engineering (Princeton University, 1977).
Mr. Elliott is active in professional and community organizations. In addition, he is a past chairman of the Board of Directors of the GSPP Alumni Association, and past member of the Executive Committee of the State Bar of California's Environmental Law Section (including past chair of its Legislative Committee).
You may contact Mr. Elliott directly at: tei@ix.netcom.com.