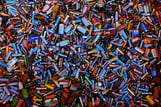 The Resource Conservation and Recovery Act (RCRA) assigns the US Environmental Protection Agency (EPA) to define and then regulate "hazardous wastes." EPA applies its considerable discretion to separate hazardous wastes into categories subject to distinct waste management requirements. One basis for these categorizations is relative risk – the more hazardous the waste the greater the controls required, and the smaller the threshold quantities necessary to trigger regulation. Beginning in 1995, EPA has defined a limited set of very common lower-risk wastes as "universal wastes," and made them subject to special rules intended to encourage recycling (40 CFR part 273). The rest of this note summarizes universal waste requirements.
Which Wastes are Universal Wastes?
EPA defines universal wastes, and also authorizes states to define additional universal wastes. Readers should note that this flexibility is unique: states are generally able to apply stricter standards (more wastes can be "hazardous", controls can be tighter, and thresholds can be lower), but this is the only situation where states can be less strict, since a state-only universal waste would be considered a plain vanilla hazardous waste elsewhere.
EPA presently defines five types of universal wastes
EPA's RCRA regulations provide for the following:
Waste batteries

Waste pesticides

Waste mercury thermostats

Waste lamps

Mercury-containing equipment
In March 2018, EPA proposed to define aerosol cans as universal wastes (I wrote about the proposal here).
States define a variety of additional wastes as universal wastes
In addition, EPA's universal waste rules allow states to add additional categories and to apply comparable management standards. EPA notes the following additional state-only universal wastes:
Aerosol Cans (California, Colorado)

Antifreeze (Louisiana, New Hampshire)

Ballasts (Maine, Maryland, Vermont)

Barometers (New Hampshire, Rhode Island)

Cathode Ray Tubes (CRTs) (Maine, New Hampshire, Rhode Island)

Electronics (Arkansas, California, Colorado, Connecticut, Louisiana, Michigan, Nebraska, New Jersey)

Oil-Based Finishes (New Jersey)

Paint and Paint-Related Wastes (Texas)

Hazardous Waste Pharmaceuticals (Florida, Michigan)
Additional state-level proposals are pending. For example, California is considering rules to regulate waste photovoltaic (PV) modules.
How are Universal Wastes Regulated?
Universal waste requirements generally parallel those applicable to most hazardous wastes, although terminology, quantity thresholds, and compliance details vary.
Which wastes can be universal waste?
Each set of universal waste rules starts with a definition of the wastestream covered. For example, "battery" is defined as follows:
"Battery means a device consisting of one or more electrically connected electrochemical cells which is designed to receive, store, and deliver electric energy. An electrochemical cell is a system consisting of an anode, cathode, and an electrolyte, plus such connections (electrical and mechanical) as may be needed to allow the cell to deliver or receive electrical energy. The term battery also includes an intact, unbroken battery from which the electrolyte has been removed."
However, universal waste batteries exclude "spent lead-acid batteries managed under EPA's longstanding program for recycling of vehicle size batteries (from vehicles and battery packs).
Who can be universal waste "handlers"?
In the same ways that EPA defines hazardous waste "generators," the agency defines universal waste "handlers" and distinguishes between large quantity handlers and small quantity handlers.
"Large Quantity Handler of Universal Waste means a universal waste handler (as defined in this section) who accumulates 5,000 kilograms or more total of universal waste (batteries, pesticides, mercury-containing equipment, or lamps, calculated collectively) at any time. This designation as a large quantity handler of universal waste is retained through the end of the calendar year in which the 5,000 kilogram limit is met or exceeded."
* * *
"Small Quantity Handler of Universal Waste means a universal waste handler (as defined in this section) who does not accumulate 5,000 kilograms or more of universal waste (batteries, pesticides, mercury-containing equipment, or lamps, calculated collectively) at any time."
Since the second definition does not include a minimum threshold level a facility that accumulates any quantity of universal wastes may become a small quantity handler. However, a facility that qualifies as a very small quantity generator (VSQG; called conditionally exempt small quantity generator (CESQG) of hazardous waste) – i.e., generates no more than 100 kg per month of all hazardous wastes or 1 kg per month of AHW – is exempt from EPA's universal waste regulations.
Related requirements also apply to universal waste transporters, and to destination facilities where wastes are managed offsite.
What onsite management standards apply?
Universal waste handlers are subject to onsite management requirements, applicable after generation but before the wastes are shipped offsite. Requirements include:
Do not dispose of, dilute, or treat universal wastes, except when cleaning up spilled materials.

Do not accumulate universal waste onsite for longer than 1 year, unless necessary to facilitate proper recovery, treatment or disposal.

Label universal waste or its container to identify the type of waste.

Demonstrate when accumulation begins by one of the following methods:

Label or mark the universal waste container with the accumulation start date.

Mark each universal waste item with the date it became waste.

Maintain a waste inventory system with dates.

Maintain an inventory system that identifies the first date an item in a group of waste became a waste.

Place the wastes in a specific accumulation area with a set date.

Any other method that clearly demonstrates the accumulation time.
A large quantity handler must meet these standards, and must also provide EPA with written notification of universal waste management, and receive an EPA Identification Number that will be used in subsequent record keeping and reporting.
What standards apply when transporting cans offsite for management?
Shipments of universal wastes offsite do not require use of Uniform Hazardous Waste Manifests, but must meet the following requirements:
Universal waste shipments must be only to another universal waste handler, an appropriate destination facility, or a foreign destination.

Universal wastes that meet Department of Transportation (DOT) definitions of "hazardous materials" must be shipped in compliance with DOT hazardous materials shipping standards.- Shippers must ensure that the receiving handler agrees to receive a shipment before initiating a shipment.

If a universal waste shipment is rejected by the destination facility, the originating handler must either receive the waste back, or agree with the receiving facility on a new destination.

A destination facility that rejects a shipment must inform the originating facility of the rejection and either send the waste back or agree with the sender on a new destination facility for the waste.

A universal waste handler that receives a shipment that includes hazardous waste must inform the regional EPA office, and provide the name and address of the originator of the shipment.

Exports of universal waste are subject to the same types of international consent requirements as are hazardous waste exports.

Handlers, transporters, and destination facilities must retain required records of each shipment.
Self-Assessment Checklist
Do any of the organization's activities involve materials that qualify as "universal wastes" once productive uses are over?
If so, does the organization have procedures in place for managing universal wastes?
If so, are the procedures based on procedures used to manage other wastes designated by EPA or a state as universal waste?
Does the organization track federal and state rulemakings that could define any additional waste streams as universal wastes?
Where Do I Go For More Information?
Specialty Technical Publishers (STP) provides a variety of single-law and multi-law services, intended to facilitate clients' understanding of and compliance with requirements.
About the Author

Jon Elliott is President of Touchstone Environmental and has been a major contributor to STP's product range for over 25 years.

Mr. Elliott has a diverse educational background. In addition to his Juris Doctor (University of California, Boalt Hall School of Law, 1981), he holds a Master of Public Policy (Goldman School of Public Policy [GSPP], UC Berkeley, 1980), and a Bachelor of Science in Mechanical Engineering (Princeton University, 1977).

Mr. Elliott is active in professional and community organizations. In addition, he is a past chairman of the Board of Directors of the GSPP Alumni Association, and past member of the Executive Committee of the State Bar of California's Environmental Law Section (including past chair of its Legislative Committee).
You may contact Mr. Elliott directly at: tei@ix.netcom.com