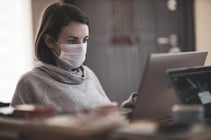 The US Occupational Safety and Health Administration (OSHA) requires that employees wear personal protective equipment (PPE) necessary to help protect them against identified workplace hazards. This equipment may protect against physical hazards—hard hats, safety glasses, tinted goggles, steel-toed shoes—or may protect against health hazards—respirators, self-contained breathing apparatus, gloves. OSHA does not formally consider cloth facemasks to be PPE, but does consider them "source control" that may prevent an infected person from spreading the virus – which means that they do provide protection to co-workers. OSHA and most other health and safety agencies therefore do at least recommend masks, and some require them in specified settings. The remainder of this note discusses agencies' formal provisions regarding masks.
How must employers select appropriate PPE?

OSHA requires employers to assess workplaces for occupational hazards, and respond to identified hazards with some combination of engineering, administrative and work practice controls. Depending on the hazard, applicable requirements, and the employer's overall response, PPE may or may not be required. OSHA requires each employer whose response includes PPE to do the following (29 CFR 1910.132(d)(1)):
Assess the workplace to determine if hazards are present, or are likely to be present.

Select PPE that will protect employees from the hazards in the workplace.

Select PPE that properly fits each affected employee.

Communicate PPE selections to each employee.

Train each employee to use PPE safely and effectively.

Ensure that affected employees use the PPE (employer-provided at no cost to the employee; or employees can bring and use their own).
OSHA provides several general standards governing protections for different areas of the body– eyes and face; head; feet; hand – and also electrical safety (29 CFR 1910.132 – 1910.137). In addition, some specific OSHA standards addressed to particular risks also include their own PPE requirements addressed directly to the hazards they address.
In this context, the question is: is COVID-19 a workplace hazard subject to requirements for hazard-reducing PPE, and might cloth masks qualify?
"Cloth face coverings" aren't PPE, but may be useful or even necessary
During the present pandemic, OSHA and other workplace safety and health agencies have developed a variety of guidance documents (I've written about a number of these, including early OSHA/CDC guidelines HERE, and back-to-work guidance HERE). OSHA compiles its guidance documents, as well as other information and frequently asked questions (FAQs) on a special webpage on its website (which I link below).
OSHA's FAQs state that cloth facemasks are not PPE, but may still be helpful and even necessary. Specifically, two FAQs provide the following guidance (which I quote, adding highlighting where helpful):
• Are employers required to provide cloth face coverings to workers?
Cloth face coverings are not considered personal protective equipment (PPE) and are not intended to be used when workers need PPE for protection against exposure to occupational hazards. As such, OSHA's PPE standards do not require employers to provide them.
The General Duty Clause … [which I discuss HERE] requires each employer to furnish to each of his employees employment and a place of employment which are free from recognized hazards that are causing or are likely to cause death or serious physical harm. Control measures may include a combination of engineering and administrative controls, safe work practices like social distancing, and PPE.
However, employers may choose to ensure that cloth face coverings are worn as a feasible means of abatement in a control plan designed to address hazards from SARS-CoV-2, the virus that causes COVID-19. Employers may choose to use cloth face coverings as a means of source control, such as because of transmission risk that cannot be controlled through engineering or administrative controls, including social distancing.
• Should workers wear a cloth face covering while at work, in accordance with the Centers for Disease Control and Prevention recommendation for all people to do so when in public?
OSHA generally recommends that employers encourage workers to wear face coverings at work. Face coverings are intended to prevent wearers who have Coronavirus Disease 2019 (COVID-19) without knowing it (i.e., those who are asymptomatic or pre-symptomatic) from spreading potentially infectious respiratory droplets to others. This is known as source control.
Consistent with [CDC] recommendation for all people to wear cloth face coverings when in public and around other people, wearing cloth face coverings, if appropriate for the work environment and job tasks, conserves other types of personal protective equipment (PPE), such as surgical masks, for healthcare settings where such equipment is needed most.
Employers have the discretion to determine whether to allow employees to wear cloth face coverings in the workplace based on the specific circumstances present at the work site. For some workers, employers may determine that wearing cloth face coverings presents or exacerbates a hazard. For example, cloth face coverings could become contaminated with chemicals used in the work environment, causing workers to inhale the chemicals that collect on the face covering. Over the duration of a work shift, cloth face coverings might also become damp (from workers breathing) or collect infectious material from the work environment (e.g., droplets of other peoples' infectious respiratory secretions). Workers may also need to use PPE that is incompatible with the use of a cloth face covering (e.g., an N95 filtering facepiece respirator).
Where cloth face coverings are not appropriate in the work environment or during certain job tasks (e.g., because they could become contaminated or exacerbate heat illness), employers can provide PPE, such as face shields and/or surgical masks, instead of encouraging workers to wear cloth face coverings. Like cloth face coverings, surgical masks and face shields can help contain the wearer's potentially infectious respiratory droplets and can help limit spread of COVID-19 to others. ….
Readers should note that OSHA does not refer to masks as administrative controls that might be put in place to provide protections for co-workers, even though it seems to me that's how they function.
Other agencies recommend cloth masks, and some require them
Other agencies also recommend cloth masks. For example, CDC recommends them as source controls, even in settings where face shields or respirators are not required.
Other agencies require facemasks. These include public health agencies throughout the world, as necessary conditions for businesses to operate, requiring business employees and customers to mask. In addition, as states enact temporary COVID-related occupational safety and health standards, they are requiring masks (the first was Virginia, which I wrote about HERE; as of this writing Oregon, Washington and California have enacted similar rules).
What happens now?
Many public health agencies throughout the world are imposing facemask requirements on business operations, to protect employees and clients. As discussed above, OSHA encourages them and an increasing number of state-level occupational safety and health agencies require them. The same pattern is underway in Canada. Organizations should pay close attention to changing requirements issued by public and occupational health agencies – the best practices seem to be requiring employees to wear masks with the employer making masks available, and to require customers and other visitors to the organization's activities to wear them as well.
Self-Assessment Checklist
Has the organization assessed its operations for COVID exposure risks to employees, and determined the levels of exposure hazard created by each job?
If so, has the organization implemented information and precautionary measures, based on CDC guidelines, OSHA guidelines, applicable state and local health agency requirements, or other sources?
Where Can I Go For More Information?
About the Author

Jon Elliott is President of Touchstone Environmental and has been a major contributor to STP's product range for over 30 years.

Mr. Elliott has a diverse educational background. In addition to his Juris Doctor (University of California, Boalt Hall School of Law, 1981), he holds a Master of Public Policy (Goldman School of Public Policy [GSPP], UC Berkeley, 1980), and a Bachelor of Science in Mechanical Engineering (Princeton University, 1977).

Mr. Elliott is active in professional and community organizations. In addition, he is a past chairman of the Board of Directors of the GSPP Alumni Association, and past member of the Executive Committee of the State Bar of California's Environmental Law Section (including past chair of its Legislative Committee).
You may contact Mr. Elliott directly at: tei@ix.netcom.com