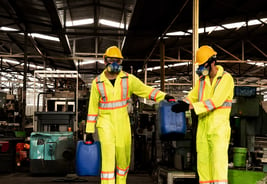 The federal Chemical Safety and Hazard Investigation Board – which usually refers to itself as the Chemical Safety Board or CSB – conducts independent investigations of major chemical accidents, issues accident-specific findings, and offers specific or general recommendations for improved chemical handling and regulation. In August 2022, CSB has issued compliance guidance addressing its "Chemical Incident Reporting Rule" (actually 6 rules, in 40 CFR part 1604) (I wrote about the Rule when it was adopted in February 2020, HERE). The remainder of this note summarizes CSB's latest guidance.
Which Accidental Releases are Covered?
CSB's rules establish reporting requirements, and provide definitions for key terms. For these rules:
"Accidental release" means an unanticipated emission of a regulated substance or other extremely hazardous substance into the ambient air from a stationary source.
"Regulated substance" is one of the materials regulated by EPA as part of its Accidental Prevention Program (ARP) (I wrote about EPA's recent ARP rule revision proposal HERE)
"Extremely hazardous substance (EHS)" means "any substance which may cause death, serious injury, or substantial property damages, including but not limited to, any ''regulated substance'' at or below any threshold quantity set by [EPA]…" This open-ended definition means that stationary sources will not know in advance which chemicals are regulated.
"Ambient air" means "any portion of the atmosphere inside or outside a stationary source." Note that this includes air inside OSHA-regulated workplaces, and outside air.
Stationary source means "any buildings, structures, equipment, installations, or substance-emitting stationary activities which belong to the same industrial group, which are located on one or more contiguous properties, which are under the control of the same person (or persons under common control), and from which an accidental release may occur." This definition repeats the statutory definition in the Clean Air Act (CAA), and EPA's ARP rules; however, note that a facility could also be a stationary source for a non-ARP EHS.
Incidents must be reported if they lead to any of the following: death, serious injury (i.e., requires hospitalization), or at least $1 million in damages. Facilities are to make required reports to CSB within 8 hours (CSB provides a form on its website); if a release also triggers CAA/CERCLA requirements to report to the National Response Center (NRC) then the facility can meet CSB requirements by providing a copy of the report made to NRC.
What information does the Guidance provide?
The Guidance provides some high-level overall guidance, and then presents information to assist facility personnel in determining whether an incident should be reported. This information appears in two Question/Answer sets, 7 "General Q&A" and 38 "Q&A."
CSB presents a number of conclusions it has reached about incident reporting, in six bullets. Most importantly:
Facility owner/operators are best positioned to understand their facilities, and the circumstance surrounding an incident.

Facilities should be able to gather information sufficient to make required reports within 8 hours – or at least to provide most information and then follow up with any missing pieces.

If in doubt, facilities should err on the side of providing reports.
The seven General Q&A blocks address the applicability of the rules to different situations. These include clarifications that reports are due within 8 hours after a facility determines a reportable event has occurred, if initial information was inadequate to make such a determination. They also include unexpectedly severe releases if planned releases go awry.
This section addresses more specific questions, and provides answers. These include:
Losses used to determine whether $1 million or more in damages occur include the value of consequential lost production.

A variety of detailed incident and release scenarios addressed to CSB by individual facilities concerned about their potential compliance responsibilities. The details are beyond the scope of this note, but provide useful additional information that individual facilities can use to evaluate their own compliance responsibilities.
What's Next?
CSB continues to administer its reporting rules, and has not announced any plan to amend the rules or change its approach.
Self-Assessment Checklist
Do any of my organization's facilities manage chemicals that are subject to EPA's Accidental Release Prevention (ARP) rules?
Do any of my organization's facilities manage chemicals that listed as hazardous substances by EPA under the Superfund law, in quantities that meet or exceed applicable Reportable Quantities?
Does each such facility have procedures in place to make all required release reports, based on the type, quantity and location of a spill or other release?
Has each such facility reviewed its release reporting procedures to include reporting to CSB if necessary?
Where Can I Go For More Information?
- website
- Chemical Incident Reporting Rule webpage
- Chemical Incident Reporting Rule guidance (8/22)
About the Author

Jon Elliott is President of Touchstone Environmental and has been a major contributor to STP's product range for over 30 years.

Mr. Elliott has a diverse educational background. In addition to his Juris Doctor (University of California, Boalt Hall School of Law, 1981), he holds a Master of Public Policy (Goldman School of Public Policy [GSPP], UC Berkeley, 1980), and a Bachelor of Science in Mechanical Engineering (Princeton University, 1977).

Mr. Elliott is active in professional and community organizations. In addition, he is a past chairman of the Board of Directors of the GSPP Alumni Association, and past member of the Executive Committee of the State Bar of California's Environmental Law Section (including past chair of its Legislative Committee).
You may contact Mr. Elliott directly at: tei@ix.netcom.com