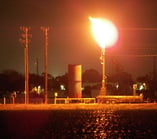 The Bureau of Land Management (BLM) issued a final rule (the 2018 rule) on September 28, 2018 (83 FR 49184) that revised, rescinded, or replaced requirements in its "Waste Prevention, Production Subject to Royalties, and Resource Conservation" (the 2016 rule) (81 FR 83008). The 2016 rule, also known as the Methane and Waste Prevention Rule, required operators of onshore federal and Indian (other than Osage Tribe) leases to take various actions to reduce the waste of gas. The rule established clear criteria for when flared gas qualified as waste and was, therefore, subject to royalties, and also clarified which on-site uses of gas were exempt from these royalties. Prior to the 2016 rule, provisions related to venting, flaring, and royalty-free use of gas were contained in the agency's 1979 Notice to Lessees and Operators of Onshore Federal and Indian Oil and Gas Leases, Royalty or Compensation for Oil and Gas Lost [NTL–4A]).
The recent regulatory changes come in response to President Trump's Executive Order (E.O.) 13783, "Promoting Energy Independence and Economic Growth," particularly the policies set forth in section 1, which states that "[i]t is in the national interest to promote clean and safe development of our Nation's vast energy resources, while at the same time avoiding regulatory burdens that unnecessarily encumber energy production, constrain economic growth, and prevent job creation."
In the preamble to the 2018 rule, BLM explained that it removed requirements in the 2016 rule that it estimated would pose a compliance burden to operators, deciding that it is not appropriate for "waste prevention" regulations to impose compliance costs greater than the value of the natural gas they are expected to conserve. BLM also gave deference to state regulations for the venting or flaring of oil-well gas, with some exceptions. For facilities in states that do not have comparable rules, oil-well gas may not be vented or flared royalty free unless BLM approves the venting it in writing. Finally, BLM provided tribes more opportunity to exercise sovereignty over oil and gas development under their jurisdiction, allowing tribes that have received approval from BLM to create rules, regulations, or orders that be enforced in place of any provisions of 43 CFR 3170 Subpart 3179.
BLM specifically rescinded the following requirements of the 2016 rule:
Waste minimization plans;

Well drilling requirements;

Well completion and related operations requirements;

Pneumatic controller equipment requirements;

Pneumatic diaphragm pump equipment requirements;

Storage vessel equipment requirements; and

Leak detection and repair (LDAR) requirements.
BLM also modified and/or replaced the following requirements of the 2016 rule with requirements similar to those found in NTL–4A:
Gas-capture requirements;

Downhole well maintenance and liquids unloading requirements; and

Measuring and reporting volumes of gas vented and flared.
On April 4, 2018 the U.S. District Court for the District of Wyoming issued an order to stay the phase-in provisions for the rule implementation stating that operators should not be required to expend substantial time and resources to comply with regulatory requirements of the 2016 rule that may be short-lived. Although BLM revised the 2016 rule to remove requirements contested by various suits, the Court was waiting for the BLM to issue its final rule before meaningfully and finally engaging in a merits analysis of the issues raised by the parties. Although the 2018 rule went into effect November 27, 2018, more changes may occur to this rule once the U.S. District Court for the District of Wyoming (the Court) completes its analysis of the issues raised by the litigants of the 2016 rule that were stayed by the Court.

Specialty Technical Publishers (STP) provides a variety of single-law and multi-law services, intended to facilitate clients' understanding of and compliance with requirements.
About the Author
Kathy McKinney-Tovar is an STC Senior Analyst and regulatory specialist with over 25 years of experience in the environmental consulting industry, assisting businesses with environmental compliance, regulatory issues, and Phase I Environmental Site Assessments. She is the author for the Upstream Oil and Gas Operations: Federal Auditing Compliance Guide, the Environmental Auditing: Federal Air Quality MACT Standards for Upstream Oil and Natural Gas Processing, and the Pipeline Safety Auditing: Federal Compliance Guide (published by Specialty Technical Publishers).

For more information about this amendment, contact Kathy at (707) 534-3248 or KMcKinney-Tovar@stcenv.com.

The 2018 amendments to the Methane and Waste Prevention Rule will appear in the next update to the Upstream Oil and Gas Operations: Federal Auditing Compliance Guide.

photo credit: haymarketrebel Oxnard Oil Well Flare via photopin (license)