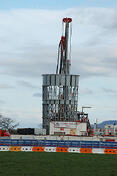 Many readers will know that political and legal regulatory developments have lagged the technical developments in hydraulic fracturing and other enhanced oil and gas recovery techniques – "fracking." Some jurisdictions focus on the jobs and taxes that result from resource extraction, while others focus on the potential environmental hazards. As 2015 begins, we find California and New York – which typically agree on significant environmental policy questions – adopting opposite responses.
California Provides Statewide Regulation (With Some Local Dissents)
California enacted its first statewide well stimulation law in 2013, governing hydraulic fracturing and other well treatments (in the state's Public Resources Code (Division 3, Chapter 1, Article 3, sections 3150 – 3161, enacted by SB 4 (Pavley)). Most responsibilities are assigned to the state's Division of Oil, Gas and Geothermal Resources (DOGGR), although the State Water Resources Control Board (SWRCB) is assigned water quality protection responsibilities to develop model groundwater monitoring criteria that include consideration of impacts from well stimulation. DOGGR issued interim regulations effective January 20, 2014, readopted them effective July 1, 2014, and has responded to legislative revisions to SB 4 (SB 861) by postponing the effective date of its regulatory requirements to July 1, 2015 while it conducts further rulemaking. (I discussed SB 4 here).
Present Interim Regulations
DOGGR's interim regulations presently require would-be well stimulators to provide required information to DOGGR, neighboring property owners, and the public:
Operators of any "well stimulation treatment" (fracking or other project designed to enhance oil or gas recovery by increasing permeability) file notification with DOGGR at least 10 days before beginning the stimulation, on DOGGR's notice form (Form OG109) that includes required information, including a groundwater monitoring plan and a water management plan.

Operators cannot begin the stimulation until DOGGR has approved the notice filing as complete.

Operators must notify owners and tenants of property within 1500 feet of a wellhead or 500 feet of the horizontal projection of subsurface parts of a well, at least 30 days before beginning the stimulation AND with copies of the state notification after approval by DOGGR [note that this requires even earlier notice to DOGGR].

Operator must notify DOGGR at least 72 hours before beginning the stimulation, so DOGGR staff can choose to witness the commencement.

A property owner can request water quality sampling and testing of any drinking or irrigation water well on its property, within 20 days after receiving notice of an impending stimulation. Tests are to be performed at the proponent's expense by an independent state-approved contractor, following state standards.

Operators must also provide additional notifications within 60 days after the end of treatment. This includes technical information about the well and about additives, including information about additives injected as part of hydraulic fracturing projects. DOGGR compiles information from these notifications on an Interim Well Stimulation Treatment Disclosures Index on its website.

• Final Regulations Under Development

DOGGR is working to issuer final regulations by January 1, 2015, to become effective July 1. These will transform the notification requirements into permit requirements. The latest proposal makes the following changes to the Interim Regulations:

Requires a permit from DOGGR (not just an acknowledgement of complete notification) for well stimulation projects – this will also require compliance with groundwater monitoring requirements administered by the SWRCB which also are due by July 1, 2015).

Removes an exemption for acid matrix well stimulation by acids with concentrations less than 7%.

Expands water planning, monitoring and management requirements, adds a requirement to monitor and report seismic activity, and expands required information disclosures about the techniques to be used in the stimulation project (including a post-project report to DOGGR).

Adds explicit requirement that treatments be conducted in compliance with all applicable air, water, hazardous materials and hazardous waste requirements (which are administered by other state and local agencies).

Local Bans
Environmental and grass roots organizers have encouraged politicians and local voters to ban hydraulic fracturing. In November 2014, local voters approved bans in Mendocino and San Benito counties, and rejected one in Santa Barbara County. Santa Cruz County enacted a ban in May 2014. Litigation is likely.
New York Converting Statewide Moratorium Into A Ban
In contrast, New York has not allowed fracking. On December 17, the state Department of Environmental Conservation (DEC) announced plans to ban fracking and other stimulation procedures. This announcement coincided with release of a state Department of Health review of public health impacts of fracking, responding to a formal DEC request from 2012. Governor Andrew Cuomo quickly announced his support for the ban.

These decisions will supersede a statewide moratorium on fracking, in place since 2008. During that moratorium, DEC had been developing regulations to regulate these activities. During this time, several localities had adopted local bans, which were upheld by the state's highest court in June 2014 (Wallach v. Town of Dryden, New York Court of Appeals).
Meanwhile…
Other states are implementing a range of approaches, with many continuing to regulate these activities within general programs for well construction and/or fossil resource extraction. There has been some discussion of national regulation, but it remains to be seen whether the re-elected Congress will take up the issue in any serious way. And parties on all sides of these issues are watching as the dramatic decline in the price for oil (and, to a lesser degree, natural gas) changes the financial underpinnings of fossil fuel development, at least in the short term.

Where Can I Go For More Information?
California:
New York:
Other states:
FracFocus website (acts as a national hydraulic fracturing chemical registry, and also offers links to state requirements)
Specialty Technical Publishers (STP) provides a variety of single-law and multi-law services, intended to facilitate clients' understanding of and compliance with requirements. These include:
About the Author

Jon Elliott is President of Touchstone Environmental and has been a major contributor to STP's product range for over 25 years. He was involved in developing 16 existing products, including Environmental Compliance: A Simplified National Guide and The Complete Guide to Environmental Law.
Mr. Elliott has a diverse educational background. In addition to his Juris Doctor (University of California, Boalt Hall School of Law, 1981), he holds a Master of Public Policy (Goldman School of Public Policy [GSPP], UC Berkeley, 1980), and a Bachelor of Science in Mechanical Engineering (Princeton University, 1977).
Mr. Elliott is active in professional and community organizations. In addition, he is a past chairman of the Board of Directors of the GSPP Alumni Association, and past member of the Executive Committee of the State Bar of California's Environmental Law Section (including past chair of its Legislative Committee).
You may contact Mr. Elliott directly at: tei@ix.netcom.com.
photo credit:
Vertigogen
via
photopin
cc