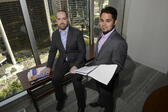 Expect little relief from flood of unwanted electronic messages, experts say.
Ordinary Canadians can be forgiven for thinking a new anti-spam law that went into effect July 1 might put a stop to pop-up ads, emails from Nigerian bankers wanting to give them money and promoted tweets from people or companies they don't follow.
In fact, Canada's Anti-Spam Legislation (CASL) does none of that, say Andrew Aguilar and Ryan Black, co-authors of Internet Law Essentials: Canada's Anti-Spam Law.
"It doesn't address most of the things you consider spam: it doesn't address pop-ups; it doesn't address directed advertising," Aguilar said.
CASL applies to various forms of electronic messages and programs that have some commercial purpose. It forbids the sending of commercial electronic messages (emails and text messages, for example) without the consent of the recipient.
It's what the law doesn't do that some Canadians may find perplexing, Black and Aguilar say. CASL applies only to commercial messages that are sent directly to an electronic address (a phone number or IP address); it doesn't apply to things that are generally published on a website.
Since a promoted tweet is generally published on Twitter, it won't prevent Canadians from receiving unwanted advertising from people or companies they don't follow. Nor will it stop unsolicited ads from appearing on Facebook users' timelines. And, despite its name, the law doesn't even mention "spam" in its definitions.
"What's really strange is the act doesn't have any type of definition for spam, or any type of definition or prohibition aimed at mass messages, which is the first two things you would think about in an anti-spam law, probably," Aguilar said.
However, CASL may apply to social media messages, if they are sent directly to an electronic address. For example, Twitter allows users to send a direct message to the people they follow, even if the recipient does not follow that person in return. Should someone send a direct message to someone that he or she follows but who doesn't follow him or her back, that could be a breach of CASL, but only if there is some commercial intent.
CASL casts such a broad net, and has so many complicated exceptions and exemptions, that everyone in Canada is likely to run afoul of the law eventually, Black said.
"It's been drafted in a way where everyone is a potential spammer," he said. "As opposed to an anti-spam law that targets spammers, this law doesn't really seem to make any attempt at identifying a bad actor or at identifying a bad activity."
"Most of the activities … are going to be low-risk activities, the one-off emails, selling some used product to someone that you don't have an appropriate connection with," Aguilar added. "These people aren't going to be expected to get $1 million or $10 million fines."
Given how little of the world's spam originates in Canada, critics have characterized CASL as overkill and predict it will not put much of a dent in the amount of spam filling Canadian inboxes.
Every year, Securelist, an organization that tracks hacking and Internet security trends, publishes a list of the top 20 spamming nations, and Canada doesn't even make the list.
According to Securelist, China and the U.S. account for about 43% of the world's spam. And according to ICSA Labs, a division of Verizon Communications Inc. (Nasdaq:VZ), of 557,827 spam messages collected between June 9 and June 15, only 1.9% originated in Canada.
While CASL does apply to spam originating outside of the country, it remains to be seen how successful Canadian authorities will be in getting foreign spammers to pay fines for breaching CASL.
That would require reciprocal agreements between countries with similar anti-spam laws.
"I think a lot of the messages that you receive are going to be coming out of places where it's unlikely that there's going to be reciprocal agreements," Aguilar said. "Messages that potentially are coming out of China or eastern Europe, coming out of Africa, I think it might be difficult to enforce."
For more information on the new CASL regulations, visit fightspam.gc.ca. To order your copy of Internet Law Essentials: Canada's Anti-Spam Law, click here.