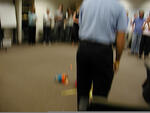 The best strategies for workplace violence prevention involve updated and enforced company policies; an awareness that real perpetrators don't necessarily make direct threats to their targets; and the creation of Threat Assessment Teams to manage situations successfully. These four management interventions can help those efforts as well.
Administrative Management
Humane supervision and treatment. Much research into the motives for employee violence suggests that many perpetrators targeted certain bosses or HR representatives because they felt mistreated by them.
Coaching meetings. While coaching is not an appropriate choice for an individual who is actively threatening, it may help in the aftermath of a low-level behavioral outburst.
Performance improvement plans (PIPs). If there are no consequences for a behavior or performance issue, at worst it will escalate, and at best it won't stop. These plans must be monitored and enforced.
Creative HR solutions. Employees with personal or professional stress may lash out at work. The HR department can use reasonable accommodation, paid or unpaid time off, or referrals to the Employee Assistance Program (EAP) provider.
Benevolent severance. Many workplace violence perpetrators are driven by economic stress, mental illness, revenge, and a triggering event. We can lessen the impact of each of these by using severance pay, continued medical or EAP coverage, outplacement help, and an agreed-upon response for reference check calls from other employers.
Security Management
Access-control improvements. We know employees often trade security for convenience, leaving doors unlocked, allowing unbadged tailgaters to follow them, or failing to challenge trespassers. The best security devices should not be defeated by human error or carelessness.
The presence of security officers. Increasing the site's security staffing levels with armed or unarmed officers can help deter outsiders and offer protection prior to the arrival of police.
Cyber access control and monitoring. It's important to review all cyber correspondence from threateners for escalation, repetition, and rising seriousness. Company IT can reroute threatening or disruptive e-mails aimed at certain employees.
Increased law enforcement. Asking police for extra patrols can help, especially if they are random and regular, so that subjects who may be surveilling the premises can't predict if, or when, police officers will drive by.
"Active Shooter" plans. These "Run-Hide-Fight" plans should remind employees that they have a stake in protecting themselves at work, including evacuating, calling 911, and securing themselves in a safe room.
Information Management
Work-history file review. Looking at the employee's work behavior and performance over his or her tenure with the organization can reveal patterns of conflict, misconduct or failed relationships.
Forensic statement analyses. Threat assessment professionals can offer insights into what subjects are saying or writing, about escalation, targeting, loss of hope, anger, manic-depression, and suicidal or homicidal ideations.
Review of social media. Facebook, Twitter, LinkedIn, Tumblr, blogs and other open-source sites can offer security, HR, and IT representatives information about a troubled worker's ideas, plans, motives, and triggers.
Input from concerned co-workers. Many workplace violence plots were thwarted when co-workers had the courage to come forward and notify supervisors, security, and law enforcement about threats they heard from a high-risk employee.
Mental Health Management
Suicidal versus homicidal behaviors. Is the at-risk employee talking or writing about depression, anxiety, rage, or frustration? Do we see signs in conversations, phone calls, messages, e-mails, texts, or social media postings about suicidal or homicidal ideations?
EAP referrals. As part of humane coaching, discipline, and even terminations, it can help to fully explain this resource to the disturbed employee and try to remove the stigma of getting qualified clinical help.
Fitness for Duty (FFD) evaluations. A FFD evaluation by a licensed clinician can determine whether a problematic employee can return to full work and what work restrictions or accommodations must be made.
Return-to-work strategies. If the organization decides to allow an employee who made threats to return to work, it must have a transition plan.
Which of these approaches works best? It depends. The reality of workplace violence prevention is that we don't always know what drives a subject off the path from ideas to actions. We prove success through the absence of the problem.
STP has recently published an update to its publication Workplace Violence: A Practical Guide to Security on the Job and also publishes the following related guides:
About the Author
Dr. Steve Albrecht is a San Diego-based HR trainer and security consultant. In 1994, he co-wrote Ticking Bombs, one of the first business books on workplace violence. He is certified in HR, security, and employee coaching. He can be reached at drsteve@drstevealbrecht.com and on Twitter @DrSteveAlbrecht