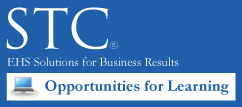 Date: Wednesday, August 28, 2013
Time: 2:00 PM - 3:00 PM EDT
Free! All are welcome

The recently released GRI G4 Sustainability Reporting Guidelines emphasize the importance of the Materiality Principle. A key goal of these GRI Guidelines is to make sustainability reports more meaningful and more relevant, with a greater focus on materiality - those issues or aspects that are really important to the organization, valued by stakeholders, and reflecting the organization's economic, environmental and social impacts.
In this free webinar, we'll present an overview of the GRI G4 Guidelines, describe the Materiality Principle in detail and explore the process with actual organizational case studies. How do you identify your organization's Material Aspects? Ideally, the selection of Material Aspects for reporting requires a collaborative discussion among different individuals that possess deep knowledge of these areas. Ultimately what an organization reports should align with its strategy, performance metrics and goals.
Our presenter will be Danny Wong, DrPH, STC Sr. Program Director and leader of our Corporate Responsibility & Sustainability practice; he is located in our Los Angeles, CA, office. Danny will describe Avery Dennison's sustainability program and reporting process, and also compare the journey of two other STC clients toward material sustainability reporting.
Space is limited. Registration details are available on STC's website.