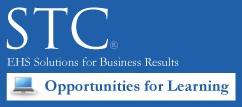 Organizations increasingly need specialized guidance in order to self-audit and show efforts to comply with legislation, and demonstrate due diligence.
In response to industry demand for more specialized Air Quality MACT Standards guidance, STP has just recently launched guides relating specifically to the following industries:
Developed by audit and compliance experts, Specialty Technical Consultants, these publications complement STP's federal and California Environmental Auditing guides and cover air quality requirements that apply broadly to a variety of industrial operations.
The guides are an essential resource for environmental and occupational health and safety professionals, attorneys, corporate counsel, air quality auditors, manufacturing companies, chemical companies, senior EHS management, and regulatory agencies.
The guides deliver the following benefits to users:
Field-tested by recognized experts

Help ensure compliance

Demonstrate due diligence

Help avoid citations and fines

Allow experienced auditors to expedite their assessment

Allow less experienced auditors to review detailed instructions

Save time and reduce compliance and audit costs
Customizable to site-specific requirements

Include Applicability Tables

Offer pre-audit preparation guidance.
The new publications are available online when purchased with Environmental Auditing: Federal Compliance Guide and Environmental Auditing: Integrated Federal & California Compliance Guide from the STP online store.
STP publishes a range of environmental compliance guides including: