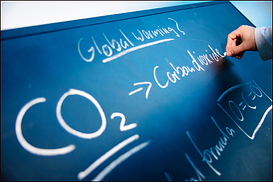 Increasingly, your approach to climate change issues provides an important basis for your customers' and other stakeholders' purchasing and investment decisions with your organization. They may research how your organization manages its greenhouse gas (GHG) emissions (your 'carbon footprint') because, if you provide them with goods and services, the GHG emissions associated with your activities may be attributed to them.
For example, 40 – 60% of a typical manufacturer's total GHG emissions result from vendor activities such as processing, packaging, and transportation; this figure can be as high as 80% for retailers. Stakeholder pressures are leading major manufacturers and retailers to call on their supply chain for GHG emissions reporting data.
What Do Stakeholder Surveys Ask For?
The most common private sector GHG emissions reporting programs use protocols provided by the international Greenhouse Gas Protocol Initiative (GHG Protocol). Some reporting programs reference these standards directly, while others derive elements of their separate surveys from GHG Protocol approaches. Most follow the terminology of the GHG Protocol and refer to:
• "Scope 1" – direct GHG emissions associated with reporting entity activities;
• "Scope 2" – indirect GHG emissions by producers and suppliers of purchased energy (usually electricity) consumed by the reporting entity; and,
• "Scope 3" – indirect GHG emissions by activities of other third parties associated with the reporting entity (including upstream emissions by suppliers and downstream emissions from end users and from product/waste disposal).
Who's Asking About Carbon Footprints?
You may receive surveys from a wide variety of stakeholders such as:
• Customers asking about your Scope 1, 2 and 3 emissions, which will add to their Scope 3 totals. Important examples are questionnaires from:
-Walmart
-Proctor and Gamble
-IBM
• Investors who are forming organizations to ask public companies about carbon footprints and other sustainability issues. These include:
- Carbon Disclosure Project – worldwide surveys, including a proliferation of sector-specific and topic-specific questionnaires
- Ceres – Certification of Environmental Standards is a nonprofit working with various industries on transparency and self-reporting, and also encouraging agencies (such as the Securities and Exchange Commission) to create or expand mandatory reporting requirements
• Your own industry sector may be developing self-assessment and/or benchmarking surveys. Industries with initiatives underway include:
- Global Reporting Initiative, a nonprofit that works worldwide to encourage voluntary reporting, including guidelines for airport operators, construction and real estate, electric utilities, event organizers, financial services, food processing, mining and metals, NGO, oil and gas and media
- Electronic Industry Citizenship Coalition, which has developed a Code of Conduct and self-reporting initiatives covering a variety of issues
How Do We Report Our Carbon Footprint?
You can choose to wait for surveys to reach you from one or more of the groups above—or even for governmental agencies to mandate reporting. But you'd be well advised to begin to collect information, and even to prepare voluntary reports that identify you as a leader (or at least as pro-active). The following checklist will help point you in that direction.
Carbon Footprint Profile Checklist
Has my organization received any stakeholder questionnaires about our GHG emissions / carbon footprint?
Has my organization identified activities that cause GHG emissions?
- If so, has it assembled this information into an emissions inventory?
- If so, do the inventory sub-divide emission sources into the standard categories (Scope 1, 2, 3, as outlined above)?
- Emissions from activities controlled by the organization ("Scope 1" emissions)
- Emissions from activities not controlled by the organization, but undertaken by others in order to provide goods and services to the organization such as:
- purchased energy (referred to as "Scope 2" emissions)?
- other suppliers (included within what are referred to as "Scope 3" emissions,and sometimes as "supply chain" or "value chain" emissions)?
- Emissions from activities not controlled by the organization, but undertaken by other parties while using goods and services produced by the organization, and/or managing wastes from the organization? ("Scope 3" emissions, and sometimes "value chain" emissions.)
Does My Organization Compile This Information:
- For internal use in managing our activities?
- For internal use in setting goals?
- For external publication and/or reporting to specific third parties (such as customers or shareholders) and/or the general public?
About the Author
Mr. Elliott has a diverse educational background. In addition to his Juris Doctor (University of California, Boalt Hall School of Law, 1981), he holds a Master of Public Policy (Goldman School of Public Policy [GSPP], UC Berkeley, 1980), and a Bachelor of Science in Mechanical Engineering (Princeton University, 1977. .
Mr. Elliott is active in professional and community organizations. In addition, he is a past chairman of the Board of Directors of the GSPP Alumni Association, and past member of the Executive Committee of the State Bar of California's Environmental Law Section (including past chair of its Legislative Committee).