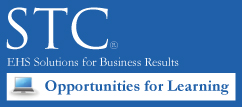 On Monday, March 26, 2012, the Occupational Safety and Health Administration (OSHA) promulgated a final rule officially adopting the Globally Harmonized System of Classification and Labeling of Chemicals (GHS) as part of the Hazard Communication Standard [29 CFR 1910.1200]. Employers that make, transport, handle or otherwise use chemicals should start now to prepare for the transition to GHS.
This free webinar will help you understand the new requirements including:
Changes in hazard classification requirements;
New Safety Data Sheet requirements which will replace the existing MSDS format;
New labeling requirements, including pictographs and new language specifications; and
Deadlines for training existing employees on the new GHS classification and labeling system.
The presenter for this session will be Martin Bermudez, CHMM and STC Senior Program Director. Martin has over 20 years of experience in environmental, health and safety (EHS) compliance management including chemical process safety management, risk assessment, management systems development and implementation, and EHS auditing for a wide variety of industries.
Date: Wednesday, May 23, 2012
Time: 2:00 PM - 3:00 PM EDT
Free: All are welcome
Space is limited. Reserve your Webinar seat now at:
https://www2.gotomeeting.com/register/900104594