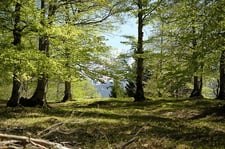 On December 1, 2016, ASTM International (ASTM) approved revisions to ASTM E2247-08, Standard Practice for Environmental Site Assessments: Phase I Environmental Site Assessment Process for Forestland or Rural Property. The revisions were made as part of ASTM's normal review process and through a working group of ASTM's Committee E50 on Environmental Assessment, Risk Management, and Corrective Action. The changes are aimed at prospective purchasers conducting All Appropriate Inquiries (AAI) on forestland and rural property, and include updated methodology for site reconnaissance, clarified language for recognized environmental conditions, and removal of unessential information. This current version, now designated E2247-16, replaces the "historic" 2008 version as ASTM's current consensus-based standard.
As with the previous version, this revised standard is intended for use on a voluntary basis by parties who wish to assess the environmental condition of commercial real estate taking into account commonly known and reasonably ascertainable information. Parties wishing to conduct AAI under CERCLA for forestland and rural areas may follow the AAI Rule at 40 CFR 312 or use E2247. However, while ASTM considers E2247-16 the current industry standard and E2247-08 as "historic," EPA's rule at 40 CFR 312 only recognizes E2247-08 as being compliant with the AAI Rule; as of April 2017, EPA has not yet promulgated regulations allowing for the use of E2247-16 as complying with the AAI Rule.
As such, for a more thorough, up-to-date standard for conducting ESAs on farmland and rural properties, users may follow the current standard, EE2247-16, as it provides clarity and improved methodology that is consistent with the historic standard. However, users must still demonstrate adherence to E2247-08 in order to satisfy AAI.
ASTM E2247-16, along with the historic version, is available for purchase here.
Specialty Technical Publishers (STP) provides a variety of single-law and multi-law services, intended to facilitate clients' understanding of and compliance with requirements. These include:
About the Author

Ms. Luman has over 25 years of experience as a consultant and project manager in the environmental field.

She has conducted Phase I Environmental Site Assessments (ESAs) and subsurface assessments of various business, manufacturing, and petroleum facilities, and has managed investigations and removal actions at State Superfund sites.

Ms. Luman has also performed multi-media environmental compliance audits and environmental management system assessments within the aerospace, semiconductor, food, manufacturing, shipbuilding, and utility industries, and has prepared numerous environmental plans, permits (SPCC, SWPPP, NPDES, FRP, Emergency Contingency, and Hazardous Waste Management), and regulatory reports (Air Emissions Inventory, EPCRA, Discharge Monitoring, and Annual Waste Summaries).

She has been responsible for identifying environmental, health, and safety legal obligations for various businesses and industries across the United States, and for maintaining their compliance with the regulations. Prior to entering the private sector, Ms. Luman worked for a major public water supplier where she was involved in a federal Superfund Remedial Investigation involving the study of groundwater contamination over a 60-square mile area.

Most recently, she formed her own business, Healthy Tweaks, LLC, to raise awareness of the impact of chemicals on the environment, in consumer products, and on human health, particularly that of children. Her goal is to educate consumers and businesses to enable them to make choices that will improve their health and reduce their ecological footprint.

Ms. Luman is currently the lead author of Site Auditing and was previously the lead author on other STP regulatory publications covering federal EPA and State environmental differences, federal and California OSHA requirements, and federal construction and transportation regulations.

She completed her B.S., Civil Engineering at the University of Texas in Austin in 1989, and is a Professional Engineer licensed in Texas and California, and registered in New York. Her interest in understanding the impact of the built environment on the natural environment led her to become a LEED® Accredited Professional in 2009. She is a member of the American Society of Civil Engineers, the Auditing Roundtable, the Texas Association of Environmental Professionals, and the U.S. Green Building Council. She is also on the Houston Advisory Board for The Nature Conservancy.