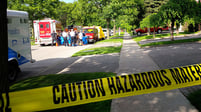 The Occupational Safety and Health Administration (OSHA) and state worker protection agencies require employers to identify regulated carcinogens in their workplaces, to protect workers against hazardous exposures, and to provide information and training to reinforce those protections. OSHA regulations apply to dozens of chemical agents and other substances known to be human carcinogens, including 13 covered by a single "Regulated Carcinogen Standard." Employers should also be aware that hundreds of additional chemicals are suspected carcinogens that should be considered.
What Materials Are, Or Might Be, Carcinogens?
OSHA standards address a total of 27 carcinogens. Requirements appear in the Regulated Carcinogens Standard and in additional separate standards, which provide for similar requirements:
2-Acetylaminofluorene

Acrylonitrile

4-Aminodiphenyl

Inorganic Arsenic

Asbestos

Benzene

Benzidine

1,3 Butadiene

Cadmium

bis-Chloromethyl ether

Chromium (VI)

Coke Oven Emissions

3,3'-Dichlorobenzidine (and its salts)

4-Dimethylaminoazobenzene

Ethylene Dibromide

Ethylene Oxide

Ethyleneimine

Formaldehyde

Methyl chloromethyl ether

Methylene Chloride

Methylenedianiline

alpha-Napthylamine

beta-Napthylamine

4-Nitrobiphenyl

N-Nitrosodimethylamine

beta-Propiolactone

respirable silica

Vinyl Chloride
In addition, many other materials are at least potentially carcinogenic. For example, the Department of Health and Human Services' National Toxicology Program (NTP) issues biennial Reports on Carcinogens, and the latest (2016) report identifies 248 chemicals for which there is evidence of carcinogenicity. California's Proposition 65 program uses information from NTP and other "authoritative bodies" to identify and list even more "known" carcinogens.
What Protective Measures Does OSHA Require?
OSHA's compliance requirements vary somewhat among the regulatory standards applied to specific chemicals, but they generally require employers to do at least the following:
Establish a regulated area where any regulated carcinogen is manufactured, processed, used, repackaged, released, handled or stored. Employees generally must use either isolated systems or closed systems in regulated areas, in order to control chemical exposures. Work may be performed under a laboratory hood if additional requirements are met.
OSHA specifies standards tailored to isolated systems, laboratory-type hoods, and closed systems. For example, employees who use an isolated system (such as a glove box) to handle regulated carcinogens must wash their hands and arms when finished and before doing anything elsewhere. Other situations require personal protective equipment (PPE), including respiratory protection when appropriate.
Employers must establish a medical surveillance program for authorized employees and those being considered for assignment to enter regulated areas.
Employers must communicate the hazards of workplace carcinogens to employees. This includes compliance with OSHA's Hazard Communication Standard (HCS). It also includes additional signage for regulated areas, within the areas and at entrances and exits.
OSHA requires extensive training and indoctrination before the employer authorizes an employee to enter a regulated area. You also must provide limited annual refresher information.
Protecting Cleanup and Maintenance Employees
Protective measures apply to employees who might come into direct contact with any regulated carcinogen while cleaning up leaks or spills, or performing maintenance or repair operations on contaminated systems or equipment.
Contamination Prevention and Control Procedures
Employers must provide procedures to prevent potential contamination from leaving regulated areas. These include negative pressure to ensure airflow is into such areas, and controlled air exhaust. It also includes hygiene measures, within regulated areas and upon exit.
Emergency Procedures for Regulated Areas
Employers must have procedures for emergencies in regulated areas, including evacuation, hazard elimination and decontamination, and special medical surveillance for anyone who came in contact with a carcinogen. Eyewash stations and deluge showers may be required.
Self-Assessment Checklist
Has the organization assessed its workplaces for the presence of carcinogens?
OSHA-regulated carcinogens?

Other chemicals that may be considered carcinogens?
If carcinogens are present:
Has the organization established regulated areas, and limited the presence and handling of carcinogens to regulated areas?

Does the organization provide a carcinogen control program in each workplace with any carcinogen(s) that meets OSHA requirements?
Where Do I Go For More Information?
Information available via the Internet includes:
Specialty Technical Publishers (STP) provides a variety of single-law and multi-law services, intended to facilitate clients' understanding of and compliance with requirements. These include:
About the Author

Jon Elliott is President of Touchstone Environmental and has been a major contributor to STP's product range for over 25 years. He was involved in developing 13 existing products, including Environmental Compliance: A Simplified National Guide and The Complete Guide to Environmental Law.

Mr. Elliott has a diverse educational background. In addition to his Juris Doctor (University of California, Boalt Hall School of Law, 1981), he holds a Master of Public Policy (Goldman School of Public Policy [GSPP], UC Berkeley, 1980), and a Bachelor of Science in Mechanical Engineering (Princeton University, 1977).

Mr. Elliott is active in professional and community organizations. In addition, he is a past chairman of the Board of Directors of the GSPP Alumni Association, and past member of the Executive Committee of the State Bar of California's Environmental Law Section (including past chair of its Legislative Committee).
You may contact Mr. Elliott directly at: tei@ix.netcom.com
photo credit: GTA Emergency_Photography Toronto Fire HAZMAT Situation via photopin (license)