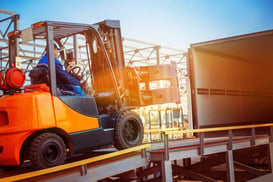 The Occupational Safety and Health Administration (OSHA) has proposed revisions to its Powered Industrial Trucks Standard – more often referred to as the "Forklift Standard" since those are the most common types (29 CFR section 1910.178 (general industry) and 1926.602 (construction)). OSHA first adopted the standard in 1971, and most recently revised it in 2017. However, as discussed below, OSHA has never updated the Standard's principal technical standards during more than half a century. The remainder of this note summarizes the existing requirements, and identifies proposed revisions.
How does OSHA present the Standard's requirements?
Provisions of this Standard cover the following:
design and construction of powered industrial trucks (for general use, and for operations involving particular hazards)

employer evaluation and classification of each workplace to determine whether any special hazards are present in workplace air

fuel and/or power batteries (facilities and operating procedures)

operational requirements and procedures

maintenance and fueling requirements

operator training
Many of OSHA's design and construction provisions are expressed as requirements that equipment meet standards in voluntary consensus standards promulgated by professional organizations including the American National Standards Institute (ANSI) and the National Fire Protection Association (NFPA). OSHA incorporates these third-party standards by reference, citing them in its standards. The Standard requires that all trucks bear a label indicating approval by a nationally-recognized testing laboratory.
Importantly, the primary cross-reference hasn't changed since OSHA first adopted the Forklift standard in 1971, so it still refences the 1969 edition of ANSI's National Standard for Powered Industrial Trucks (B56.1-1969). However, OSHA administrative policies allow employers to follow successor editions, by treating an employer's use of equipment that meets such successor editions as a "de minimis" violation of its requirement that doesn't impinge on workplace safety .
What units are subject to this Standard?
This Standard covers a variety of vehicles in most workplaces. It regulates the following vehicles:
fork trucks

tractors

platform lift trucks

motorized hand trucks (including powered sweepers and scrubbers)

other specialized industrial trucks powered by electric motors or internal combustion engines
However, it DOES NOT regulate the following vehicles:
compressed air or nonflammable compressed gas-operated industrial trucks

farm vehicles

over-the-road vehicles such as pickup trucks

vehicles intended primarily for earth moving or over-the-road hauling
The Standard designates 11 general classes of industrial trucks and tractors, which are assigned different design and construction standards, as well as eligibility to work in different conditions (particularly those with hazardous atmospheres). These classes consist of three types of diesel-powered units, four types of electrically-powered units, two types of gasoline-powered units, and two types of liquefied petroleum gas (LPG)-powered units.
What changes is OSHA proposing?
OSHA's primary proposed revision is to update the Standard's reference to the ANSI B56 standard to reflect the latest edition – including recognition that the 1969 standard has been split into several related standards in subsequent editions, and that ANSI now co-publishes them with the Industrial Truck Standards Development Foundation (ITSDF):
ANSI/ITSDF B56.1—2020, Safety Standard for Low Lift and High Lift Trucks.

ANSI/ITSDF B56.5—2019, Safety Standard for Driverless, Automatic Guided Industrial Vehicles and Automated Functions of Manned Industrial Vehicles.

ANSI/ITSDF B56.6—2021, Safety Standard for Rough Terrain Forklift Trucks
These new cross-references will apply beginning 30 days after OSHA finalizes these proposed regulations. Forklifts put into service after that date must meet the new standards (which will, of course, continue to evolve).
Second, OSHA is addressing the administrative issue inherent in treating employers' use of later equipment as nominal violations of the Standard, even if the equipment meets subsequent standards that are at least as protective. OSHA is now proposing to establish a formal performance standard: if an employer can demonstrate that a unit is "at least as protective" as one that meets the formal requirements. As a practical matter, unit manufacturers attest to the specifications used in design and construction, so employers' compliance with this alternative should be easy.
What happens next?
OSHA's proposal asks for written comments by May 17, 2022, after which I assume OSHA will move to finalize the changes. Assuming this happens, OSHA will have crossed half a century in which actual standards in the field have evolved without recognition from the agency. Furthermore, adding a formal way for employers to self-certify the safety of their units as alternatives in the marketplace continue to change, will eliminate the illogical use of 'de minimis' violations.
Self-audit checklist
Does the organization operate any equipment subject to the Powered Industrial Trucks Standard issued by OSHA (or a similar standard from a delegated State Plan State)?
If so, has the organization verified that the equipment and operations comply with the existing applicable 1969-era standards?

If so, has the organization verified that the equipment and operations comply with subsequent standards (e.g., later editions of the ANSI standard) and thereby qualify for the 'de minimis' violation acceptance of later editions?

If so, has the organization verified whether any of the equipment and operations comply with the 2019-2020 editions that OSHA is now proposing to adopt?
Is the organization providing comments to OSHA in this matter?
Where can I go for more information?
About the Author

Jon Elliott is President of Touchstone Environmental and has been a major contributor to STP's product range for over 30 years.

Mr. Elliott has a diverse educational background. In addition to his Juris Doctor (University of California, Boalt Hall School of Law, 1981), he holds a Master of Public Policy (Goldman School of Public Policy [GSPP], UC Berkeley, 1980), and a Bachelor of Science in Mechanical Engineering (Princeton University, 1977).

Mr. Elliott is active in professional and community organizations. In addition, he is a past chairman of the Board of Directors of the GSPP Alumni Association, and past member of the Executive Committee of the State Bar of California's Environmental Law Section (including past chair of its Legislative Committee).
You may contact Mr. Elliott directly at: tei@ix.netcom.com