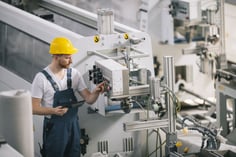 The Occupational Safety and Health Administration (OSHA) is conducting a formal public review to consider whether to update its Mechanical Power Presses Standard (29 CFR section 1910.217). OSHA issued the Standard in 1971, and adopted the only formal revision in 1988 (to recognize and guide use of sensers to protect press operators). OSHA has also included these devices in a series of "National Emphasis Programs" intended to focus on safety and compliance. OSHA published a request for public comments in the July 28, 2021 Federal Register, seeking suggestions by October 28. The remainder of this note summarizes the longstanding existing requirements, and questions raised by OSHA in this first general review in half a century.
What mechanical presses are subject to this Standard?
This Standard defines a press to be "a mechanically powered machine that shears, punches, forms, or assembles metal or other material by cutting, shaping, or by using combination dies attached to slides. A press consists of a stationary bed or anvil, and a slide (or slides) having a controlled reciprocating motion toward and away from the bed surface, the slide being guided in a definite path by the frame of the press." However, OSHA excludes the following machines:
press brakes

hydraulic and pneumatic power presses

bulldozers

hot bending and hot metal presses

forging presses and hammers

riveting machines and similar types of fastener applicators
What requirements does the existing Standard impose?
The Standard imposes a variety of design standards, and requirements for "guarding" to protect operators. Detailed requirements cover:
brakes and clutches, to allow rapid stops. Separate provisions cover full revolution clutches

foot and hand controls, designed to protect operators' hands from injury

electrical standards, including lockout protections and grounding to prevent both shocks and accidental activation

slide counterbalances so work pieces can be moved in and out of presses safely

additional design and protection requirements for air and hydraulic components and presses

additional design and operation requirements for presses that include dies

additional design and operation requirements for presence-sensing device initiation (PSDI) devices, designed to deactivate the press when personnel are within the hazardous zone

point of operation guards (or sensers) to protect operators

inspection requirements

maintenance requirements

training for operators, inspectors, and maintenance personnel
What topics are subject to OSHA's request for comments
OSHA's review recognizes explicitly that the Standard is 50 years old, and therefore based on equipment designs and operations from 1971. OSHA itself recommended a thorough review after a "Look-Back" proceeding that ended in 2002. The provision for PSDI protections was adopted in 1988 after a single employer operated PSDIs under a variance for several decades; OSHA states its understanding that no such operations have been underway since that employer removed its PSDI equipment in 2013.
OSHA has now requested comments on the following:
hazards associated with mechanical press operations, particularly data on numbers and types of injuries (to fingers, for example) or fatalities, and any historical rates and trends for these harms

consideration of appropriate third-party standards to use as a basis for updating – the present standard is based on the 1971 edition of the American National Standards Institute (ANSI) standard B11.1 (Safety Requirements For Mechanical Power Presses), which was revised in 2009 and reaffirmed in 2020; OSHA is interested in comments regarding any alternatives

whether OSHA should adopt separate regulations for presses other than mechanical power presses, such as pneumatic or hydraulic presses

whether and how to address PSDI devices

additional data on numbers, types and vintage of existing mechanical power presses, and how their operations and viability would be affected by updated technical requirements

what equipment and personnel standards to apply to reconstruction and modification of existing devices to meet newly-adopted revisions

appropriate reporting and recordkeeping requirements

any other issues
What happens next?
As I noted above, comments are due by the end of October, in this latest version of a review that has proceeded haltingly for nearly 20 years. OSHA has not committed itself to proceed, but seems likely to do so based on the present ANSI standard. Organizations that operate mechanical power presses should follow – or participate in – this proceeding, and organizations that operate other equipment subject to similar machine guarding standards (including woodworking equipment, drills, and saws) would be well served from a review of their activities.
Self-audit checklist
Does the organization operate any equipment subject to the Mechanical Power Press Standard issued by OSHA (or a similar standard from a delegated State Plan State)?
If so, has the organization verified that the equipment and operations comply with the applicable standards?

If so, has the organization reviewed its equipment and operations to consider the impact of revised regulatory requirement (e.g., those based on ANSI B11.1 (2009))
Is the organization providing comments to OSHA in this matter?
Where can I go for more information?
About the Author

Jon Elliott is President of Touchstone Environmental and has been a major contributor to STP's product range for over 30 years.

Mr. Elliott has a diverse educational background. In addition to his Juris Doctor (University of California, Boalt Hall School of Law, 1981), he holds a Master of Public Policy (Goldman School of Public Policy [GSPP], UC Berkeley, 1980), and a Bachelor of Science in Mechanical Engineering (Princeton University, 1977).

Mr. Elliott is active in professional and community organizations. In addition, he is a past chairman of the Board of Directors of the GSPP Alumni Association, and past member of the Executive Committee of the State Bar of California's Environmental Law Section (including past chair of its Legislative Committee).
You may contact Mr. Elliott directly at: tei@ix.netcom.com