"Plans to protect air and water, wilderness and wildlife are in fact plans to protect man."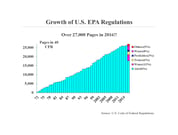 Stewart Udall, 37th U.S. Secretary of the Interior (1961-1969)
With the inauguration of a new U.S. President and the changing of the guard in the Executive Branch of the government, there has been considerable discussion and concerns expressed about new directions that might be taken by the incoming administration. One area of heightened interest has been regulatory reform. This article discusses what regulatory reform might mean to one particular government agency – the U.S. Environmental Protection Agency (EPA). To put things in perspective, first the history of environmental laws and regulations is discussed briefly. This is followed by an analysis of the historical growth of environmental regulations and how a January 30th Presidential Executive Order and certain other initiatives might impact that growth. And finally, a word of caution about gutting environmental regulations, lest we forget the Agency's legislated responsibilities and substantial accomplishments in protecting human health and the environment.
The Historical and Current Setting
The First Earth Day occurred on April 22, 1970 in the midst of a nationwide college campus strike protesting the Vietnam War. Protests in the streets all over the land. Hmmm…Sound familiar? That year of 1970 became a springboard for the passing of major federal environmental laws in the U.S. As shown in Exhibit 1, in the next 17 years, some 12 critically important laws were passed. Interestingly enough, eleven of the twelve were authorized and signed by Republican presidents; a legacy that is sometimes forgotten or ignored. Each law, of course, required the creation of regulations to accomplish the stated goals. And indeed that has occurred.
EXHIBIT 1: Major U.S. Federal Environmental Legislation (1969-1986)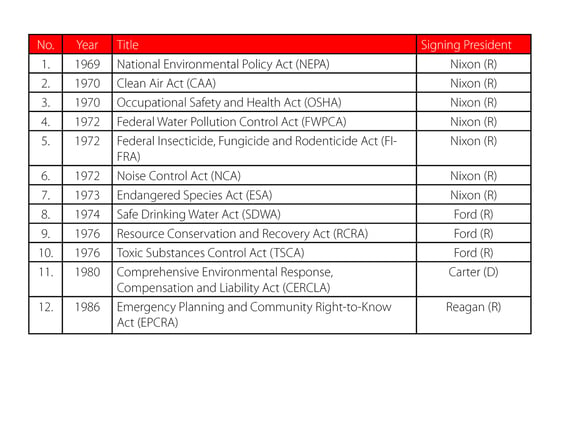 All federal regulations, including those created by the EPA, are codified in the Code of Federal Regulations (CFR), published annually by the Government Printing Office. That is, each year the CFR is released to the public and it contains all current and updated regulations effective on July 1st of that year. The individual volumes for each year are usually available in January or February of the following year. The EPA is responsible for the 37 volumes of Title 40 of that Code. By early 2017 the EPA had released the 2016 CFRs effective July 1, 2016. The total page count for EPA's Title 40 regulations in 2016 was 27,074, the most on record. (See Exhibit 2) Combined with OSHA's 3,096 pages in Title 29 there were, for the first time, over 30,000 pages in total, with EPA regulations accounting for 90% of that total.


EXHIBIT 2: Growth of U.S. EPA Regulations (1972-2016)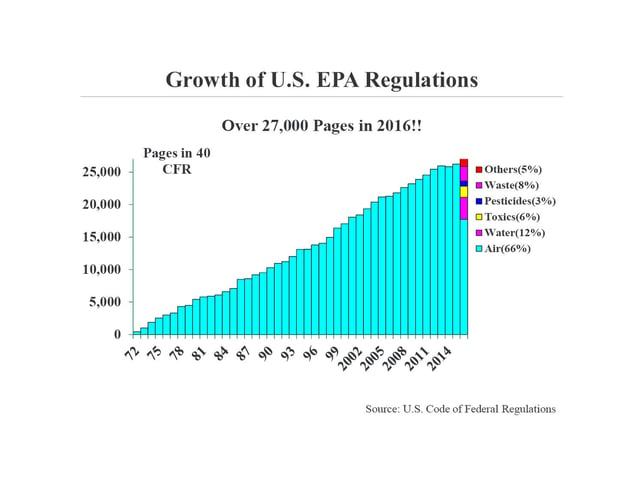 In taking a closer look at the data, some interesting additional facts emerge. For example:
Recent Growth. There was an approximately 800 page, or 3%, increase in the number of pages in Title 40 in 2016. This increase was almost twice as large as the total page count in 1972, the first year of regulatory codification.

Distribution by Media. Approximately 66% of the pages in Title 40 are devoted to Clean Air Act regulations. This represents roughly 17,750 pages, meaning that the Clean Air Act alone has almost six times as many pages of regulations than all of OSHA's Title 29 Code.

Regulations in the Pipeline. As reported in the November 2016 Semi-Annual Regulatory Agenda there were 203 separate and additional environmental regulations (not pages, but regulations) that were under development or review. This implies that under normal circumstances the page count would continue to grow.

Comparison with the U.S. Tax Code. By comparison, the 30 thousand pages of EHS regulations is only about 40% of the total page count of ~75,000 pages in the federal tax code.

Comparison with the Dow. Interestingly, if one does the calculations for the 1972-2016 period, there is a 95% statistical correlation between the growth of environmental regulations and the growth of the Dow Jones Industrial Average (DJIA). Granted this is some outside-the-box thinking, but could this mean that regulatory growth is good for the economy!?
What Might Change
During the 2016 presidential campaign and now with the new Trump Administration in place concern has been expressed over the regulatory burden placed on U.S. industry and the regulated community in general. It should be noted that this concern is nothing new. For example, on January 18, 2011 President Obama issued Executive Order 13563, "Improving Regulation and Regulatory Review". The Order required a government-wide review of existing rules "to remove outdated regulations that stifle job creation and make our economy less competitive. It's a review that will help bring order to regulations that have become a patchwork of overlapping rules…"i In response to President Obama's Executive Order, EPA created the Regulatory Development and Retrospective Review Tracker (Reg DaRRT), which provides information on the status of EPA's priority rulemakings, as well as information on the status of retrospective reviews of existing regulations. One positive outcome of the Executive Order was the July 31, 2013 issuance of a final EPA rule on solvent-contaminated wipes that reduced the regulatory burden on tens of thousands of facilities using these wipes routinely.

What is different today is the approach that is being proposed by the current Administration. President Trump has said numerous times that his goal is to eliminate as many as 75% of all existing federal regulations. The first step in that effort was the January 30, 2017 issuance of an Executive Order: "Reducing Regulation and Controlling Regulatory Costs." This Order calls for every "one new regulation issued, at least two prior regulations be identified for elimination with the goal of zero incremental costs." As with most Executive Orders further guidance will be required and the Director of the Office of Management and Budget is required to develop that guidance. In fact, on February 2, 2017 the White House issued guidance stating that the Order would only apply to "significant" regulations, as defined in Executive Order: "Regulatory Planning and Review", issued by the Clinton Administration in 1993. Significant regulations are those imposing an annual economic cost ≥$100 million. The Director must also identify the total amount of incremental costs that will be allowed for each agency for each fiscal year.

This "one in, two out" approach, if enacted as stated, obviously will have significant impacts on federal rulemaking within all agencies including the EPA. As stated previously, the EPA in its November 2016 Semi-Annual Regulatory Agenda listed 203 new regulations under development or review. Will this mean that if all of these regulations are put forward that over 400 other, existing regulations must be eliminated? As arbitrary as this sounds, the answer today is yes.

Another potential impact caused by the Executive Order would come from the new chemical requirements in the Frank R. Lautenberg Chemical Safety for the 21st Century Act signed into law on June 22, 2016. The Act requires that the EPA evaluate and communicate the risks of existing chemicals from the current inventory of 83,000 chemicals in use in the U.S. The first 10 chemicals were identified on November 29, 2016 and include asbestos, carbon tetrachloride, methylene chloride, and trichloroethylene. If an assessment determines that a chemical poses an unreasonable risk the Agency must mitigate that risk within two years. Further, for each risk evaluation completed, another must be initiated with at least 20 ongoing evaluations being conducted by the end of 2019. Does this mean that any resultant rule addressing mitigations for a particular high-risk chemical cannot be promulgated unless two other unrelated rules are eliminated? This seems rather arbitrary as well. Perhaps in this and other cases the "significant regulation" threshold will have a moderating impact and the effects will not be as severe as expected.
Another regulatory reform initiative taking place but receiving considerably less attention is the use of the Congressional Review Act enacted in 1996, which allows lawmakers to take certain actions for those laws enacted during the waning days of an administration. The Congress has already used this power to rescind EPA's Stream Protection Rule promulgated in December 2016, which sought to protect the nation's waterways from debris generated by coal surface mining activities. Congress is also attempting to rescind the EPA's revised Accidental Release Prevention Requirements contained in its Risk Management Program final rule issued on January 13, 2017. A bill to rescind the rule has been introduced in the House as of this writing. Historically, the Congressional Review Act has been used sparingly but this has not been the case in early 2017.
In sum, there is strong evidence that significant regulatory reform is ahead driven by a Republican Congress and Presidency. One can only hope that logic will prevail and that protection of human health and the environment will continue as a fundamental goal for the nation.
Why the EPA's Mission Remains Critically Important
With good reason President Nixon created the EPA in 1970. The Agency's basic mission is to protect human health and the environment. This is accomplished with an $8 billion budget and 15,000 full time equivalent staff. Although it often is not evident in our daily lives, we have all been impacted in a positive way by the Agency's efforts and programs. Consider if you will the scope of the Agency's oversight and responsibilities:
Nationwide Facility Coverage. Over 800,000 facilities in the U.S. generate air emissions, wastewater, and hazardous waste at a level sufficient to require regulatory oversight through mechanisms such as Title V air permits, NPDES wastewater discharge permits, and/or hazardous waste generation and disposal requirements. That's an average of 16,000 facilities per state where there is regulatory oversight and controls over the release of pollutants.

Hazardous Waste Generation. There are over 26,000 large quantity hazardous waste generators in the U.S., generating over 33 million tons of hazardous waste annually. These generators are required to manage the wastes properly and report to the EPA every other year on their activities.

Toxic Releases. There are over 22,000 facilities in the U.S. that release listed toxic chemicals at a sufficient level to require reporting under the Toxics Release Inventory (TRI) requirements of the Emergency Planning and Community Right-to-Know Act. Over 3.3 billion pounds of toxics were released nationally in 2015. TRI reporting has resulted in a better understanding of pollutants in our environment and has driven a reduction over time of releases.

Superfund Sites. As a result of the 1980 passage of the Comprehensive Environmental Response, Compensation and Liability Act (CERCLA) some 1188 "Superfund" sites have been cleaned up as of November 30, 2016. However, there remain 1,337 National Priorities List (NPL) Superfund sites yet to be cleaned up.

Toxic Chemicals. There are 85,000 chemicals inventoried and regulated under the Toxics Substances Control Act. These include materials containing asbestos and PCB's, which were considered "miracle" products when first produced. Very few of the inventoried chemicals have undergone meaningful risk assessments to determine hazards posed to human health or the environment. The Frank R. Lautenberg Chemical Safety for the 21st Century Act signed into law on June 22, 2016 contains provisions to assure that these assessments are conducted.
It is important to note that, save for the Superfund sites, all of the chemicals, wastes, releases, and discharges discussed above are being managed in compliance with existing environmental regulations. Do we really want to eliminate 75% of these regulations resulting in fewer controls over discharges and releases?

Closure
The future of environmental regulation in the U.S. is cloudy indeed. It is really too soon to tell exactly what might be the impact of President Trump's Executive Order and other pending regulatory reform initiatives. It would be prudent to keep a close watch…
Author's Notes
This article should be read in concert with a companion article: Cahill, L.B., "U.S. Environmental Regulatory Trends at the Close of the Obama Administration," Specialty Technical Publishers Blog, www.stpub.com, January 17, 2017.

All statistical data concerning the U.S. Environmental Protection Agency were obtained from the Agency's website at www.epa.gov.

About the Author
Lawrence B. Cahill, CPEA (Master Certification) is a Technical Director with Environmental Resources Management and has over 35 years of professional EHS experience with industry and consulting. He is the editor and principal author of the widely used text, Environmental, Health and Safety Audits, 9th Edition and its 2015 follow-up text EHS Audits: A Compendium of Thoughts and Trends, both published by Bernan Press. He has published over 70 articles and has been quoted in numerous publications including the New York Times and the Wall Street Journal. Mr. Cahill has worked in over 25 countries during his career. He holds a B.S. in Mechanical Engineering from Northeastern University where he was elected to Pi Tau Sigma, the International Mechanical Engineering Honor Society. He also holds an M.S. in Environmental Health Engineering from the McCormick School of Engineering and Applied Science of Northwestern University, and an MBA from the Wharton School of the University of Pennsylvania. He is a Certified Professional Environmental Auditor, Master Certification.
i Obama, Barak, "Toward a 21st-Century Regulatory System", Wall Street Journal, January 18, 2011.
Specialty Technical Publishers (STP) provides a variety of single-law and multi-law services, intended to facilitate clients' understanding of and compliance with requirements. These include: