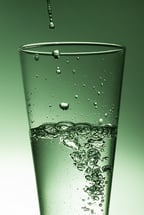 We often see pictures in the media of places where the environment is being abused. During the Rio Olympics, we've seen many visual images of garbage-laden rivers and dirty beaches and it's easy to think that if that were in our country, it would be under control, but a recent Harvard study took a closer look at water quality at home and found that it comes up short in many U.S. states.
Would you believe that the study found 33 states that had unsafe levels of toxic chemicals in public drinking water? That's right, 33 states were found to have PFAS detectable at the minimum reporting levels required by the EPA in 194 out of 4,864 water supplies (Harvard Gazette). What are PFAS? PFAS stands for polyfluoroalkyl and perfluoroalkyl substances. There are nine substances included in this group: Perfluorooctanoic acid, Perfluorooctane sulfonate, Perfluorobutanoate, Perfluorobutane sulfonate, Perfluorohexanesulfonate, Perfluoropentanoate, Perfluorohexanoate, Perfluoroheptanoate, and Perfluorononanoate. Such chemicals are considered safe until they exceed recommended safety levels determined by the Environmental Protection Agency (EPA) in the United States or by Health Canada for Canadians.
Any Canadians reading this article, feeling a bit smug about their drinking water quality? Well, as recently as March 2016, homes in Mississippi Mills, Ontario were showing levels of PFAS in well water near a government fire safety testing facility (CBC). Fortunately, the PFAS amounts were mostly below the screening level of concern, however, even slightly elevated levels are an indicator that residents living near certain kinds of factories or testing facilities need to be aware that these chemicals can get into drinking water.
Where Are the Toxins Coming From?
You can find these chemicals in textiles, pots and pans, adhesives, plastic wrap, cosmetics and firefighting foams. The places that are most likely to have higher levels of PFAS in drinking water are those near industrial sites, military bases, airports, and wastewater-treatment plants. According to Health Canada, high levels of PFAS in drinking water have been linked to liver damage and impacts on neurological development. In addition to tissue damage to the liver and developmental effects, the EPA also lists cancer, thyroid effects and changes to immunity among the possible health risks of exposure to PFAS above certain levels.
It should be noted that the researchers in the Harvard study looked at concentrations of six types of PFASs in drinking-water supplies, using data from more than 36,000 water samples collected nationwide by the U.S. EPA from 2013 to 2015. To see a map and an infographic analysis of 2013–2015 national drinking water PFAS concentrations, noting industrial sites that manufacture or use poly- or perfluoroalkyl compounds, the number of military fire training areas, and the number of wastewater treatment plants in the U.S., see Environmental Science and Technology Letters.
Everyone Deserves Access to Clean Drinking Water
Not only should we all keep advocating for greater access to clean water around the world, we need to continue ensuring our own water quality is up to standard. So the next time you see media footage of the environmental crises in Brazil, let's not forget about the people in Flint, Michigan, who are still unable to drink the water, or about the millions of North Americans who do not have access to a clean, safe water supply. One important recommendation to come out of Harvard's analysis of drinking water is that monitoring for these compounds in drinking water should be increased because there are many areas where no measurements have been made in water supplies across North America.
Although the EPA has not yet issued maximum contaminant levels for PFAS, this is a regulatory area to watch in the future. For more information on drinking water and wastewater regulations, see Environmental Auditing: Federal Compliance Guide and Environmental Auditing: Integrated Federal & California Compliance Guide, as well as the Canadian Environmental Law Guide.
Jane Dunne is a Senior Editor for Specialty Technical Publishers. She works on a diverse catalogue of environmental publications that are recognized across North America as effective tools to ensure regulatory compliance with complex requirements.