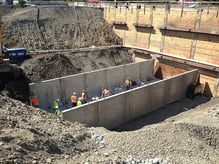 The US Green Building Council (USGBC), founded in 1993, is a consensus-based nonprofit organization with more than 12,000 national members representing the entire building industry. USGBC plays an important role in providing leadership and integration for the building industry in driving sustainable building.
Recognizing that the built environment has a profound impact on our natural environment, economy, health, and productivity, USGBC developed the Leadership in Energy and Environmental Design (LEED) rating system to encourage the design, construction, operation, and maintenance of buildings to standards protective of the occupants' health and the environment. LEED calls for the use of scientifically examined strategies for reducing a building's impact on the environment by considering various criteria and awarding points based on the rating system. The rating system is periodically reviewed and updated for continuous improvement.
The third version of the LEED rating system (LEED v3), dating back to 2009, was set to expire on June 27, 2015. However, in 2014, the USGBC extended the use of LEED v3 to October 31, 2016, allowing users additional time to register new projects under LEED v3, with the last day that LEED v3 projects can be submitted for certification being June 30, 2021.
On November 1, 2016, the fourth version of LEED finally took full effect. Starting on this date, all projects registered under the LEED Rating System must be registered under LEED v4. As such, activity in LEED v4 and LEED v3 will overlap for years.
LEED v4 covers projects in the following categories:
Building Design and Construction

Interior Design and Construction

Building Operations and Maintenance

Neighborhood Development

Homes.
As part of their mission to protect human health and the environment, many of the LEED rating systems require the completion of environmental site assessments (ESAs) as prerequisites or to achieve certain credits. They also award credits for developing on brownfield and NPL sites.
More information on the USGBC and the LEED Rating System can be found here.
Specialty Technical Publishers (STP) provides a variety of single-law and multi-law services, intended to facilitate clients' understanding of and compliance with requirements. These include:
About the Author

Ms. Luman has over 25 years of experience as a consultant and project manager in the environmental field.

She has conducted Phase I Environmental Site Assessments (ESAs) and subsurface assessments of various business, manufacturing, and petroleum facilities, and has managed investigations and removal actions at State Superfund sites.

Ms. Luman has also performed multi-media environmental compliance audits and environmental management system assessments within the aerospace, semiconductor, food, manufacturing, shipbuilding, and utility industries, and has prepared numerous environmental plans, permits (SPCC, SWPPP, NPDES, FRP, Emergency Contingency, and Hazardous Waste Management), and regulatory reports (Air Emissions Inventory, EPCRA, Discharge Monitoring, and Annual Waste Summaries).

She has been responsible for identifying environmental, health, and safety legal obligations for various businesses and industries across the United States, and for maintaining their compliance with the regulations. Prior to entering the private sector, Ms. Luman worked for a major public water supplier where she was involved in a federal Superfund Remedial Investigation involving the study of groundwater contamination over a 60-square mile area.

Most recently, she formed her own business, Healthy Tweaks, LLC, to raise awareness of the impact of chemicals on the environment, in consumer products, and on human health, particularly that of children. Her goal is to educate consumers and businesses to enable them to make choices that will improve their health and reduce their ecological footprint.

Ms. Luman is currently the lead author of Site Auditing and was previously the lead author on other STP regulatory publications covering federal EPA and State environmental differences, federal and California OSHA requirements, and federal construction and transportation regulations.

She completed her B.S., Civil Engineering at the University of Texas in Austin in 1989, and is a Professional Engineer licensed in Texas and California, and registered in New York. Her interest in understanding the impact of the built environment on the natural environment led her to become a LEED® Accredited Professional in 2009. She is a member of the American Society of Civil Engineers, the Auditing Roundtable, the Texas Association of Environmental Professionals, and the U.S. Green Building Council. She is also on the Houston Advisory Board for The Nature Conservancy.