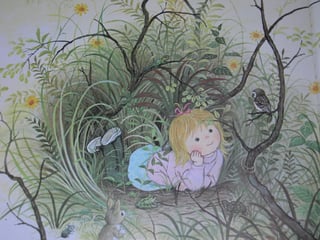 It takes time to stand in the bookstore and figure out which books will make suitable gifts for the little people in your life. Some book covers masquerade as educational and enriching, but when you open them up, they are vapid and do not offer any challenging material, nor new thoughts to open up a child's mind. If you are looking for books that introduce environmental themes and get kids thinking and asking the questions that matter, here is what I can recommend:
The Green Mother Goose: Saving the World One Rhyme at a Time by Jan Peck and David Davis, illustrated by Carin Berger

The Curious Garden by Peter Brown

Compost Stew by Mary McKenna Siddals, Ashley Wolff

What Does It Mean to Be Green? by Rana DiOrio, illustrated by Chris Blair

The Snail and the Whale by Julia Donaldson, pictures by Alex Scheffler

The Lorax by Dr. Seuss

Dear Tomato Edited by Carol-Ann Hoyte, photography by Norie Wasserman

The Dandelion Seed by Joseph Anthony, illustrated by Chris Arbo

A Child's Garden of Verses by Robert Louis Stevenson

Oh, What a Busy Day! By Gyo Fujikawa
How could I resist a book with poems like, "One, Two, We Can Renew?" The truth is: I can't! The Green Mother Goose charmed its way right into my fabric bag and will make a great gift for one of my nieces. I was so pleased to have found a book that will start the conversation with little ones about the things that matter in life. I feel that children will want to ask questions as parents read this one. It will open their eyes to topics such as, why we shouldn't be wasteful, keeping our air and water clean, and how the foods we choose to eat need to be chosen in a thoughtful way. The illustrations for this book are a lovely mix of collage meets adorable cut-outs.
The Curious Garden is a great book to inspire an interest in gardening. I love the whimsical illustrations and artful drawings of Liam, the city boy who loves the outdoors. Liam's newfound hobby of gardening unlocks a new world for him and reveals the rewarding nature of growing a garden. He watches plants flourish and blossom, where there was previously just barren land. (If you plan to do your gift shopping online and you don't have time to go check this book out at your local bookstore, there's a well-done video on the book here.)
Kids love books that play with the sounds of words. Compost Stew has playfully-composed pages that entertain visually with different homemade papers and orally with rhyming words that capture the attention of the audience. This one is a good way to learn the alphabet, while educating about what can go into a compost pile. I like this book because it works for babies and kids up to about age 5.
Looking for a book to explain the basics of being green? What Does It Mean to Be Green? starts out with questions and answers about what it means to be environmental. Because this book is meant for small children, the ideas presented are kid-friendly and not too complex.
Ocean-loving kids will dive into The Snail and the Whale. This is the story of a humpback whale and a tiny snail with dreams of seeing the world. Parents will enjoy reading this one aloud. So many children are fascinated by the sea and this story will feed their interest.
The Lorax by Dr. Seuss has been enlightening children since 1971. This fable shows what can happen to nature if greed is allowed to go too far. The Lorax requires a longer attention span and is probably too detailed for children under 4 years of age. Considered a classic by many, it is famous for the line: "UNLESS someone like you cares a whole awful lot, nothing is going to get better. It's not."
Canadian editor, Carol-Ann Hoyte, has recently published a new collection of poems, Dear Tomato. In this anthology, Hoyte uncovers the beauty of food and agriculture. All poems are a delight for readers ages 8 to 12.
Some of the best books for kids tell a story that not only educates, but can also serve as a parable. The Dandelion Seed is a tale about the life cycle of a dandelion seed, but the seed shares many of the same fears that a child growing up might have and offers hope and encouragement for those wondering where they are headed.
Two of my favourite childhood books that stirred my love of nature were A Child's Garden of Verses and Oh, What a Busy Day! These books were both illustrated by Gyo Fujikawa, who was such a creative talent. Fujikawa's pictures always included lots of creatures to discover wherever you looked on the page. My favourite poems in Robert Louis Stevenson's collection were "Bed in Summer" and "The Swing." Books like these really open up the imagination and instill a love of the outdoors. Of course, being that these books date back to my childhood, you may need to poke around a few used bookstores in order to find them.
Jane Dunne is a Senior Editor who has worked for over 15 years on various environmental auditing publications that are recognized across North America as effective tools to ensure regulatory compliance with complex requirements.