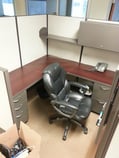 Buzz, buzz. Ring, ring. Your eyes are instantly open as the sharp sounds of your smartphone alarm ring in your ears. After reaching over to quell the noise, you jump out of bed, eager to begin your first day as director of marketing for Tech, Inc. Your workday begins with HR orientation. Without much explanation, your hiring manager drops reams of paperwork on your lap. One of the documents is titled "Tech, Inc. Social Media Policy," while another is a form seeking your personal social media account usernames and passwords. After orientation, you are escorted to your new office, which, to your chagrin, is a small cubicle instead of a plush corner suite. You are assigned your first task: to launch an advertising campaign comparing Tech to rival company, Widget, Inc., along with a promotion in which customers pick three numbers for $2 for a chance to win Tech's latest gadget. You proudly squeeze promotional information, a slight jab at Widget, and a photo of the prize in a 140-character tweet. After a long first day of work, you arrive at home and post to Facebook: "First day of work. :-) HR sucks. Cubicle is tiny. :-) Thinking about complaining. #newjob #TechInc #funemploymentover #realworld."
This otherwise innocuous day is littered with potential legal pitfalls. Take, for example, the employer's social media policy and request for account information. Are these legal? Or consider the Twitter promotional campaign. Are there legal implications for holding such a promotion on Twitter, as well as for criticizing a rival company, and sending the photo? And finally, how about the Facebook post? Could Tech, Inc., legally take disciplinary action against you for the post?
As this hypothetical situation demonstrates, social media and the law intersect countless times through one's day. While many general legal principles of computer and Internet law apply with the same force on social media, social media presents unique challenges absent from other aspects of the Internet.
Because the law often slowly adjusts to changing technology, it will be years before many of the questions posed by social media law are answered. Until then, we must rely on a patchwork of lower court opinions, guidance from regulatory agencies, and analogies from other areas of the law in answering social media law questions.
Everyone—business owners and managers, lawyers, lawmakers, government officials, law professors, students, and ordinary computer users—needs to understand the current state of the law regarding social media. By knowing the legal landscape of social media, you can avoid legal pitfalls, realize your rights, and institute best practices.
Specialty Technical Publishers (STP) has just published an entirely new chapter on Social Media and the Law in its publication Internet Law: The Complete Guide and provides a variety of single-law and multi-law services, intended to facilitate clients' understanding of and compliance with requirements. These include: