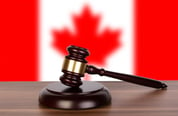 Although an ever-expanding range of laws prohibit workplace harassment, the Court of Appeal for Ontario has now ruled that harassment is not a free-standing common law tort in that province. This ruling reverses a trial court ruling by the by the provincial Superior Court of Justice that shocked employment law in 2017. This ruling returns workplace harassment to the realm of statutory and regulatory requirements and prohibitions, which certainly isn't unambiguous, but at least offers more structured frames of reference. The case is Merrifield v. Canada (Attorney General), and it litigates a complaint between a member of the Royal Canadian Mounted Police (RCMP) and his employers.
What Happened to Cause Behind the Case?
Peter Merrifield joined the Royal Canadian Mounted Police (RCMP) in 1998. He has worked in a variety of positions, including sky marshal, terrorist threat assessment, and personal protection (bodyguard) for visiting dignitaries. He has been promoted twice, and is a presently a Sergeant. His career has included many private commendations and acknowledgements for nonpublic and public contributions to the agency. However, it also has included breaches of RCMP rules regarding public actions, leading to what he claims to be decades of harassment and bullying by some of his superiors. Merrifield's difficulties began in 2004 when he entered political life. Considering a run for the federal Parliament, he learned that the RCMP requires officers to take leave without pay (LWOP) for political activities, including seeking nomination and candidacy for office. Eight days later he attended a nomination meeting, after which he sent a back-dated request for LWOP for that day and the day of a second meeting to come. He requested LWOP several more times while running unsuccessfully. Merrifield's subsequent dispute with the RCMP included differing views whether he had received necessary approvals, at least informally because formal approvals could not always be obtained quickly enough. Merrifield took initial steps toward a second run, which did not produce a nomination, but did generate disputes with certain supervising officers at RCMP. These tensions were exacerbated by differing interpretations of RCMP administrative requirements, and whether he had complied with restrictions on timing of political and public participation and public statements he made about his on-the-job (security- and antiterrorism-related) duties. Some of his direct supervisors found Merrifield's actions inappropriate, leading to changes and restrictions on his security-related and public facing assignments, and to internal investigations of some of his activities. He believed these amounted to bullying and harassment, and filed suit in 2007, seeking damages for claimed delays in his promotions, and claiming the managerial actions amounted to intentional infliction of mental suffering and tort of harassment.
What Did the Trial Court Determine?
The litigation has dragged on for years. Beginning 7 years after Merrifield issued his notice of action a 40-day trial was held over 17 months, from November 2014 to April 2016. The Superior Court issued a 174 page decision in February 2017, detailing events and interpreting them in light of the legal claims. The decision determined that Merrifield had indeed suffered mental anguish, and lost income from delayed promotions. The court also considered conflicting arguments whether a free-standing tort of harassment exists in Ontario – as distinct from statutory/regulatory prohibitions from harassment (including nonsexual harassment, as Merrifield argued in this case), and as distinct from a finding of harassment as an element of other torts such as infliction of emotional suffering. The court reviewed past cases, and was satisfied that harassment could be argued – the first court in Canada to do so. The court then applied a 4-prong test to the facts in this case:
Was the conduct of the defendants toward Mr. Merrifield outrageous?

Did the defendants intend to cause emotional stress or did they have a reckless disregard for causing Mr. Merrifield to suffer from emotional stress?

Did Mr. Merrifield suffer from severe or extreme emotional distress?

Was the outrageous conduct of the defendants the actual and proximate cause of the emotional distress?
The court answered all 4 questions affirmatively, and awarded Merrifield $100,000 in general damages, plus $41,000 in specific damages. The RCMP appealed the decision, and Merrifield cross-appealed seeking a larger award.
What Has the Court of Appeal Decided?
The Court of Appeal reversed the earlier decision. It first cautioned that new torts should only be introduced into common law after great consideration and with some reluctance, and opined that the trial court had moved too precipitously. It therefore rejected the newly-defined tort. It also found that the RCMP managers' actions did not satisfy existing standards for the intentional infliction of mental suffering, and reversed that finding as well. The Court of Appeal therefore granted the government's appeal and reversed the lower court's decision, and accordingly dismissed Merrifield's cross-appeal for greater damages. How does the new decision affect employers' duties? Even without a separate tort for harassment, employers in a growing number of jurisdictions are still required to prevent workplace harassment and bullying, and to address any that do occur. These provisions appear in human rights codes, and in occupational health and safety (OHS) codes.1
Now What?
Even if you don't work in Ontario, this decision is still a useful reminder to establish and implement policies.
Self-assessment Checklist
Does the organization have anti-harassment policy(ies) and procedure(s) in place? Do they include elements typically required by human rights and OHS standards, including the following:
Clear and understandable written policy?

Demonstrated buy-in by management?

Training?

Policies and procedures for responding to and investigating complaints?

Prompt, thorough and fair investigations of complaints?

Prompt and fair remedial action?

Documentation and record keeping?

Has the organization ever applied its policy(ies) and procedure(s)?

Routine training?

Receipt of complaint of harassment? Investigation of complaint, leading to formal conclusion and remedial action if appropriate?

Has the organization reviewed its policy(ies) and procedure(s) and actions taken, and made appropriate revisions?
Where Can I Go For More Information?
Court of Appeal for Ontario decision (2019) (Merrifield v. Canada (Attorney General), 2019 ONCA 205 (CanLII)). Ontario Superior Court of Justice decision (2017) (Merrifield v The Attorney General, 2017 ONSC 1333 (CanLII)).
Endnotes
1 I wrote about sexual harassment prohibitions in the notes to the last update to this publication; it's reprinted here. Another STP author blogged about changes in the Canadian federal jurisdiction that will become effective when Bill C-65 is given effect; see here. For those who may want more detailed analysis and discussion, I provide both in my Workplace Violence Prevention manual, which is also published by STP.
About the Author

Jon F. Elliott Esq., MPP, JD, is the author of over a dozen books and many articles, and has worked in public agencies, non-profit groups, and private businesses. He has an engineering degree from Princeton and his public policy graduate degree (MPP) and law degree (JD) are from the University of California, Berkeley. For over 20 years he has been the primary author of STP's Directors' and Officers' Liability publication, analyzing and explaining common law, statutory and regulatory provisions in the U.S. For more than 10 years, he has also contributed extensively regarding Canadian requirements.
You may contact Mr. Elliott directly at: tei@ix.netcom.com