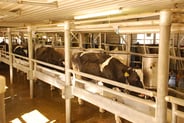 Among its many provisions, the Emergency Planning and Community Right-To-Know Act of 1986 (EPCRA, in this case Section 304) requires facilities to report releases of specified hazardous and extremely hazardous substances, if the release exceeds an applicable threshold reportable quantity (RQ). The Environmental Protection Agency (EPA) administers these requirements, and has just approved an exemption for emissions from animal wastes at farms (this exemption tracks one amended into the Superfund law (CERCLA) in 2018). Other types of facilities and activities are still subject to these reporting requirements, so it's a good time to review them.
Which Chemicals Are Subject To These Requirements?
Section 304 applies to releases (e.g., leaks) of the following:
Extremely Hazardous Substance (EHS), as defined by EPCRA Section 301-303 (there are 355 presently)

Hazardous Substance subject to CERCLA (there are more than 700 presently plus additional radionuclides)
EPA establishes a reportable quantity (RQ) for each of these chemicals, which vary widely from 1 pound to 10,000 pounds based on the agency's assessment of the degree of hazard posed by a release. These requirements do not apply if a release meets any of the following criteria:
Results in exposures only to persons on site

Is federally permitted

Is "continuous" and from a facility for which notification has been filed

Is a CERCLA-exempt release of a pesticide product

Is exempt under CERCLA

Is a naturally occurring radionuclide released because of specified land-disturbing activities, or a radionuclide released from coal piles and coal slag management

Is a release of less than 1,000 pounds per 24 hours of nitrogen oxide or nitrogen dioxide, as a result of combustion or combustion-related activities:

Effective July 15, 2019, is an air emission from "animal waste" on a "farm"

"Animal waste" means "feces, urine, or other excrement, digestive emission, urea, or similar substances emitted by animals (including any form of livestock, poultry, or fish). This term includes animal waste that is mixed or commingled with bedding, compost, feed, soil, or any other material typically found with such waste"

"Farm" means "a site or area (including associated structures) that (1) Is used for (i) The production of a crop; or (ii) The raising or selling of animals (including any form of livestock, poultry, or fish); and (2) Under normal conditions, produces during a farm year any agricultural products with a total value equal to not less than $1,000.
What Information Must Be Reported?
If a release meets the criteria above, then the following reporting requirements apply:
Immediate report must be made to the Local Emergency Planning Committee and the State Emergency Response Commission established to comply with EPCRA requirements (often satisfied by calling 911), providing the following information:
Chemical name or identity of any substance involved in the release

Whether the substance is listed as an EHS

Quantity released;

Time and duration of the release.

Media into which the release occurred

Known or anticipated acute or chronic health risks associated with the emergency, and medical advice if appropriate

Proper precautions to take in response to the release, including evacuation if appropriate

Name and telephone number of the person(s) to be contacted for further information.
Written follow-up emergency notice to the same agencies must be made as soon as practicable. The report should update the information provided at the time of the release and include the following additional information:
Actions taken to respond to and contain the release

Any known or anticipated acute or chronic health effects of the release

Advice, if appropriate, regarding medical attention necessary for exposed individuals release
Additional follow-up notices must be submitted as more information about the release becomes available.
Readers need to pay attention: RQs are not the same as the "threshold planning quantities (TPQs)" used to select facilities that must participate in EPCRA's separate emergency planning activities. TPQs are intended to be large enough that the complete release of onside inventory could trigger a local disaster, whereas RQs are intended to be large enough to warrant immediate response to minimize environmental and health harm. Many facilities around the country have RQ-level quantities onsite (and so must be ready to make the release reports discussed above) even though they never have TPQ-level quantities onsite."
What's Next?
EPA's new exemption is narrowly drawn to match Congressional guidance from 2018. Other reporting requirements under Section 304 seem stable for the time being.
Self-Evaluation Checklist
Do any of the organization's facilities maintain quantities of any listed EHS or HS that exceeds threshold quantities?
If so, has any facility experienced an accidental release that exceeds EPCRA reporting thresholds?
If so, has the facility made timely immediate and follow-up reports?
Where Can I Go For More Information?
Specialty Technical Publishers (STP) provides a variety of single-law and multi-law services, intended to facilitate clients' understanding of and compliance with requirements.
About the Author

Jon Elliott is President of Touchstone Environmental and has been a major contributor to STP's product range for over 25 years.

Mr. Elliott has a diverse educational background. In addition to his Juris Doctor (University of California, Boalt Hall School of Law, 1981), he holds a Master of Public Policy (Goldman School of Public Policy [GSPP], UC Berkeley, 1980), and a Bachelor of Science in Mechanical Engineering (Princeton University, 1977).

Mr. Elliott is active in professional and community organizations. In addition, he is a past chairman of the Board of Directors of the GSPP Alumni Association, and past member of the Executive Committee of the State Bar of California's Environmental Law Section (including past chair of its Legislative Committee).

You may contact Mr. Elliott directly at: tei@ix.netcom.com

photo credit: afagen The next to be milked via photopin (license)