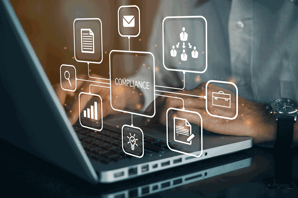 As our world becomes increasingly connected, companies will continue to seize opportunities for expanding their businesses to new geographies. However, many challenges remain when it comes to understanding local regulations, cultural nuances, and legal applicability considerations. To overcome these challenges, EHS leaders need to gain in-depth knowledge and understanding of the regulatory environment and cultural landscape.

For an EHS manager or even a small EHS team, building and maintaining this knowledge can overwhelm your time and resources. This is where utilizing an EHS regulatory register can change the game. Not only can a register help save time, but it can also ensure accurate, up-to-date information all in one place. If your organization is considering an expansion into new territory, a register to understand the organization's compliance obligations should be the first task for a smooth, successful operation expansion.
What is a Regulatory Register?
To put it simply, EHS Regulatory Registers can help you understand the laws and regulations of any region where you work. A generic register is a compilation of all EHS content a company needs to build a solid foundation for your EHS compliance program and is required by the ISO paradigms.
But registers are more than just content; coupled with EHS consultants/auditors in-country knowledge, they can be scaled to the unique needs at each location. Different regions have diverse EHS requirements and each facility can have a different set of obligations and risks - leaving a lot of room for error. Having a scaled register can help Regional and Corporate leadership see the overall EHS challenges across facilities without being distracted by nonapplicable regulations. A good EHS register can provide a level of detail that helps manage the unique needs across all your operations, be the background of your EHS program, and making it the go-to document for EHS managers.
What is the Value of a Register?
EHS regulations and requirements can vary greatly by region and even by city. Having a regulatory register will help remove time and language barriers, allowing you to better understand your local EHS ecosystem and keep your business running safely and smoothly. A register acts as a resource that EHS leaders throughout the company can use as a decision-making tool and to better justify budget allocations. They can be used across the corporate, regional, and even facility levels to help see the complete EHS picture through a clear lens.
Facility Level: at the facility level, a good register offers specific, actionable requirements. For example, it provides any site-specific permit conditions.

Regional Level: at the regional level, managers can utilize registers to understand each country's programs. For example, they will show where specific training is needed for chemical labels and storage practices that are universal and can be provided to fill a compliance element versus where there is a site-specific requirement that will result in a unique solution.

Corporate Level: at the corporate level, registers provide a tool to consistently see the entire organization through one lens. They can help identify potential EHS burdens – which leads to setting budgets, priorities of actions to maintain compliance (e.g., more focus on higher risk countries), and help establish a cadence of global audits to ensure compliance.
In some cases, keeping an updated register may be a critical requirement of your management system. They can prove that you not only have all the right programs in place but also have a process to manage changing regulations prior to their finalization.
Leveraging Local Resources
Regulatory registers can be a great asset when you operate in or are considering expanding to new countries. A register will provide you with a full understanding of EHS requirements and cultural nuances in the new region and help navigate the language barriers. At Antea Group, we have the benefit of utilizing our partnership with Inogen Alliance to create accurate and detailed registers.
With more than 200 offices located on every continent, our partnership with Inogen Alliance provides us with an enhanced global capacity and geographic reach. Working with Inogen Alliance associates, we partner you with a local EHS professional who will tailor content to provide you with a customized EHS register. This partnership can ensure that the knowledge and data are specific to the region and will offer a greater understanding of the EHS environment.
Gaining region-specific insight enables the register to be scaled down to the facility, meaning you can take the large pool of EHS data and sort out only the necessary and applicable information, making the final register more manageable.
Getting the Right Information
As you consider buying a regulatory register for your global facilities, make sure that you get the regulations at the right jurisdictional level. For example, obtaining an EHS register that only contains the national regulations for Canadia or Australia would mean you are missing the province/regional regulations that sites must actually comply with. Similarly, knowing the legal paradigm will ensure that you obtain the right regulations at the right level – for example, waste regulations are at the state level in Spain as are most water limits and requirements in Europe. In other cases, such as Emergency Response, regulations may go down to the local levels. A good register will ensure that your budget is utilized in a way that captures regulations at the right level of the government and that compliance is clearly understood by the facility managers.
Updates and Maintenance
Regulatory registers should be viewed as an evergreen document that will continually be updated and maintained as regulations change. But how often should your registers be updated – monthly, quarterly, annually? The answer is: it depends on the region.
At a minimum, EHS registers should be updated annually to ensure they have the most up-to-date information and follow any new rules and regulations passed during the year. However, the legal structure of some regions means that EHS regulations are being passed more frequently; in these cases, registers should be updated quarterly. Updates should also be made anytime there is a change in facilities, business processes, or a new acquisition is made. Below are a few examples of different countries recommended maintenance schedules:
| | |
| --- | --- |
| Australia | Every 6 months/Biannual |
| Europe EU Regulations | Quarterly |
| Germany | Every 6 months/Biannual |
| Italy | Quarterly |
| Japan | Every 6 months/Biannual |
| Norway | Quarterly |
| South Korea | Quarterly |
| Sweden | Quarterly |
| Brazil | Every 6 months/Biannual |
| Argentina | Annually |
| South Africa | Annually |

And finally, remember that depending on the jurisdiction, registers may have to be updated in more than one language, adding another layer of complexity to their maintenance. This is another case in which having a local contact to help understand the EHS regulatory environment and the cultural nuances can help save time and ensure everything is done correctly. The key to updating your registers is to find the right cadence. Since there is a fee to update them, you want to find the right balance of keeping the resource up to date without overspending. Also, take into consideration how regulatory updates are shared in the regions where you operate. In some cases, they are shared electronically, making updates simple. But in other cases, updates are shared via hardcopy and will have to be sorted through manually, making the updating process more difficult.
At the end of the day, having an EHS regulatory register available can help ease the workload of your EHS team and relieve some of the stress that comes with understanding a new EHS environment. To learn more about regulatory registers, contact Antea's Global EHS Registers and Protocols team to get started.
---
About the author
Antea Group is an international engineering and environmental consulting firm specializing in full-service solutions in the fields of environment, infrastructure, urban planning, and water. By combining strategic thinking and multidisciplinary perspectives with technical expertise and pragmatic action, we do more than effectively solve client challenges; we deliver sustainable results for a better future. We serve clients ranging from global energy companies and manufacturers to national governments and local municipalities.
Antea Group's EHS&S services are categorized into six main practice areas including:
Although Antea Group has clients in a variety of industries, the primary industries they focus on include: