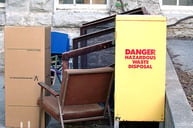 To improve the efficiency of RCRA Corrective Action, in 2014, EPA Regions 3 and 7 began a pilot to implement RCRA Corrective Action using Lean process analysis with the goal of clarifying goals and expectations early in the process. The Lean process is a collection of principles and methods that focus on the systematic identification and elimination of non-value-added activity involved in producing a product or delivering a service to customers. Within the RCRA Corrective Action program, the Lean process was used to remove various redundant steps and frontload goals and expectations through a corrective action framework (CAF), resulting in significant time savings.
Based on lessons learned from piloting the Lean process approach, in May 2016, EPA released Resource Conservation Recovery Act Facility Investigation Remedy Selection Track (RCRA FIRST)–A Toolbox for Corrective Action. RCRA FIRST addresses both the RCRA Facility investigation (RFI) and the remedy selection, or Corrective Measures Study (CMS). The toolbox provides how-to guidance, process flow maps, management plans and tools, and templates to help project managers and site managers be more efficient in their work. These tools are designed for use in a variety of situations, including where facilities are implementing corrective action voluntarily or according to permits or orders.
RCRA FIRST is an approach to managing RCRA corrective action projects that is anticipated to provide a time savings of 50 percent or more, translating to years of saved time. According to EPA, the legal and technical foundation of the RCRA Corrective Action Program remains the same; the overall sequence of core activities—from investigating the contamination at facilities to selecting a remedy and documenting the decision—follows the guidance in EPA's RCRA Corrective Action Plan. RCRA FIRST tools do not create any new legal obligations or limit or expand obligations under any federal, state, tribal, or local law. The Toolbox itself is not a legally binding document nor is it a substitute for a permit or order.
RCRA FIRST is available for use in all EPA regions; to date, some regions have adopted its use more than others.
Information on EPA's RCRA FIRST, tools, and guidance are available here.
Specialty Technical Publishers (STP) provides a variety of single-law and multi-law services, intended to facilitate clients' understanding of and compliance with requirements. These include:
About the Author

Ms. Luman has over 25 years of experience as a consultant and project manager in the environmental field.

She has conducted Phase I Environmental Site Assessments (ESAs) and subsurface assessments of various business, manufacturing, and petroleum facilities, and has managed investigations and removal actions at State Superfund sites.

Ms. Luman has also performed multi-media environmental compliance audits and environmental management system assessments within the aerospace, semiconductor, food, manufacturing, shipbuilding, and utility industries, and has prepared numerous environmental plans, permits (SPCC, SWPPP, NPDES, FRP, Emergency Contingency, and Hazardous Waste Management), and regulatory reports (Air Emissions Inventory, EPCRA, Discharge Monitoring, and Annual Waste Summaries).

She has been responsible for identifying environmental, health, and safety legal obligations for various businesses and industries across the United States, and for maintaining their compliance with the regulations. Prior to entering the private sector, Ms. Luman worked for a major public water supplier where she was involved in a federal Superfund Remedial Investigation involving the study of groundwater contamination over a 60-square mile area.

Most recently, she formed her own business, Healthy Tweaks, LLC, to raise awareness of the impact of chemicals on the environment, in consumer products, and on human health, particularly that of children. Her goal is to educate consumers and businesses to enable them to make choices that will improve their health and reduce their ecological footprint.

Ms. Luman is currently the lead author of Site Auditing and was previously the lead author on other STP regulatory publications covering federal EPA and State environmental differences, federal and California OSHA requirements, and federal construction and transportation regulations.

She completed her B.S., Civil Engineering at the University of Texas in Austin in 1989, and is a Professional Engineer licensed in Texas and California, and registered in New York. Her interest in understanding the impact of the built environment on the natural environment led her to become a LEED® Accredited Professional in 2009. She is a member of the American Society of Civil Engineers, the Auditing Roundtable, the Texas Association of Environmental Professionals, and the U.S. Green Building Council. She is also on the Houston Advisory Board for The Nature Conservancy.