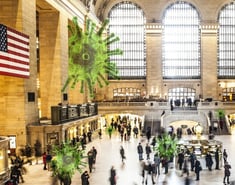 President Trump has issued the latest in a series of executive orders (EOs) to reduce and repeal formal federal regulations. This month's EO directs federal agencies to do so in order to "support the economic response to the COVID–19 outbreak" (EO 13924 "Regulatory Relief To Support Economic Recovery").
What general regulatory actions are agencies to undertake?
The EO begins with a summary of the COVID-19 health crisis, and assertions about US federal "sweeping actions" by President Trump and federal agencies to respond to the resulting public health issues. It then notes that COVID-19 has also caused extensive economic issues, resulting in a need for comparably vigorous federal actions. The EO provides the following overarching policy statement:
"It is the policy of the United States to combat the economic consequences of COVID–19 with the same vigor and resourcefulness with which the fight against COVID–19 itself has been waged. Agencies should address this economic emergency by rescinding, modifying, waiving, or providing exemptions from regulations and other requirements that may inhibit economic recovery, consistent with applicable law and with protection of the public health and safety, with national and homeland security, and with budgetary priorities and operational feasibility."
Accordingly, the EO then directs federal agencies to review and revise regulatory requirements in order to promote economic recovery:
"The heads of all agencies shall identify regulatory standards that may inhibit economic recovery and shall consider taking appropriate action, consistent with applicable law, including by issuing proposed rules as necessary, to temporarily or permanently rescind, modify, waive, or exempt persons or entities from those requirements, and to consider exercising appropriate temporary enforcement discretion or appropriate temporary extensions of time as provided for in enforceable agreements with respect to those requirements, for the purpose of promoting job creation and economic growth …"
Depending on the specific requirement addressed, these efforts should produce generalized regulatory requirement reductions for classes of regulated entities.
What additional guidance is agencies to provide?
The EO also directs agencies to apply available regulatory and enforcement discretion to ease requirements on individual entities. This includes, in particular:
accelerate development of agency-specific procedures for entities to request "pre-enforcement rulings" that the entity's actions in response to COVID-19 are consistent with the agency's regulatory requirements (this addresses a requirement created by October 2019's EO 13892, which I discussed here.

consider whether to formulate and publicize policies of enforcement discretion with respect to individual regulatory or enforcement programs, under which an agency will decline to undertake enforcement against "persons and entities that have attempted in reasonable good faith to comply with applicable statutory and regulatory standards…."

consider safe harbors against enforcement for entities that make a reasonable attempt to comply with applicable guidance from the Centers for Disease Control and Prevention (CDC) and other agencies regarding measures to "stem the transmission and spread of [COVID-19]", by applying enforcement discretion. In addition, however, the EO provides that non-compliance with such guidance is not to be considered a violation of a regulatory requirement.
What standards of "Fairness in Administrative Enforcement and Adjudication" are provided?
The EO directs federal agencies to consider the following "principles of fairness in administrative enforcement and adjudication", including appropriate revisions to existing policies and procedures if necessary:
The Government should bear the burden of proving an alleged violation of law; the subject of enforcement should not bear the burden of proving compliance.

Administrative enforcement should be prompt and fair.

Administrative adjudicators should be independent of enforcement staff.

Consistent with any executive branch confidentiality interests, the Government should provide favorable relevant evidence in possession of the agency to the subject of an administrative enforcement action.

All rules of evidence and procedure should be public, clear, and effective.

Penalties should be proportionate, transparent, and imposed in adherence to consistent standards and only as authorized by law.

Administrative enforcement should be free of improper Government coercion.

Liability should be imposed only for violations of statutes or duly issued regulations, after notice and an opportunity to respond.

Administrative enforcement should be free of unfair surprise.

Agencies must be accountable for their administrative enforcement decisions.
What additional implementation and oversight provisions are defined?
The EO directs federal agencies to review their relevant actions, and report them to the Office of Management and Budget (OMB) – the White House office that oversees most administrative responses to EOs. OMB is to monitor agency actions, and set deadlines for their reporting.
What's Next?
As I've discussed in previous blogs, President Trump has already issued a variety of EOs directing agencies to review and reduce regulatory burdens. It's therefore unclear what additional measures are readily available. However, efforts to waive enforcement against organizational actions that are at least nominally intended to address the OVID-19 pandemic may provide additional short-term reductions in effective regulation.
Self-Assessment Checklist
Has the organization reviewed its activities to identify changes it considers reasonable in response to the COVID-19 pandemic (e.g., worker safety, staffing, supply chain management, etc.)?
Would any of the identified changes cause potential violations of applicable federal requirements or prohibitions?
Has the organization considered, or made, requests to appropriate federal agencies for a pre-enforcement ruling to validate the change?
Where Can I Go For More Information?
About the Author

Jon Elliott is President of Touchstone Environmental and has been a major contributor to STP's product range for over 30 years.

Mr. Elliott has a diverse educational background. In addition to his Juris Doctor (University of California, Boalt Hall School of Law, 1981), he holds a Master of Public Policy (Goldman School of Public Policy [GSPP], UC Berkeley, 1980), and a Bachelor of Science in Mechanical Engineering (Princeton University, 1977).

Mr. Elliott is active in professional and community organizations. In addition, he is a past chairman of the Board of Directors of the GSPP Alumni Association, and past member of the Executive Committee of the State Bar of California's Environmental Law Section (including past chair of its Legislative Committee).
You may contact Mr. Elliott directly at: tei@ix.netcom.com
Image by Omni Matryx from Pixabay