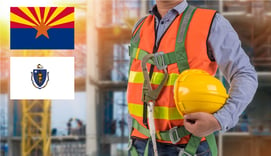 The federal Occupational Safety and Health Act of 1970 (OSH Act) grants the Occupational Safety and Health Administration (OSHA) nationwide authority to issue and enforce worker protection measures at most workplaces. However, some categories of employers are regulated by other agencies, including DOL's Mine Safety and Health Administration (MSHA), the Nuclear Regulatory Commission (NRC), and the Environmental Protection Agency (EPA).
In addition, the OSH Act outlines procedures for states to apply to OSHA to assume OSH Act authority within their boundaries – a state prepares a "state plan" to undertake OSH Act regulation of public sector (state and local government) workers, and optionally private employers as well (29 USC 667). Once OSHA approves such an application, the state is delegated authority and commonly referred to as a "state plan state." There are presently 22 State Plans covering both private and public sector employees, and 7 more covering only state and local government workers. Although these OSHA-state relationships are generally very stable, two states' status has been up for review during 2022: OSHA is considering whether to revoke Arizona's delegation, and has just granted Massachusetts a new state plan role regulating public sector employees. The rest of this note discussed state plans, and identifies issues with the two states.
How are state plans authorized and administered?
A state can submit to OSHA a "state plan" for the development and implementation of OSH standards. OSHA reviews these plans, and will approve a plan that does the following:
designates a state agency to administer the plan/program

provides for the development and enforcement of safety and health standards that are or will be "at least as effective" as OSHA's standards and, when applicable to products distributed or used in interstate commerce, are required by "compelling local conditions" and do not unduly burden interstate commerce

provides for administrative and enforcement procedures "at least as effective" as those provided by the OSH Act, including provisions for unannounced inspections

provides for adequate funding and staffing for the state program

applies to all state and local governmental employees; a state can also choose to regulate private employers

requires employers and the state agency in charge to report to OSHA in the same manner as if the state plan were not in effect
Once approved, a state's program remains subject to continuing evaluation and monitoring by OSHA, which can modify or revoke approval if the state fails to perform. OSHA oversight includes annual Enhanced Federal Annual Monitoring and Evaluation (FAME) reviews and reports. States can also expand their requirements beyond those delegated by OSHA; for example, several states require employers to prepare and implement comprehensive health and safety plans (I've written about California's Injury and Illness Prevention Plan (IIPP) requirement several times, including HERE). Once OSHA approves a state plan, OSHA may continue independent enforcement of federal standards within the state, but typically delegates all enforcement over most types of workplaces.
What's happening with Arizona and Massachusetts?
Two states have been subject to review during 2022:
Since 1974, Arizona has administered a State Plan covering both public and private sector employers, administered by the Arizona Division of Occupational Safety and Health (ADOSH). However, since 2012 OSHA's oversight has identified a series of shortcomings with the state program, primarily a failure to adopt and enforce state standards matching OSHA's federal requirements. Finally, in April 2022 OSHA proposed to revoke Arizona's state plan authority. The state responded with a flurry of statutory and regulatory measures that it claims address all shortcomings identified by OSHA. On August 15, OSHA reopened the comment period on its proposed revocation to receive updated information and comments.
Massachusetts has not been a state plan state. However, at least since 2014, the Massachusetts Department of Labor Standards (DLS) had explicit state statutory authority to ensure that the state's regulation of public employee worksites is at least as effective as OSHA's national program. In 2020, Massachusetts applied to OSHA for formal state plan authorization to regulate state and local government employers, and on August 18, 2022 OSHA granted this authority.
What happens next?
Comments are due in the Arizona proceeding by October 14; OSHA's reopening of the revocation proceeding suggests that validation of the state's latest claims of effectiveness will lead the agency to cancel revocation. Massachusetts is undergoing a formal transition between OSHA and the DLS. For employers without workplaces in these states, it's still a good reminder to check if any sites are in state plan states where OSH requirements may vary from OSHA's national norm.
Self-evaluation checklist
Has the organization evaluated all its worksites and activities to determine if any are subject to delegated "state plan state" regulatory oversight?
Is so, has the organization confirmed that each worksite and activity complies with the particular requirements applied?
Where can I go for more information?
- Federal Annual Monitoring and Evaluation (FAME) report webpage
- Massachusetts state plan initial approval (8/18/22 Federal Register)
- Arizona state plan
- proposed reconsideration and revocation (4/21/22 Federal Register)
- reopen comment period (8/15/22 Federal Register)
About the Author

Jon Elliott is President of Touchstone Environmental and has been a major contributor to STP's product range for over 30 years.

Mr. Elliott has a diverse educational background. In addition to his Juris Doctor (University of California, Boalt Hall School of Law, 1981), he holds a Master of Public Policy (Goldman School of Public Policy [GSPP], UC Berkeley, 1980), and a Bachelor of Science in Mechanical Engineering (Princeton University, 1977).

Mr. Elliott is active in professional and community organizations. In addition, he is a past chairman of the Board of Directors of the GSPP Alumni Association, and past member of the Executive Committee of the State Bar of California's Environmental Law Section (including past chair of its Legislative Committee).
You may contact Mr. Elliott directly at: tei@ix.netcom.com