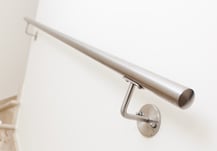 The Occupational Safety and Health Administration (OSHA) is proposing several corrections to handrail and stair rail requirements it adopted in 2017 as part of major revisions to its Walking-Working Surfaces Standard (I wrote about those revisions HERE and HERE). The present proposal identifies several typographical errors and ambiguities in the 2017 revision, which OSHA states have led to confusion and questions from employers around the country. The proposal would create a transition period for employers that made plausible interpretations of the provisions to be corrected.
What are OSHA's stairway requirements?
Effective January 17, 2017, OSHA defines stairway (stairs) to mean "risers and treads that connect one level with another, and includes any landings and platforms in between those levels. Stairways include standard, spiral, alternating tread-type, and ship stairs." OSHA defines standard stairs to mean "a fixed or permanently installed stairway. [However,] Ship, spiral, and alternating tread-type stairs are not considered standard stairs." (This definition replaced OSHA's former definition, for "fixed industrial stairs", in order to be more general). The 2017 revisions defined new construction and installation requirements, including specifications for:
Handrails, stair rail systems, and guardrail systems.

Railings and handrails.

Vertical clearance.

Uniform angle of rise, riser height, and tread width; all within specified acceptable ranges.

Landings and platforms.

Doors and gates opening onto stairway.

Stair strength.
What changes is OSHA proposing?
OSHA's proposal focuses on two sets of situations:
Correcting rail requirements for stairways narrower than 44 inches, and with 2 open sides, by inserting words accidentally omitted when the 2017 requirements were published:
- from "one stair rail system [on] each open side"
- to "one stair rail system with handrail on each open side"
The requirements for "handrails" in the Walking-Working Rule are more rigorous than those for "stair rails." The revised handrail requirement will apply once these 2021 revisions are finalized; OSHA will consider stairways installed between January 17, 2017 and that date to comply with the Standard.
Expanding the range of rail heights at which the top of a "stair rail" may serve as a "handrail" (sometimes referred to as a "combination handrail"), to cover heights allowed before 1/17/17 (i.e., 30-34 inches) as well as those allowed after 1/17/17 (36-38 inches), because OSHA found the 2017 language unclear. OSHA is proposing to allow:
- stair rails of 30-38 inches can be used as handrails, for installations made between 1/17/17 and the finalization date of these 2021 revisions
- all handrails installed after this finalization date must be at least 42 inches in height (which OSHA states it intended all along)
OSHA is also proposing to revise captions and add Figures that illustrate its requirements clearly,
What happens now?
Assuming OSHA proceeds with this rulemaking, the Walking-Working Surfaces Standard will be revised in the coming months. In the meantime, employers and their contractors should review their operations, particularly any stairways built or remodeled since January 17, 2017.
Self-evaluation checklist
Does the organization have workplaces with stairways used by employees?
If so, has the organization reviewed stair rails and handrails on its stairways to determine whether they include adequate protections against employee falls and dropped objects?
Has the organization compared these structures to OSHA's pre-1917, 1917, and pending standards?
Where can I go for more information?
About the Author

Jon Elliott is President of Touchstone Environmental and has been a major contributor to STP's product range for over 30 years.

Mr. Elliott has a diverse educational background. In addition to his Juris Doctor (University of California, Boalt Hall School of Law, 1981), he holds a Master of Public Policy (Goldman School of Public Policy [GSPP], UC Berkeley, 1980), and a Bachelor of Science in Mechanical Engineering (Princeton University, 1977).

Mr. Elliott is active in professional and community organizations. In addition, he is a past chairman of the Board of Directors of the GSPP Alumni Association, and past member of the Executive Committee of the State Bar of California's Environmental Law Section (including past chair of its Legislative Committee).
You may contact Mr. Elliott directly at: tei@ix.netcom.com