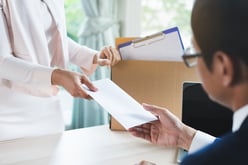 The Canadian employment standards acts generally specify a minimum notice period before such terminations (the statutory notice period), and generally allow the employer to pay compensation to the employee instead of giving the employee notice (e.g., Ontario Employment Standards Act (OESA) s. 54-67). This compensation is usually called severance pay; it replaces advance notice of termination (OESA s. 61). In general, the severance pay must equal the salary and benefits that the employee would have earned if permitted to work until the end of the notice period. Courts interpret and defend prohibitions against employment agreements that reduce – "contract out" – termination benefits below these thresholds.

Many employment contracts specify the terms for termination notices and/or severance payments (including payments offered in lieu of notice). Contracts typically specify different conditions when the termination is for cause, versus not for cause. But how should these clauses be written?

Most court decisions review the provision used in a particular situation, voiding provisions that have contracted out minimum standards, and then proceeding to calculate and award at least the minimum benefits. Recently, the Ontario Court of Appeal looked more broadly, finding that the contract clause actually used to terminate an employee (Termination with Notice) did meet provincial standards but then voided the entire agreement because the unused Termination for Cause clause did not.
Latest decision (Waksdale v. Swegon North America Inc., 2020 ONCA 391)
Benjamin Waksdale went to work for Swegon North America in January 2018, as director of sales. His annual compensation was set at approximately $200,000. He was terminated 10 months later and paid two weeks pay in lieu of notice. Waksdale sued alleging wrongful dismissal and moved for summary judgment, arguing that he was entitled to damages because Swegon did not provide him with reasonable notice of dismissal. Waksdale argued that the termination clause was void because it purported to contract out some of his termination rights under OESA. Swegon conceded that the "Termination for Cause" provision in the contract was void because it violated the ESA but argued that the "Termination of Employment with Notice" provision was valid, and that because it was not alleging cause, it could rely on the latter provision. In the alternative, the employer relied on a severability clause included in the employment contract.
The trial court judge agreed with Swegon's arguments and dismissed both the ex-employee's motion for summary judgment and the entire case, and awarded the respondent employer $16,000 for costs of the action. He concluded that the Termination of Employment with Notice provision is a stand-alone, unambiguous, and enforceable clause. Waksdale appealed.
On appeal, the question in the case became whether the clauses within the employment agreement were severable, so the employer could rely on the valid clause while ignoring the invalid one, or whether every clause had to be valid in order for the entire agreement to be valid. As discussed by the Ontario Court of Appeal:
"An employment agreement must be interpreted as a whole and not on a piecemeal basis. The correct analytical approach is to determine whether the termination provisions in an employment agreement read as a whole violate the ESA. Recognizing the power imbalance between employees and employers, as well as the remedial protections offered by the ESA, courts should focus on whether the employer has, in restricting an employee's common law rights on termination, violated the employee's ESA rights. While courts will permit an employer to enforce a rights-restricting contract, they will not enforce termination provisions that are in whole or in part illegal."
The Court of Appeal, therefore, found the agreement void, rejecting the severability clause as well. The Court also found that the defendant employee's only argument against summary judgment in the trial court had been its severability arguments, and therefore granted the plaintiff ex-employee summary judgment. Accordingly, the Court of Appeal remanded the case to the trial court to determine damages.
What happens next?
This decision is at the extreme end of judicial interpretations of employment agreements, and it is too early to know whether it will become a new benchmark or an outlier. However, it should remind employers to ensure that every provision in an employment agreement is drafted carefully, to meet legal requirements for enforceability in each jurisdiction where the agreement will be used. One failure can void an entire agreement, and even a properly drafted severability clause may not rescue the situation.
Self-assessment checklist
Does the organization use standard employment agreements?
For each employment agreement, has the organization reviewed all terms to ensure they comply with applicable standards in each jurisdiction where the agreement is used?
Where can I go for more information?
Waksdale v. Swegon North America Inc., 2020 ONCA 391 (CanLII)
STP ComplianceEHS (STP) provides a variety of single-law and multi-law services, intended to facilitate clients' understanding of and compliance with requirements. STP has recently published an update to its guide titled Directors' Liability in Canada.
About the Author

Jon Elliott is President of Touchstone Environmental and has been a major contributor to STP's product range for over 30 years.

Mr. Elliott has a diverse educational background. In addition to his Juris Doctor (University of California, Boalt Hall School of Law, 1981), he holds a Master of Public Policy (Goldman School of Public Policy [GSPP], UC Berkeley, 1980), and a Bachelor of Science in Mechanical Engineering (Princeton University, 1977).

Mr. Elliott is active in professional and community organizations. In addition, he is a past chairman of the Board of Directors of the GSPP Alumni Association, and past member of the Executive Committee of the State Bar of California's Environmental Law Section (including past chair of its Legislative Committee).
You may contact Mr. Elliott directly at: tei@ix.netcom.com